Weight Watchers Points - Willy's
Here you will find the Weight Watchers Points and restaurant nutrition for Willy's Mexicana Grill. So if you are in the mood for some Mexican food and want to stay within your diet plan, be sure to visit this page before you order.
There are 2 columns of Weight Watchers Points.
The first, highlighted in purple, are the points plus numbers.
The next column shows the values for the original points system.
Make sure you track the numbers that match the weight loss plan you are currently following.
For non members you can use the Willy's nutrition information to track what you need.
If you are counting calories, cutting back on carbohydrates or watching your sodium intake, you will find it here on this page.
You will also find total and saturated fats, fiber, protein and sugar nutrition information.
Use the interactive features to view the Weight Watchers Points or restaurant nutrition.

Click here for help on using the interactive features of the table below.
Note: Javascript must be enabled to use the interactive features.
Weight Watchers Points & Nutrition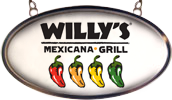 Note to FireFox users: If you are unable to click on the dropdown, click first on the words Menu Group. Then the select dropdown should work.

This is a known problem with FireFox in which I have not been able to get around.
Note: Tacos include black beans, cheese, salsa and lettuce. Taco Shell not included. Quesadillas include a flour tortilla (10" and 12" for Grande) and cheese. The Veggie will include black beans and red peppers. Salads include black beans, lettuce, cheese, salsa, cucumbers, red peppers and black olives. SW Chicken Salad and Fajita Steak Salad as listed in menu. Burritos include a flour tortilla, rice, black beans, cheese and salsa. Nachos include chips pickled jalapenos and cheese. Super Nachos also include black beans.
| Menu Group | Menu Item | Serv | SPts | Pts + | Org Pts | Cal | Tfat | Sfat | Fib | Pro | Carb | Sug |
| --- | --- | --- | --- | --- | --- | --- | --- | --- | --- | --- | --- | --- |
Click on any menu item to see additional nutrition information

| Menu Group | Menu Item | Serv | SPts | Pts + | Org Pts | Cal | Tfat | Sfat | Fib | Pro | Carb | Sug |
| --- | --- | --- | --- | --- | --- | --- | --- | --- | --- | --- | --- | --- |
Nutrition Key:

SPts = Smart Points
Pts + =Points Plus
Org Pts = Original WW Points
Cal = Calories(kCal)
TFat = Total Fat(g
SFat = Saturated Fat(g)
Fib = Dietary Fiber(g)
Pro = Protein(g)
Carb = Carbohydrates(g)
Sug = Sugar(g)
The Willy's restaurant nutrition information used to calculate WW points and points plus were obtained on 01/2017 at the following link;
Back to Weight Watchers points restaurant list
Additional Articles
Activity Points Calculator

Calculate your activity points with this free online calculator.
Read the article to learn more about how it's calculated.
Breakfast Burrito Recipe
Bring a little taste of Mexico to your morning meal with this breakfast burrito recipe.
This tasty burrito will have you wanting to stay home tonight for your Mexican dinner.
Weight Loss Chart
Track your weight loss progress with this free downloadable chart.
Record the foods you eat and your exercise calories.
Comes complete with charts so you can see your progress.