Healthy Recipes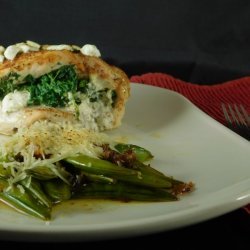 Healthy recipes are core to your health and for your weight loss progress. You don't have to eat boring meals to lose weight and stay fit.
Learning to eat a variety of foods and find healthy yet delicious recipes can be fun and challenging at the same time.
Select from appetizers, breakfast, lunch and dinner. Try a tasty dessert, hot soup or a tossed salad recipe for your meals.
All recipes on this site include Weight Watchers Points and nutrition information. So explore, cook, eat and be healthy.

Recipe By Type
Select from breakfast or brunch ideas, lunch and dinner entrees, soups, salads, appetizers and desserts. You will find chicken recipes, turkey, fish and seafood, pasta dishes and more.
Start your day off with a healthy meal with these breakfast and brunch ideas.
Pair these soups and salads together to make a easy and light lunch meal.
Many of these entrees are made with zero point items so they are lower in points.
Bite into these burgers and sandwiches for lunch or even dinner.
Use these healthy appetizers to start your meals off right.
End your meals with a sweet and tasty treat.
Recipes By Ingredient
I am working very hard to add lots more recipes, but for now I've focused on chicken, fish & seafood and turkey as many of these recipes use zero point ingredients making the Smartpoints lower.
Many of these use skinless chicken breast so they are more WW Freestyle friendly.
Not only are these healthy recipes there are many health benefits to fish as well.
These recipes use turkey as the star making them a healthier alternative to beef.
Check out these beef recipes. Just a handful now, but will be adding lots more.
New Recipes
Check out some of these recipes recently added. From breakfast to desserts, these are sure to delight.
Recently Added Recipes
If you missed these when they were brand new, why not give them a try now. These are some of the more recently added recipes over the past several months.
See all the new recipes and articles on our What's New page.
Recipes of the Month
Check out some of our favorite picks for this month.
Strawberry Parfait
With non fat yogurt, fresh strawberries and low fat granola, this is one meal you won't want to skip.
Fruit & Cheese Kabobs
This is such a quick and easy snack that the whole family will enjoy.
Garlic Lemon Cod
With the zesty taste of lemon and the distinct flavor of garlic, your taste buds will be awakened with this delicious entree.
Related Articles
Benefits of Fish
Fish is a great source of quality protein and is low in saturated fats and has many health benefits.
Benefits of Pumpkin
The benefits of pumpkin and pumpkin seeds is year round, however, there is never a better time to enjoy pumpkins than during the fall.
Fall Recipe Ideas
If you are a gardener or just love to by fresh, then here are several fall recipe ideas to use up all your harvest.
Eat Your Fruits & Veggies
Learn why you should eat, not drink, your fruits and veggies.
Healthy Halloween Treats
If you're looking for something different to hand out to trick-or-treaters this year, here are some healthy Halloween treats as an alternative to candy.
Healthy Salads - or Not?
When we think in terms of salads we always think in terms of a healthy meal but not all salads are healthy. Learn what turns a healthy meal into too much.
Mother's Day Recipes
Make this a special day for mom with these recipe ideas.
Reduce Fat with Cooking Methods
If you are trying to reduce fat in your foods in order to lose weight, then one way is to take a look at your cooking methods.
Thanksgiving Meal Ideas
Try some of these Thanksgiving meal ideas for a stress free holiday.

Additional Articles
Metabolism Booster Foods
Use some of these foods to boost your metabolism naturally and add to your healthy recipes.

Fat Burning Foods
Find out what foods can fuel your fat burning furnace and add them to your favorite recipe.
Weight Watchers Restaurant List
Don't feel like cooking tonight? Take the family out for dinner at one of these restaurants feeling safe knowing the WW Points value for the menu items you order.