Graham Cracker Fruit Trifle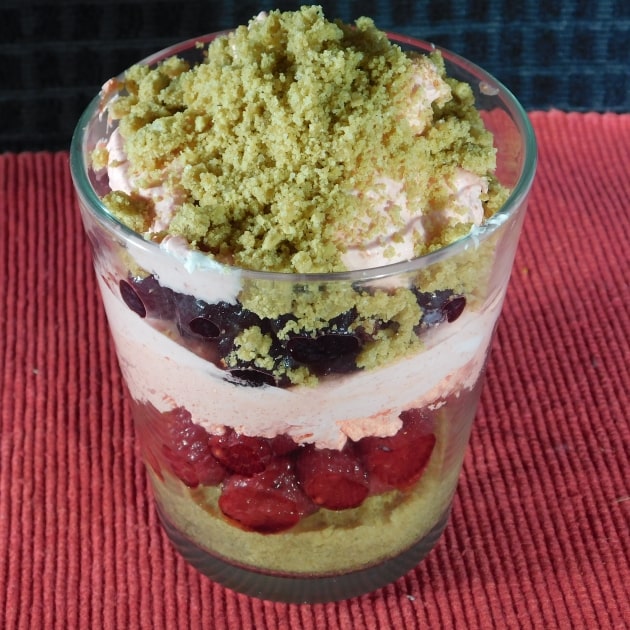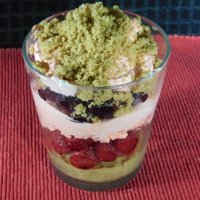 Try this graham cracker fruit trifle recipe for your next dessert. You can use fresh or frozen fruit so you can make it any time of the year.
For the crumbs, you will need a food processor or a blender. You can also purchase graham cracker crumbs from your local store.
This dessert recipe uses raspberries and blackberries, but you can change it up to use your favorite fruits.
If you are counting Weight Watchers points, the values will not change by changing the fruits as these are all zero points on all the WW plans.

Below are the list of ingredients, directions, recipe nutrition information and Weight Watchers points.
Graham Cracker Fruit Trifle
The juicy taste of the fruits combined with the creaminess of the cool whip and the crunch of the graham cracker crumbs give this dessert a wonderful and delicious flavor. Your family will ask you to make this graham cracker fruit trifle again and again.
Recipe Type:
Dessert, Fruit
Degree of Difficulty:
Easy
Ingredients
1 1/2 cups graham cracker crumbs (about 12 crackers)
1 cup raspberries (fresh or frozen)
1 cup blackberries (fresh or frozen)
2 cups Cool Whip Lite, thawed
1 tsp strawberry extract
3 Tbsp butter, unsalted
3 tsp water
Red food coloring, optional
Directions
Place graham crackers in food processor and blend until fine crumbs.
Using a medium bowl, melt butter in microwave.
Add graham cracker crumbs and mix until well blended.
Add water if needed to moisten graham cracker crumbs. Add just one teaspoon at a time.
Press crumbs into bottom of 4 serving dishes dividing evenly. Save some crumbs to sprinkle on top.
In a bowl, mix the cool whip with the strawberry extract. You can add a drop of red food coloring if desired to add some color.
Place a layer of raspberries on top of the graham cracker crumbs in the serving dish.
Add a layer of the cool whip saving half for another layer.
Add a layer of the blackberries into the serving dishes.
Add another layer of the cool whip mixture.
Sprinkle the remaining graham cracker crumbs on top.
Refrigerate until ready to serve.
Cooking Times
Prep Time: 15 minutes Cooking Time: n/a minutes
Nutrition Facts
Nutrition facts shown below for this graham cracker fruit trifle are per serving. The number of serving is noted in the header section below. The serving size is the first item noted on the nutrition facts table.
Nutrition Per Serving

Number of Servings: 4
Serving Size
1 dish
Calories
324
Total Fat
16.2g
Sat Fat
10g

Cholesterol

22.9mg

Sodium

152.3mg

Total Carbohydrates

43.5g
Fiber
4.8g
Sugar
17.1g

Protein

3.1g
Weight Watchers Points
FreeStyle
SmartPoints: 13 pts
SmartPoints
Non FreeStyle: 13 pts
Points
Plus: 8 pts
Original
Points: 7 pts
The fruit was not included when calculating any of the Weight Watchers Points for this graham cracker fruit trifle recipe.
Tips
If you don't have a food processor, you can use a blender or crush by hand. You can also buy graham cracker crumbs.
Here's a low fat graham cracker crumb recipe that uses milk instead of butter.
More Recipes
This is a sweet eats dessert recipe that is great for anyone watching their weight and sugar intake.
This S'mores recipe is a tarty twist on an old time favorite dessert or snack.
Kids love popsicles so why not make them with healthy fruits. So cool down with this healthy dessert.

This salad makes for a juicy and delicious light lunch or dinner. So tasty you won't need salad dressing.
Spice it up a bit with your appetizer. The sweet and spice in this recipe is sure to delight your guests.
Warm up to this creamy soup recipe. Add a salad for a healthy and light lunch or dinner idea.

Additional Articles
Fish and Seafood Recipes
For even more WW FreeStyle recipes, try these fish and seafood ideas. The main ingredient is zero points on the FreeStyle plan.
Eat..Don't Drink your Fruits and Veggies
Find out why drinking fruit juices or vegetable juices may not always be the healthiest choices.
10 Power Packed Foods
Pack your day with power and add some of these foods to your daily diet.
Ideal Body Weight Calculator
What's your ideal body weight? Use this free online tool to find out.