Creamy Broccoli Soup Recipe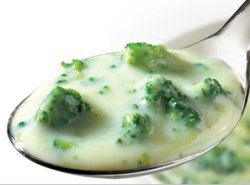 Try this creamy broccoli soup recipe this winter to help warm up your bones. This is a fairly easy crock pot recipe that you can have for lunch, dinner or as a mid day snack.
Made with low fat cheese and healthy veggies, it's something you can eat without the guilt. With only 2 SmartPoints, this is something you can add for a side with dinner without going over your daily allowance.
Below are the list of ingredients, directions, recipe nutrition information and Weight Watchers points.

Creamy Broccoli Soup Recipe
The ingredients are simple for this warm and tasty broccoli soup. This soup is low in fat and makes a great healthy starter dish to any meal. Since it's cooked in the crock pot, you can spend that time on other tasks while this cooks.
Recipe Type:
Soups, Side Dish, Appetizer
Degree of Difficulty:
Easy
Ingredients
2.5 lbs Broccoli
1 Tbsp Margarine, unsalted
2 cups Fat-free (skim) milk
1/2 cup Swiss cheese, reduced fat
Water
Directions
Remove any tough stalks from the broccoli and discard
Place the chopped broccoli into the crock pot.
Place the margarine over the broccoli.
Fill the crock pot with just enough water to cover the broccoli pieces
Cover and cook on the high temperature setting for 2 hours.
Pour in the milk, cover and continue cooking 30 minutes.
Stir in the cheese, cover and continue cooking until the cheese has completely melted into the soup.
Cooking Times
Prep Time: 10 minutes Cooking Time: 3 hour and 30 minutes
Nutrition Facts
Nutrition facts shown below are per serving for this broccoli soup recipe. The number of serving is noted in the header section below. The serving size is the first item noted on the nutrition facts table.
Nutrition Per Serving

Number of Servings: 6
Serving Size
n/a
Calories
113
Total Fat
3.2g
Sat Fat
1.2g

Cholesterol

7.8mg

Sodium

249.7mg

Total Carbohydrates

13.9g
Fiber
0g
Sugar
4.3g

Protein

11g
Weight Watchers Points
FreeStyle
SmartPoints: 2 pts
SmartPoints
Non-FreeStyle: 2 pts
Points
Plus: 2 pts
Original
Points: 1 pts
The broccoli was not included when calculating any of the Weight Watchers Points.
Tips
If you want a little meat with your soup chop some cooked ham and add it to crock pot at the same time you add the broccoli.
Add this Parmesan Tilapia as the main dish to your broccoli soup.
See what Health Line has to say about the benefits of broccoli.

More Recipes
The chickpeas and lentils are the stars of this chili and are what make this special.
The creamy taste of this soup recipe will have your family eating their veggies.
This tomato soup is made with fire roasted red peppers, basil, cheeses and more. The taste will amaze you.
This tossed salad goes great with soup. The zesty lemon French dressing blends well with the tuna.
Skewer up some different fruits and cheeses for this fun to make and eat appetizer recipe.
This is a scrumptious fall dessert recipe that the whole family will want.

Additional Articles
Restaurant Points
If you are in the mood for eating out instead of cooking then take a look at the list of restaurants complete with Weight Watchers SmartPoints, Points Plus and original. There's also nutrition available for non-members.
Ideal Body Weight
Use this free online tool to find your ideal body weight. Just plug in a few details and calculate to get the results.
Metabolism Boosting Foods
Add some of these foods to your meals and recipes and give your metabolism a boost.