Tossed Tuna Salad Recipe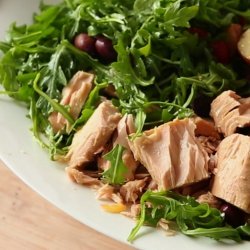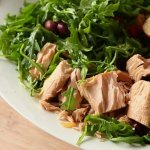 We have paired this Tuna Salad recipe with the Lemon French Dressing. The two go great together and makes for a light and healthy side dish or even the main course.
Tuna is a great, healthy protein that really adds to this tossed salad. Fish offers many health benefits including helping with weight loss.
As with all recipes on this site, we've included the nutrition information and Weight Watchers Points. The SmartPoints include values for all 3 plan; Green, Blue and Purple. So no matter which you are following, you can track your numbers.
For those members who have stuck with the original WW plan or Points Plus, not to worry. You will find those numbers for this recipe as well.

Tossed Tuna Salad Recipe
Below is the recipe for the salad and the dressing. Each set of ingredients and directions are separate, so if you only want one or the other, you can do that easily. You can add more veggies to the salad to make it personalized for you.
Recipe Type:
Salad, Side Dish, Main Dish
Degree of Difficulty:
Very Easy
Ingredients for Salad
2 Tomatoes, medium
8 Romaine lettuce leaves
4 oz Chunk white tuna
1 Tbsp Green onion chopped
2 tsp Parsley chopped
4 Tbsp Sesame seeds
Ingredients for Dressing
2 tsp Olive oil
1/2 tsp Dijon-style mustard
1 Tbsp lemon juice
1 1/2 tsp red wine vinegar
1 1/2 tsp water
Dash of salt and pepper
Directions for Salad
In salad bowl, combine tomatoes, lettuce, tuna and onions.
Prepare Lemon French Dressing per instructions below.
Pour dressing over salad and toss.
Sprinkle with parsley and sesame seeds.
Directions for Dressing
In a small bowl, combine oil and mustard and whip until creamy.
Add lemon juice, vinegar, water, salt and pepper.
Stir to combine.
Cooking Times
Prep Time: 5 minutes Cooking Time: n/a minutes
Nutrition Facts for Tuna Salad Recipe
Nutrition facts shown below are per serving. The number of serving is noted in the header section below. The serving size is the first item noted on the nutrition facts table.
Nutrition for Salad
Tuna Salad
Nutrition Per Serving

Number of Servings: 2
Serving Size
1 salad
Calories
221
Total Fat
11.3g
Sat Fat
1.8g

Cholesterol

23.8mg

Sodium

232.7mg

Total Carbohydrates

13.5g
Fiber
6.2g
Sugar
5g

Protein

19.3g
Lemon French Dressing
Nutrition Per Serving

Number of Servings: 2
Serving Size
n/a
Calories
43
Total Fat
4.6g
Sat Fat
<1g

Cholesterol

0mg

Sodium

161.6mg

Total Carbohydrates

<1g
Fiber
<1g
Sugar
<1g

Protein

<1g
MyWW Points
Green: 4 pts
Blue: 3 pts
Purple: 3 pts
Other Weight Watchers Points
Points
Plus: 5 pts
Original
Points: 4 pts
The Blue and Purple SmartPoints do not include the veggies or the tuna (packed in water). The other points do not include the veggies.
Weight Watchers Points - Dressing Only
For all Weight Watchers plan (original, plus and SmartPoints) the dressing is only 1 point.
Tips
To save on some calories and points, you can skip the sesame seeds for this salad recipe.
If you prefer another dressing, try this creamy garlic dressing instead.
Featured Recipes
More Recipes
This is a fairly easy crock pot recipe that you can have for lunch, dinner or as a mid day snack. Goes great with a salad.
This salad is layered with lots of flavor. It's perfect for picnics, special occasions or as a side dish.
This hearty chili will warm you up on cold winter days. Chickpeas are the star of this chili recipe.
Everyone loves Sloppy Joes and you will love that this is a healthier version made with ground turkey breast.
Not only is this recipe fun to make, it's fun to eat. With juicy pineapples and chunks of turkey breast, it's also WW Freestyle friendly.
These banana pops are perfect as a healthy dessert option. Roll them in your favorite toppings to make it special.

Additional Articles
Weight Loss Motivation
Losing weight can be a struggle at times and you can get discouraged. Don't let the ups and downs (pun intended) to stop you. Use these motivational tips to keep you going.
Healthy Appetizer Recipes
Check out all these appetizers to make a great start to your meals.
Fat Burning Foods
See what foods you can add to your meals to rev up your fat burning furnace.