Turkey Pineapple Kabob Recipe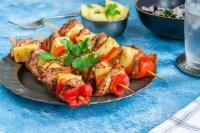 This healthy Turkey Pineapple Kabob recipe is perfect for a BBQ, snack or an appetizer for your next get together.
Made with healthy turkey chunks, juicy pineapples and tasty veggies, this is one must try healthy turkey snack.
Not only is this a healthy recipe idea, it's so much fun to make. The great thing about kabobs are you can add anything you can poke a stick at ...well, so long as it's healthy.
So alter this recipe to add your favorite veggie, fruits and more.
Remember to adjust the nutrition or Weight Watchers Points if you alter these turkey kabobs. You can use this calorie calculator to get the right information.
Below are the list of ingredients, directions, recipe nutrition information and Weight Watchers points.

Turkey Pineapple Kabob
This turkey pineapple kabob recipe makes for a healthy main course for your next grilled meal. Layered with juicy fruit, lean turkey and delicious veggies, it's sure to be a hit.
So warm up the charcoal or turn on the gas grill and get ready for some yummy grilling time.
Recipe Type:
Appetizer, Main Dish, Turkey
Degree of Difficulty:
Moderate
Ingredients
20 ounces Turkey Breast (skinless), 1" cubes
1 cup Onion, diced
2/3 cup Pineapple Juice, unsweetened
4 Tbsp Teriyaki Sauce
4 Tbsp Lemon Juice
4 tsp Spicy Brown Mustard divided
4 tsp Sherry
2 each Garlic Clove, sliced
1 each Bell Pepper (seeded), cut into 1" thick slices
1 Tbsp Vegetable Oil
1/2 cup Crushed Pineapple, canned (no sugar added)
2 tsp Cornstarch
1 cup Canned Pineapple chunks, drained (no sugar added)
Directions
In large bowl, combine onion, pineapple juice, teriyaki sauce, lemon juice, mustard, sherry and garlic
Add turkey and remaining ingredients. Toss to coat.
Cover and marinade in refrigerator for 1 hour
Using slotted spoon, remove turkey, mushrooms, scallions, and pineapple chunks
Using 8 skewers, thread ingredients, alternating as you thread
Strain marinade saving the liquid and onions
In small skillet, heat oil and sautee saved onions
Stir in crushed pineapple
Add cornstarch to reserved marinade liquid, stirring to dissolve cornstarch
Add to skillet, stirring constantly, bring to a boil
Reduce heat and simmer until thick
Pour mixture into blender and mix at low speed until smooth
Lightly brush kabobs with mixture
Grill kabobs, turning once and brushing with mixture
Grill until turkey is browned (approximately 5 minutes)
Reheat remaining sauce and serve with kabobs
Cooking Times
Prep Time: 20 minutes Cooking Time: 5 minutes
Nutrition Facts
Nutrition facts shown below are per serving. The number of serving is noted in the header section below. The serving size is the first item noted on the nutrition facts table.
Nutrition Per Serving

Number of Servings: 4
Serving Size
6.2oz
Calories
295.54
Total Fat
6.59g
Sat Fat
0.77g

Cholesterol

60.95mg

Sodium

2202.38mg

Total Carbohydrates

31.23g
Fiber
3.12g
Sugar
22.21g

Protein

27.16g
Weight Watchers Points
FreeStyle
Smart Points: 2 pts
SmartPoints
Non-FreeStyle: 5 pts
Points
Plus: 5 pts
Original
Points: 5 pts
The fruits, fruit juice, veggies and turkey breast nutrition was not used when calculating the Freestyle SmartPoints. All other points calculations do not include the fruits, fruit juices or veggies.
Tips
You can change up this recipe to add your favorite fruits and veggies for something new each time. Just be sure to adjust any nutritional values as needed.
Add these fruit and cheese kabobs to your turkey pineapple kabob recipe for a fun and delicious variety.
Here's another kabob recipe using turkey.
More Recipes
Here's another fun kabob recipe using different cheeses and fruits. Add a few veggies as well to add more flavor.
With only 1 Freestyle SmartPoint, this is an appetizer you will want to start every meal with.
Try this recipe for your next party or family event. The avocado gives these eggs a taste to remember.
Make these in your microwave and skip the campfire. The tart cherries give this a new twist on an old tradition.
Get stuffed with this grilled burger idea. Made with ground turkey breast so it's a healthier sandwich.
This cod is a tasty, light and healthy main dish. You can serve this up for lunch or dinner.

Additional Articles
Feel Good Super Foods
Try some of these feel good super foods for your next recipe ideas.
Eating Before Exercise
Eating before exercise helps fuel your body. Find out what and when you should eat before your next workout.
Quick Weight Loss Tips
Start losing weight today using these quick yet healthy weight loss tips. No fad diets, pills or supplements required.