Garlic Lemon Cod Recipe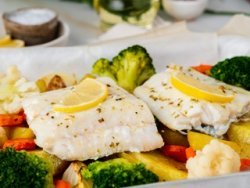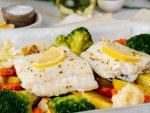 This garlic lemon cod recipe is a tasty, light and healthy main dish. You can serve this up for lunch or dinner.
Fish is full of so many healthy benefits. So try a new fish recipe each week. And this one is a baked dish, not fried, so even more healthy reasons to make this tonight.
With the zesty taste of lemon and the distinct flavor of garlic, your taste buds will be awakened with this delicious entree.

Garlic Lemon Cod
If you are looking for a less fishy tasting meal then cod is the perfect ingredient. This mild tasting fish is perfect for adding tasty seasonings and flavors like lemon and garlic.
The Weight Watchers points for this entree are low so you won't be dipping into your weekly allowance. With only 1 Freestyle smartpoints (and 3 points for those of you not free styling yet), you can enjoy this almost guilt free.
Below are the list of ingredients, directions, recipe nutrition information and Weight Watchers points.
Recipe Type:
Main Dish, Fish
Degree of Difficulty:
Moderate
Ingredients
4 6 oz pieces of Cod
2 Garlic cloves, crushed
1/2 tsp Butter
1 Tbsp Olive oil
3 Tbsp Lemon Juice, freshly squeezed
2 Tbsp Parsley, chopped
Pinch of Sea Salt and Pepper
Directions
Preheat oven to 400 degrees.
Lightly coat a large baking dish with cooking spray.
Season cod with sea salt and black pepper and place in baking dish.
In a small non-stick skillet, melt butter and olive oil on medium low heat.
Add crushed garlic and sauté for one minute.
Add lemon and parsley and remove from heat.
Drizzle the lemon and garlic mixture over cod fillets.
Bake for about 12 – 14 minutes or until fish flakes with a fork.
Cooking Times
Prep Time: 10 minutes Cooking Time: 14 minutes
Nutrition Facts
Nutrition facts shown below are per serving. The number of servings for the garlic lemon cod is noted in the header section below. The serving size is the first item noted on the nutrition facts table.
Nutrition Per Serving

Number of Servings: 4
Serving Size
1 ea
Calories
230
Total Fat
5.5g
Sat Fat
1.1g

Cholesterol

100.6mg

Sodium

169.1mg

Total Carbohydrates

1.6g
Fiber
<1g
Sugar
<1g

Protein

41.4g
MyWW Points
Green: 3 pts
Blue: 1 pts
Purple: 1 pts
Other Weight Watchers Points
Points
Plus: 5 pts
Original
Points: 5 pts
The cod nutrition information was not included when calculating the MyWW SmartPoints for Blue and Purple.
Here's a good resource on different ways to cook cod from wikiHow.
Featured Recipes
More Recipes
By combining sweet and sour tastes to this fish recipe you will be watering at the mouth. It has a ginger glaze that gives it a unique flavor
This creamy pesto sauce for this shrimp meal combines the flavors of kale, garlic, basil, yogurt and parmesan cheese for a creamy blend.
Spice it up tonight and go Cajun cooking with this catfish recipe. Add some mixed veggies for a zero point side dish.
If you are like me, you can't wait till fresh fruits are available. When they are, you have to make this juicy salad.
Treat your self to dessert for only 1 Freestyle WW point. Skip the cool whip and you can have this for zero points.
Pair this creamy soup with your favorite sandwich or salad. The creamy goodness is perfect for a quick snack as well.

Additional Articles
Weight Loss Calculator
Use this free online tool to see how many calories you need to consume in order to lose weight. It will even estimate how long it will take for you to reach your goal.
Calories from Fat, Protein and Carbohydrates
The calories in the foods you eat are made up of these macronutrients. Read this article to find out how the fats, protein and carbs impact your total calories.
Benefits of Fish
Fish is packed with omega-3 fatty acids - the good fats you need. It can help you with weight loss, boost brain power and is great for diabetics.