Baked Mahi Mahi Recipe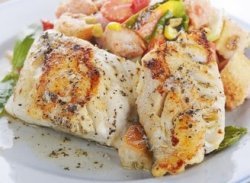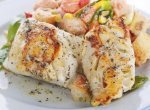 This baked mahi mahi has a ginger glaze that gives it a unique flavor.
By combining sweet and sour tastes to this fish recipe you will be watering at the mouth. Your family will ask you to make this over and over again for dinner each week.
Fish meals are packed with vitamins and minerals and has lots of health benefits. Check out all the benefits here. So try to get in at least one fish dinner each week.

Below are the list of ingredients, directions, recipe nutrition information and Weight Watchers points.
Baked Mahi Mahi
This delicious baked mahi mahi fish recipe combines both sweet and sour taste sensations with a wonderful spice kick from the ginger. Add some steamed vegetables, a fruit medley and brown rice to complete this dinner idea.
With just 8 smart points value for the main dish and freebies on the veggies and fruit, you are sure to have some extras points left for the day.
So finish your meal with a creamy pumpkin pudding dessert to satisfy your sweet tooth.
Recipe Type:
Fish, Main Dish, Seafood
Degree of Difficulty:
Moderate
Ingredients
24 oz Mahi Mahi, cut into 4 fillets
3 Tbsp Honey
3 Tbs Soy sauce
3 Tbs Balsamic vinegar
1 tsp Ginger root
1 Garlic clove, crushed
2 Tbsp Olive oil
Pinch of sea salt and black pepper
Directions
Season fillets with sea salt and ground pepper.
Place fillets, skin side down, in a glass dish.
Prepare marinade in a small glass dish using the honey, soy sauce, balsamic vinegar, ginger, garlic and 2 tsp extra virgin olive oil.
Pour marinade over fillets and cover.
Refrigerate for 20 minutes.
Preheat oven to 350 degrees.
Lightly spray a baking dish with cooking spray.
Remove fish from the dish, and reserve marinade.
Place marinated fillets into cooking dish and place in the oven.
Bake for approximately 5 – 7 minutes each side (covered) or until fish is flaky.
Take remaining marinade and heat in a skillet over medium heat.
When fish is done, spoon marinade over fillets and serve.
Cooking Times
Prep Time: 10 minutes Cooking Time: 10 minutes
Nutrition Facts for Baked Mahi Mahi Recipe
Nutrition facts shown below are per serving. The number of serving is noted in the header section below. The serving size is the first item noted on the nutrition facts table.
Nutrition Per Serving

Number of Servings: 4
Serving Size
1 fillet
Calories
300
Total Fat
8.2g
Sat Fat
1.3g

Cholesterol

148.9mg

Sodium

653.7mg

Total Carbohydrates

16.5g
Fiber
<1g
Sugar
15g

Protein

38.5g
MyWW Points
Green: 7 pts
Blue: 6 pts
Purple: 6 pts
Other Weight Watchers Points
Points
Plus: 7 pts
Original
Points: 7 pts
The Mahi Mahi was not included in the calculation for MyWW Blue and Purple SmartPoints
Tips
If you prefer, you can broil the fish instead of baking. The cooking time is about the same. Just watch it carefully to make sure you don't over cook it.
In addition to this baked mahi mahi for dinner, add an appetizer with these recipe ideas.
Here's a scrumptious mango sauce that goes great with this fish.
More Recipes
This parmesan tilapia makes a nice light lunch or dinner for less calories than other fish recipes.
Try this tuna salad and be sure to make the Lemon French dressing to go with it.
Here's a healthy fish recipe that adds the zest of lemon to it's flavor.
Add this fun to make skewer of alternating fruits and cheeses to your fish dinner.
With all this juicy goodness on top of these waffles, you can skip the syrup.
These are baked with skinless thighs, so there is less fat and calories with this main dish.

Additional Articles
Ideal Body Weight Calculator
Check out this free online calculator to find out what your ideal body weight is. This one uses the Miller formula plus adjusts for frame size.
Calorie Intake Chart
If you are counting calories in order to lose weight, then check out this free downloadable spreadsheet. You can track calories from the foods you eat and the ones you burn during exercise.
Benefits of Fish
Fish is packed with omega-3 fatty acids - the good fats you need. Fish can help you with weight loss, boost brain power and is great for diabetics.