Citrus Grilled Salmon Recipe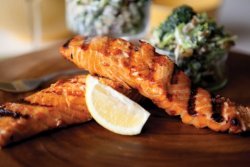 This grilled salmon recipe is perfect for your summer grilling nights. The citrus marinade gives it lots of flavor and keeps the fish from being dry once cooked.
No matter if you are a newbie to grilling or a grill master, you can't go wrong with this recipe. The combinations of flavors in the marinade give this meal a wonderful taste that even fish skeptics will give it a try.
So warm up the grill and let's get cookin.
Below are the list of ingredients, directions, recipe nutrition information and Weight Watchers points.
Citrus Grilled Salmon Recipe
You will want to prepare the marinade ahead of time as the salmon needs to be refrigerated in the marinade for 1 - 2 hours. Be sure to take the salmon out of the fridge about 15 - 20 minutes before grilling so that it can come up to room temperature.
Recipe Type:
Fish, Seafood, Main Dish
Degree of Difficulty:
Easy
Ingredients
1 Tbsp Extra Virgin Olive Oil
4 Salmon Fillets, 6 ounce 1 inch thick
Pinch Kosher Salt
Pinch Black Cracked Pepper

Marinade

3/4 Cup Orange Juice
1/4 Cup Lemon Juice
1/4 Cup Lime Juice
1 Clove Garlic, minced
2 Tbsp Orange Marmalade
2 Tbsp Soy Sauce
1 Tbsp Light Brown Sugar
2 Tbsp Cilantro, minced
1 Tbsp Butter
Pinch Kosher Salt
Pinch Black Cracked Pepper
Directions
Combine all marinade ingredients into medium sauce pan.
Bring to a boil on medium heat stirring constantly.
Reduce heat to a simmer for about 15 - 20 minutes or until is syrupy.
Add additional salt and pepper to taste.
Place salmon fillets in a shallow container.
Pour marinade over fillets lifting the salmon to ensure marinade is also on the bottom.
Cover and place in fridge for 30 minutes to 1 hour.
Take salmon out of fridge about 15 - 20 minutes before cooking to bring to room temperature.
Heat grill to medium-high heat.
Brush both sides of fillets with olive oil.
Season with salt and pepper
Grill salmon for approximately 4 minutes each side.
Brush fillets with marinade the last couple of minutes of cooking.
Remove from grill and serve.
Cooking Times
Prep Time: 10 minutes Cooking Time: 8 minutes
Nutrition Facts for Citrus Grilled Salmon Recipe
Nutrition facts shown below are per serving. The number of serving is noted in the header section below. The serving size is the first item noted on the nutrition facts table.
Nutrition Per Serving

Number of Servings: 4
Serving Size
1 fillet
Calories
483
Total Fat
24g
Sat Fat
4g

Cholesterol

158mg

Sodium

441mg

Total Carbohydrates

17g
Fiber
0g
Sugar
14g

Protein

48g
MyWW Points
Green: 13 pts
Blue: 6 pts
Purple: 6 pts
Other Weight Watchers Points
Points
Plus: 12 pts
Original
Points: 12 pts
For the MyWW Blue and Purple points, the salmon was not included in the nutrition information when doing the calculation of SmartPoints.
Tips
Do not over marinate salmon as it will begin to break down the fish and make it mushy. Do not marinate more than 24 hours.
Check out these tips on how to grill salmon.
Featured Recipes
More Recipes
This baked mahi mahi has a ginger glaze that gives it a unique flavor.
Skip the crust and extra carbs with this quiche. Perfect for anytime of day.
With the creamy pesto sauce and the delightful taste of the shrimp you may want seconds
This tossed salad with tuna makes for an easy and light lunch idea.
Take your tuna salad sandwich to the next level with this melt recipe.
Cool down with this tasty dessert idea with only 1 MyWW Point for all plans.

Additional Articles
Benefits of Fish
Fish meals can be lower in MyWW points (for blue and purple) but also have many health benefits as well.
10 Power Packed Foods
Choosing and eating the right foods may help increase your life expectancy as well as the quality of your life.
Abdominal Crunches
Check out these different crunches you can do to flatten your stomach. With step by step instructions, you can ensure you are doing them correctly.