Tuna Melt Recipe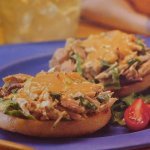 This tuna melt recipe will have your tastes buds melting with joy. Made with non-fat mayo, healthy chunk white tuna (packed in water) you can enjoy this without adding extra fats to your meal.
This can be made from start to finish in under 15 minutes, so if you are short on time, this is the recipe to try.
The tuna is now zero Weight Watchers points on the freestyle plan so you don't have to use up all your SmartPoints on this sandwich.

Below are the list of ingredients, directions, recipe nutrition information and Weight Watchers points.
Tuna Melt
With just a toaster oven (or your broiler) and a handful of ingredients, you can be enjoying this recipe in a matter of minutes. Great on taste, small on time....The perfect combination. Add a soup or salad to complete the meal.
Recipe Type:
Sandwich, Main Dish, Fish
Degree of Difficulty:
Easy
Ingredients
2 cans tuna, chunk white (6 oz), packed in water (or 1 12 oz can)
1 1/2 cup coleslaw, packaged or homemade
3 tbs green onion chopped
3 tbs Mayonnaise, fat free
1 tbs dijon-style mustard
4 each english muffins, split in half
1/3 cup cheddar cheese (reduced fat), shredded
Directions
Preheat broiler or toaster oven.
In a medium bowl, combine tuna (drained), coleslaw and green onions.
In a small bowl, add fat free mayonnaise and mustard and stir to mix well.
Add to tuna mixture stirring to combine well.
Cut muffins in half. Spread mixture onto muffin halves.
Place open faced muffins on broiler pan.
Broil (about 4 inches from heat) for about 3 to 4 minutes.
Sprinkle each muffin half with cheese. Broil for another 1 to 2 minutes or until cheese is melted.
Cooking Times
Prep Time: 5 minutes Cooking Time: 6 minutes
Nutrition Facts for Tuna Melt
Nutrition facts shown below are per serving. The number of serving is noted in the header section below. The serving size is the first item noted on the nutrition facts table.
Nutrition Per Serving

Number of Servings: 4
Serving Size
2 sandwich halves
Calories
304
Total Fat
5.6g
Sat Fat
1.7g

Cholesterol

41.5mg

Sodium

720.5mg

Total Carbohydrates

34.1g
Fiber
2.9g
Sugar
2.2g

Protein

28.3g
MyWW Points
Green: 7 pts
Blue: 6 pts
Purple: 6 pts
Other Weight Watchers Points
Points
Plus: 7 pts
Original
Points: 6 pts
The tuna and green onions were not included in the calculation of the MyWW Blue and Purple points for this tuna melt recipe. All other WW points do not include the green onions.
Tips
Add some of your favorite seasonings to enhance the flavor. You can use dill weed, lemon garlic or even an all purpose seasoning.

Featured Recipes
More Recipes
No bread required for these cucumber sub sandwiches. Instead the cucumber acts and the bread to hold everything in.
Sink your teeth into this boneless BBQ Rib Sandwich. It's a filling and tasty meal for a hearty appetite.
Be prepared to get sloppy with this sandwich recipe. Made with ground turkey for a healthier version of this traditional favorite.
This appetizer recipe is stuffed with lots of taste. It's so filling you can make it the main course.
This tasty treat is a great dessert for any meal. It is sure to satisfy your sweet tooth.
With the crunch of the almonds and the juicy tart taste of the citrus fruits this is one salad you want to try.

Additional Articles
Benefits of Exercise
Work off your meal with some exercise. It not only helps you reach your weight loss goal, but there are many health benefits.
Smart Points Calculator
Use this free online calculator to find the Weight Watchers points in the foods you eat. You will need to know the calories, saturated fats, sugar and protein information.
5 Natural Metabolism Boosters
Boost your metabolism naturally with these five tips.