Cajun Catfish Recipe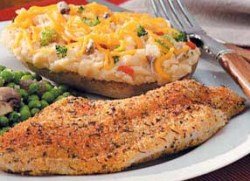 If you are a fish lover, then this Cajun Catfish Recipe is perfect for you. These fish fillets are breaded and boiled, not fried, so it's a healthier meal.
With the spicy cajun and other seasonings, your meal will be spiced up with flavors. Add some nice mixed veggies and some baked beans to complete this meal.
There are only 2 SmartPoints for this dinner idea on the new FreeStyle program. If you have not yet switched over then use the other points values shown for this recipe.

Cajun Catfish Recipe
This flavorful fish is perfect for any time of the year. With a touch of Cajun style this meal is sure to satisfy your taste buds. Sauté up some veggies to make a nice healthy side to this fish recipe.
Below are the list of ingredients, directions, recipe nutrition information and Weight Watchers points.
Recipe Type:
Fish, Main Dish
Degree of Difficulty:
Easy
Ingredients
4 Catfish fillets (4 oz. each)
1/4 cup Buttermilk
1/2 cup Yellow cornmeal
1/2 tsp cayenne pepper
1/2 tsp black pepper
1 tsp paprika
1/2 tsp salt
1/2 tsp onion powder
1/2 tsp garlic powder
Directions
Preheat the broiler.
Lightly spray broiler pan with cooking spray.
Wash the fish fillets and pat dry.
Place the catfish fillets in a shallow dish.
Pour the buttermilk over the fillets and turn over to completely coat.
In a separate bowl, mix together the remaining ingredients.
Take each catfish fillet and shake off excess buttermilk.
Place in the cornmeal mixture to completely cover each fillet and place on broiler pan.
Place the broiler pan about 4 inches from the heat.
Broil for about 3 minutes per side or until done in the center.
Cooking Times
Prep Time: 10 minutes Cooking Time: 6 minutes
Nutrition Facts
The nutrition facts shown below for this cajun catfish recipe are per serving. The number of serving is noted in the header section below. The serving size is the first item noted on the nutrition facts table.
Nutrition Per Serving

Number of Servings: 4
Serving Size
1 fillet
Calories
259
Total Fat
10.4g
Sat Fat
2.3g

Cholesterol

88.1mg

Sodium

469.7mg

Total Carbohydrates

14.2g
Fiber
1.9g
Sugar
1.1g

Protein

26.4g
MyWW Points
Green: 6 pts
Blue: 2 pts
Purple: 2 pts
Other Weight Watchers Points
Points
Plus: 6 pts
Original
Points: 6 pts
The catfish fillets were not used when calculating the Blue and Purple SmartPoints.
Tips
Remember that the cayenne pepper goes a long way to add spice to this recipe. So if you don't want it too hot, don't add extra. Just stick to the recipe.
Add a creamy broccoli soup to this cajun catfish recipe.
Featured Recipes
More Recipes
With the creamy pesto sauce and the delightful taste of the shrimp you will want seconds of this seafood recipe.
This delicious baked mahi mahi fish recipe combines both sweet and sour taste sensations with a wonderful spice kick from the ginger
With the zesty taste of lemon and the distinct flavor of garlic, your taste buds will be awakened with this entree.
Change it up for breakfast and use your waffle to make a sandwich filled with yummy for your tummy ingredients.
Make it a Tex-Mex day with these stuffed full of goodness potatoes. Modify it to your liking by adding your favorite stuffings.
This recipe takes comfort food to a whole new level. With the tartness of fall fruits this pot pie has a new bold flavor.

Additional Articles
WW Freestyle Zero Point Foods
Did you know that by moving to the Freestyle plan you will now have over 200 foods with zero points? Check out the full list.
Eating Healthy for Weight Loss
Eating healthy can help you achieve your weight loss goals. But it does so much more for your health. Check out these tips to keep you eating healthy.
Benefits of Fish
Fish is packed with omega-3 fatty acids - the good fats you need. Fish can help you with weight loss, boost brain power and is great for diabetics.