Autumn Chicken Pot Pie Recipe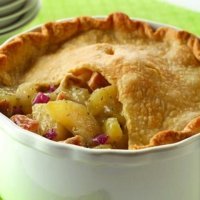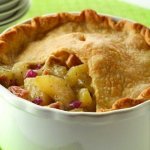 This autumn chicken pot pie recipe is not your typical comfort food. With sweet cranberries, tart apples, veggies and of course the chicken, your taste buds will be alive with lots of different flavors.
This main dish is a bit more involved than others, so make sure you schedule enough time to get this one done right. Believe me the time is well worth it.
While the time involved is longer, this is not short on taste and umm umm goodness. This is one meal that is sure to comfort and please the whole family.

Autumn Chicken Pot Pie Recipe
Warm up tonight with this chicken pot pie for dinner. Add a tossed salad and some corn bread for the sides to compliment this dinner idea.
Recipe Type:
Main Dish, Chicken, Comfort Food
Degree of Difficulty:
Difficult
Ingredients For Crust
1 cup all purpose-flour
1 tsp ground ginger
1 tsp grated lemon zest
1/2 tsp salt
1/3 cup butter, softened
3 Tbs cold water
Ingredients For Filling
2 cups chopped cooked chicken chicken breast, skinless
2 cups chicken broth
1 cup pearl onions, peeled and steamed until tender
2 medium carrots, cut into slices and steamed until tender
1 medium Granny Smith apples, cored and cut into chunks
1/4 cup dried cranberries
2 Tbs butter
1/4 cup all-purpose flour
2 Tbs lemon juice
1 Tbs minced fresh gingerroot
1/2 tsp freshly ground black pepper
1/8 tsp salt
Directions for Crust
In a large bowl, combine flour, ginger, lemon zest and salt.
With a pastry blender (or 2 knives), cut in 1/3 cup butter until mixture is coarse and crumbles.
Sprinkle 3 tablespoons of water over the dough mixture and toss with a fork. The dough should be just barely moistened, enough to hold together when formed into a ball. Add more water if needed.
Form the dough into a flat disk and wrap in plastic and refrigerate.
Directions for Filling
Drop pearl onions into boiling water for 30 seconds; drain, peel. Steam pearl onions and carrots until tender.
In large saucepan over medium heat, melt 2 tablespoons butter.
Whisk in flour and ginger until smooth.
Reduce heat to low and gradually whisk in chicken broth.
Stir in pearl onions, carrots, apples, cranberries, lemon juice and chicken.
Let simmer for 5 minutes, stirring regularly.
Season with salt and pepper.
Spoon filling into 6 individual pie dishes.
Directions for Chicken Pot Pie
Preheat oven to 450°F.
On a lightly floured surface, roll dough out flat. Using a bowl (or dish slightly larger than the pie pan), cut out 6 circles.
Lay the dough over the top of each pie dish.
Trim and crimp edges. Use a small knife to cut several slits in the center of the chicken pot pie.
Set the pie pans on a baking sheet and place in the oven on the middle rack.
Bake for 15 minutes.
Reduce heat to 400°F and continue baking for an additional 20 minutes or until pie bubbles around edges and top is nicely browned.
Serve while hot.
Cooking Times
Prep Time: 30 minutes Cooking Time: 40 minutes
Nutrition Facts for Chicken Pot Pie
Nutrition facts shown below are per serving. The number of serving is noted in the header section below. The serving size is the first item noted on the nutrition facts table.
Nutrition Per Serving

Number of Servings: 6
Serving Size
1 individual pie
Calories
435
Total Fat
17.0g
Sat Fat
9.6g

Cholesterol

77.0mg

Sodium

611.0mg

Total Carbohydrates

50.8g
Fiber
4.6g
Sugar
5.8g

Protein

19.6g
MyWW Points
Green: 13 pts
Blue: 12 pts
Purple: 12 pts
Other Weight Watchers Points
Points
Plus: 10 pts
Original
Points: 9 pts
The chicken breast, apples and veggies were not used to calculate the MyWW Blue and Purple points. The dried cranberries are included. The veggies and apples were not used for the other points.
Tips
You can use ready made pie crust if you want instead of making your own as this chicken pot pie recipe does take a lot of time and effort.
Recipe provided by the National Chicken Council
Here's another seasonal chicken recipe. This summertime chicken salad is one of my favorites. I can't wait until the weather changes and we have fresh fruits available.
More Recipes
Stuff yourself (and the chicken breast) with this recipe idea. This makes for a creamy delight for lunch or dinner.
Spice it up with these Sriracha chicken wings. Use them as an appetizer or eat them as the main course.
This creamy chicken rice and broccoli recipe is cooked in a skillet which saves you time and dishes.

Is it dessert, a snack or even breakfast? You decide when you want to eat this healthy all fruit (no ice cream) treat.
Here's another comfort food that will warm up your taste buds and keep you feeling satisfied.
The zesty flavor of the lemon French dressing that is part of this recipe is a delightful surprise.

Additional Articles
Reduce Fat Through Cooking Methods
Here are some tips to help you reduce the fat and calories in the foods you cook. By learning to change some cooking methods you can be eating healthier and losing weight.
How to Read Food Labels
Food labels can be confusing at times. Don't let all that information get the best of you. Learn how to understand food labels by checking out this article.
WW FreeStyle Zero Point Foods
Are you pondering Free styling your diet? Be sure to check out Weight Watchers new zero point foods and why these items made the list.