Stuffed Chicken Breast - Goat Cheese & Spinach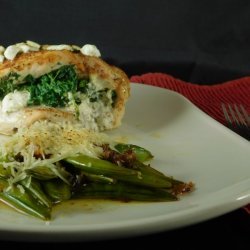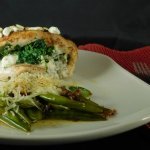 This stuffed chicken breast recipe makes my mouth water every time my husband makes it for dinner (he's the cook in the family). This is his recipe that he created after we ate out one night and had something very similar.
The flavor and creaminess that the goat cheese gives this meal is a wonderful surprise. Plus with the spinach and seasonings, you will eat every bite.
With the new Weight Watchers FreeStyle plan, the chicken breast (skinless) is now a zero points food. This means there are only 4 SmartPoints in this recipe. I always love it when you can have a great tasty meal without having to use up my weekly allowance.

Goat Cheese and Spinach Stuffed Chicken Breast
In addition to the WW information, you will also find nutrition values. So for those of you counting calories, carbs or even fats, you can use the information to track what you need.
Recipe Type:
Main Dish, Chicken
Degree of Difficulty:
Moderate
Ingredients
2 chicken breasts, skinless
1 box of frozen spinach (or 2 handfuls of fresh), chopped and cooked down
4oz package of goat cheese
4oz package of goat cheese
2 tbs minced garlic
1 tbs olive oil
salt and pepper to taste
chives or cilantro for garnishing
Directions
Preheat oven to 375f
Slice a deep pocket in breasts. Pound chicken to flatten slightly.
Season with salt and cover.
Sautee spinach in olive oil along with garlic.
Stuff each breast with a heaping tablespoon on spinach/garlic mixture.
Add 1 oz of the goat cheese on top of spinach.
Arrange Breasts in a lightly oiled baking dish
Sprinkle with pepper ..can also sprinkle with a poultry rub or rub of choice
Bake uncovered for 30 minutes
Add another 1oz of goat cheese to top of each breast.
Bake another 15 mins or untill internal temp of chicken is 165 degrees.
Garnish with chives or cilantro.
Cooking Times
Prep Time: 20 minutes Cooking Time: 45 minutes
Nutrition Facts for Stuffed Chicken Breast
Nutrition facts shown below are per serving. The number of serving is noted in the header section below. The serving size is the first item noted on the nutrition facts table.
Nutrition Per Serving

Number of Servings: 4
Serving Size
1/2 breast
Calories
272
Total Fat
12.7g
Sat Fat
5.5g

Cholesterol

86.1mg

Sodium

297.7mg

Total Carbohydrates

4.7g
Fiber
1.7g
Sugar
.6g

Protein

34.3g
MyWW Points
Green: 7 pts
Blue: 4 pts
Purple: 4 pts
Other Weight Watchers Points
Points
Plus: 6 pts
Original
Points: 6 pts
The chicken breast and spinach was not used when calculating the Freestyle SmartPoints. The spinach was not included for the other points.
Tips
Temperatures may vary so cooking time may not be the same as noted above. Check the chicken to ensure it is cooked through.
Here's another chicken breast recipe that's a stir fry.
Carrabba's is where we ate that inspired my husband's recipe. The dish is the Chicken Bryan and is very delicious.
More Recipes
This salad has so much flavor and juiciness that you can skip the added calories of a salad dressing.
This is not your typical recipe for this comfort food. With the added sweet and tart of fruits, this meal will warm you up.
This chicken recipe throws it all together (chicken, veggies and potatoes) and creates a wonderful baked dish.
This tasty frozen dessert will have you saying yummy. Made with yogurt instead of ice cream, it's a healthy treat.
The zestiness of the lemon paired with cod gives this fish dinner a delightfully mild taste.
By replacing the ham with turkey breast deli slices, this is a Weight Watchers FreeStyle friendly recipe.

Additional Articles
Restaurant Weight Watchers Points
Don't feel like cooking tonight? Then check out the restaurant list for points and nutrition information.
Eating Healthy for Weight Loss
Use these tips for making healthier selections so you can lose weight and feel great.
Portion Sizes
Understanding portion sizes can help you eat healthier. What you think is a healthy portion may not be true.