Chicken Vegetable Stir Fry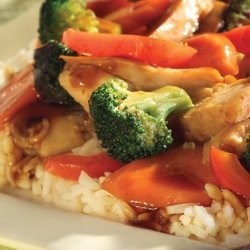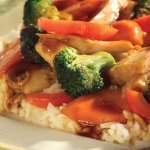 Try this chicken vegetable stir fry for a nice light lunch or dinner. You can make it a hearty meal by plating it with some rice. The flavors in this chicken recipe bring you the taste of the orient.
By using skinless chicken breast, this one is only 1 SmartPoint on Weight Watchers new FreeStyle program. Of course you have to track your points for the sides you add to your meal.
You can change up the veggies to your favorites without impacting the points. If you are counting calories, carbs or other nutrition, be sure to adjust for the different veggies you add or change.

Oriental Chicken Vegetable Stir Fry
We love a good stir fry and it's fun to mix up the flavors by seasoning the veggies and meat with different sauces.
Recipe Type:
Chicken, Main Dish
Degree of Difficulty:
Easy
Ingredients
1 1/2 lb chicken breast, skinless cut into strips
1 1/2 Tbs canola oil, divided
1 tsp Garlic powder
2 tsp minced fresh ginger
1 1/2 cups Chicken broth
3 Tbs reduced-sodium soy sauce
2 Tbs cornstarch
1 tsp Oriental sesame oil
1 cup broccoli florets
1 cup mushrooms, sliced
1 cup Red bell pepper cut into 1/4-inch cubes
1/2 tsp crushed red pepper (optional)
Salt and pepper to taste
Directions
Mix broth, soy sauce, garlic powder, ginger and cornstarch in a small bowl until smooth. Set aside.
In a large non-stick skillet, heat half the canola oil on medium-high.
Add chicken and stir fry for about 5 minutes (or until chicken is cooked through). Add additional oil if needed.
Remove chicken and set aside.
Place vegetables in skillet adding remaining canola oil and sesame oil and stir fry for about 3 minutes.
Place chicken in skillet.
Stir the soy sauce mixture and pour into skillet.
While stirring constantly, bring to a boil. Continue to boil for about 1 minute or until sauce is slightly thickened.
Plate and serve (you can put over rice if desired).
Cooking Times
Prep Time: 10 minutes Cooking Time: 10 minutes
Nutrition Facts
Nutrition facts shown below are per serving for this chicken vegetable stir fry recipe. The number of serving is noted in the header section below. The serving size is the first item noted on the nutrition facts table.
Nutrition Per Serving

Number of Servings: 8
Serving Size
1 cup
Calories
150
Total Fat
5.9g
Sat Fat
1.0g

Cholesterol

59.4mg

Sodium

290.0mg

Total Carbohydrates

4.2g
Fiber
.5g
Sugar
.8g

Protein

19.3g
MyWW Points
Green: 3 pts
Blue: 1 pts
Purple: 1 pts
Other Weight Watchers Points
Points
Plus: 4 pts
Original
Points: 3 pts
The MyWW points nutrition exclude items that are zero points for the plan you are following. For instance, the blue and purple plans do not include the chicken or vegetables. The green plan only excludes the vegetables. The rice is not included in nutrition or points as this is not part of the recipe. If you would like to add rice, be sure to adjust points and nutrition accordingly.
Tips
You can add, change or remove vegetables to your liking. If everyone has a favorite, just cut veggies in big enough chunks that you can grab what you like while making your plate.
More Recipes
I always look forward to when fresh fruits are in season so I can make this juicy chicken summertime salad.
Your mouth will be watering wanting this stuffed with creamy goodness chicken breast recipe.
These baked thighs have a fantastic flavor and crunch from the parmesan and seasonings in this recipe.

This frittata is perfect for a unique breakfast or brunch. With the added benefits of the fish, this makes a healthy meal.
If you are looking for something sweet and fun to make for dessert, then give this recipe a try. So easy kids can help.
This is such a quick, easy and delicious appetizer recipe that will go great at parties or a quick snack idea.

Additional Articles
Appetizer Recipes
Appetizers are a great way to start your meal. If you are looking for something new, then check out this page.
Feel Good Super Foods
Check out these super foods and add some to your recipes and meals. Because who doesn't want to feel good?
Reading Food Labels
Make sure you know what means what on the foods you buy. Understanding the labels can help you make healthier choices.