Salmon Vegetable Frittata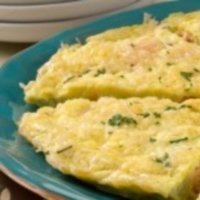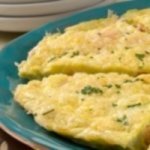 This salmon vegetable frittata makes a nice change for your breakfast. With healthy vegetables, lean smoked salmon and other flavors, your whole family will dig into this meal. This recipe does take some time to make, so why not try this on the weekend or a planned day off.
Of course this is not just for breakfast. Add a tossed salad and some garlic bread along with the frittata and have it for dinner or lunch. It's a low carb, low points meal that will get your day started off right.

Salmon Vegetable Frittata
This is one of many MyWW friendly recipes on this site. Since the eggs, veggies and salmon are on zero points on the Blue and Purple plan on the SmartPoints system, the total SmartPoints are only 1 point. So no need to worry about going over your daily allowance.
Below are the list of ingredients, directions, recipe nutrition information and Weight Watchers points.
Recipe Type:
Breakfast, Fish, Seafood, Main Dish
Degree of Difficulty:
Moderately difficult
Ingredients
6 Eggs
2 cups mushrooms, sliced
1/4 cup green onion, sliced
1 Tbs butter or margarine
4 oz smoked salmon, cut into small pieces
1 cup Skim milk
1/4 tsp paprika
1/4 tsp pepper
Directions
Preheat oven to 350 degrees.
Sauté mushrooms and onion in melted butter using an oven-proof skillet for about 3 - 5 minutes.
Whisk eggs, milk, paprika and pepper with a wire whisk until well blended.
Add smoked salmon and the egg mixture to the cooked onions and mushrooms in the oven-proof skillet. Blend together.
Place pan in the oven and bake for 30 minutes.
Cut into 6 wedges and serve.
Cooking Times
Prep Time: 10 minutes Cooking Time: 30 minutes
Nutrition Facts
For this salmon vegetable frittata the nutrition facts shown below are per serving. The number of serving is noted in the header section below. The serving size is the first item noted on the nutrition facts table.
Nutrition Per Serving

Number of Servings: 6
Serving Size
1 wedge
Calories
131
Total Fat
7.6g
Sat Fat
3g

Cholesterol

196.3mg

Sodium

468.3mg

Total Carbohydrates

3.6g
Fiber
<1g
Sugar
2.8g

Protein

12g
MyWW Points
Green: 4 pts
Blue: 1 pts
Purple: 1 pts
Other Weight Watchers Points
Points
Plus: 3 pts
Original
Points: 3 pts
The salmon, eggs and vegetables are not in included in the calculation of the MyWW Blue and Purple SmartPoints. All other points do not include the veggies.
Tips
If you don't have an oven safe skillet, simply transfer everything into an oven safe baking dish.
Here's some tips from Incredible Egg on how to cook a frittata perfectly.
Featured Recipes
More Recipes
Make up these blackberry bars over the weekend and then use them for a quick and fast breakfast during the week.
This breakfast sandwich idea combines the sweet flavors of nectarine with basil, red pepper and cream cheese.
Start your day off with the flavors of bacon, melted Swiss cheese, creamy eggs that make up this quiche lorraine.
This stuffed potato is so filly you may want to have it as the main course instead of just an appetizer.
This pumpkin pudding recipe is so creamy and delicious and is the perfect ending to your dinner meals.
Make cleaning up after dinner a breeze with this skillet recipe as it all goes into one pan...and tastes great!

Additional Articles
Freestyle Zero Points
The salmon and eggs in this recipe are now zero points. So are over 200 food items. Read this article to see if you favorites made the cut.

Weight Loss Tips
Did you know people who eat a healthy breakfast tend to lose more weight? Find out what else can help you with your weight loss goals with these tips.
Exercise Calorie Calculator
Use this free online calculator to see how many calories you burned during your workout.