Quiche Lorraine Recipe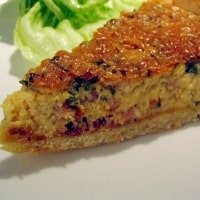 Try this Quiche Lorraine recipe for breakfast or brunch. This one uses a ready to bake pie crust, but if you want to make your own crust, you can do that as well.
With crunchy bacon, melted Swiss cheese, creamy evaporated milk and of course the main ingredient of eggs, you can start your day off with this yummy breakfast recipe idea.
You will find the new MyWW Points for Green, Blue and Purple as well as points plus and original values. For non-members, this recipe shows the complete nutrition information per serving. See below for a list of ingredients and step by step directions.

Quiche Lorraine Recipe
This easy, elegant quiche makes a delicious breakfast, brunch, lunch or dinner served with a fresh fruit salad.
Recipe Type:
Breakfast, Brunch
Degree of Difficulty:
Easy
Ingredients
1 unbaked 9-inch (4 cup volume) deep-dish pie shell
6 slices bacon, chopped
1/2 cup chopped onion
1 1/2 cups (6 ounces) shredded Swiss cheese
1 1/2 cups (12 fluid-ounce can) Nestle Carnation Evaporated Milk
3 large eggs, well beaten
1/4 tsp salt
1/8 tsp ground black pepper
1/8 tsp ground nutmeg
Directions
Preheat oven to 350° F.
Cook bacon in large skillet over medium heat.
When bacon starts to turn brown, add onions.
Cook until bacon is crisp; drain.
Sprinkle cheese into bottom of pie shell.
Top with bacon mixture, crumbling bacon into smaller pieces.
Combine evaporated milk, eggs, salt, pepper and nutmeg in small bowl until well blended.
Pour into pie shell.
Bake for 30 to 35 minutes or until knife, inserted halfway near center, comes out clean.
Cool for 5 minutes on cooling rack.
Cut into 8 slices and serve.
Cooking Times
Prep Time: 10 minutes Cooking Time: 50 minutes
Nutrition Facts
Nutrition facts shown below are per serving. The number of serving is noted in the header section below. The serving size is the first item noted on the nutrition facts table.
Nutrition Per Serving

Number of Servings: 8
Serving Size
5.2oz
Calories
400.48
Total Fat
29.75g
Sat Fat
12.91g

Cholesterol

125.6mg

Sodium

507.33mg

Total Carbohydrates

16.04g
Fiber
0.64g
Sugar
5.6g

Protein

16.76g
MyWW Points
Green: 15 pts
Blue: 14 pts
Purple: 14 pts
Other Weight Watchers Points
Points
Plus: 11 pts
Original
Points: 11 pts
The eggs were not used to calculate the MyWW Blue and Purple SmartPoints.
Tips
You can prepare this a few hours in advance of baking. Just chill until you are ready to bake.
In addition to this Quiche Lorraine recipe, here's another breakfast quiche to try.
More Recipes
Add a fun and tasty twist to a classic with this recipe that is stuffed with healthier ingredients but still so sweet.
Try this breakfast casserole that is WW FreeStyle friendly as it is made with homemade Italian sausage using ground turkey breast.
This breakfast recipe is great for a quick or on the go meal, midday snack or even dessert after dinner.
This dinner recipe uses alfredo sauce and parmesan cheese to give you a creamy tasting casserole.
This healthy soup recipe idea is low in fat and makes a great healthy starter dish to any meal.
We have paired this Tuna Salad recipe with the Lemon French Dressing for a light and tasty starter or main dish.

Additional Articles
Biggest Loser Diet
Read this review to see if this diet is the one for you. It's not only a hit television show, it's a very successful diet plan.
Calorie Intake Chart
Download this free spreadsheet to track your calories, weight loss, exercise calories and more.
Metabolism Booster Foods
Add some of these foods to your favorite recipes to rev up your metabolism and burn more calories.