Stuffed French Toast Recipe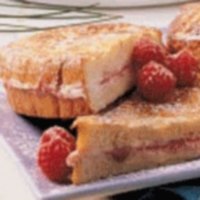 This Stuffed French Toast recipe is a fun way to start out your day. This recipe is a simplified version of a stuffed French Toast.
Instead of using the oven, or thicker breads, this breakfast recipe uses the traditional method of dunking the bread into the egg mixture. Instead of just dipping one slice, you will dip two slices together with the stuffing in between.
So there is no need to heat up the oven for these, just grab your non-stick pan and follow the directions below.

Stuffed French Toast Recipe
Kids and adults alike this breakfast idea with the sweetness from the preserves and the creaminess of the cream cheese. It takes only 15 minutes to prepare and cook, so they can even be made during the weekdays.
You will find a list of ingredients, directions, nutrition and the new MyWW Weight Watchers SmartPoints for this breakfast recipe below.
Recipe Type:
Breakfast, Brunch
Degree of Difficulty:
Easy
Ingredients
4 each Eggs
8 Tbsp Red Raspberry Preserves, Sugar Free
8 each Whole Wheat Bread
1/8 cup Skim Milk
1 1/2 tsp Cinnamon
4 oz cream cheese (light or fat-free)
Cooking Spray
Directions
Lightly cover flat non-stick pan with cooking spray.
Preheat pan over medium heat.
On 4 slices of bread, spread 1 oz cream cheese.
Spread 2 tablespoon of sugar free raspberry preserve on top of the cream cheese.
Place other 4 slices of bread on top (to make a sandwich).
Beat eggs, milk and cinnamon together with a whisk in medium sized bowl.
Dip each sandwich in the egg mixture on both sides.
Place on the pan and cook until golden brown on that side.
Flip the stuffed French Toast and cook the other side until golden brown.
Remove and serve.
Cooking Times
Prep Time: 10 minutes Cooking Time: 5 minutes
Nutrition Facts
The nutrition facts for this stuffed French toast recipe shown below are per serving. The number of serving is noted in the header section below. The serving size is the first item noted on the nutrition facts table.
Nutrition Per Serving

Number of Servings: 4
Serving Size
6.1oz
Calories
269.41
Total Fat
7.43g
Sat Fat
2.23g

Cholesterol

189.56mg

Sodium

537.65mg

Total Carbohydrates

36.82g
Fiber
4.33g
Sugar
5.27g

Protein

18.28g
MyWW Points
Green: 8 pts
Blue: 6 pts
Purple: 6 pts
Other Weight Watchers Points
Points
Plus: 7 pts
Original
Points: 5 pts
The eggs are not included in the MyWW Freestyle SmartPoints for the Blue and Purple plans calculation.
Tips
If you want, you can butter these and spread a bit more preserve on top or lightly cover with maple syrup.
In addition to this breakfast recipe try this fruity banana split idea.
Here's a stuffed French toast recipe that uses peanut butter and bananas. Sounds so yummy!
More Recipes
With the sweetness of the waffle, some juicy fruits and ham, it puts a morning twist to a club sandwich.
This recipe is topped with tomatoes and olives with the taste of basil it gives you a tasty twist to a typical quiche.
Banana Split for Breakfast? You can with this recipe that uses fruit instead of ice cream.
Fish is full of so many healthy benefits. So try this fish recipe tonight.
Pair this soup with your main dish for lots of creamy goodness that will warm up your taste buds.
Kids love eating with their hands and these drumsticks are sure to make them and the whole family happy

Additional Articles
Healthy Appetizer Recipes
Check out these appetizer recipes for your next meal or party. You can get a taste of Italy, go spicy with Mexican or other flavors with these appetizer ideas.
Portion Sizes
Do you know what a proper portion size looks like? Read this article to learn more.
Weight Loss Plateaus
Break past those weight loss plateaus with these helpful tips.