Apple Glazed Chicken Drumstick Recipe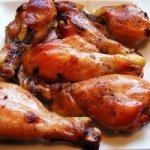 This chicken drumstick recipe uses sweet molasses and apple butter to give it lots of fun flavors. Kids love eating with their hands and these drumsticks are sure to make them and the whole family happy.
Be sure to set out plenty of napkins as this meal can get messy. Add your favorite sides and finish it with a tasty dessert to complete your dinner.
All recipes on this website come complete with a list of ingredients, step by step directions, nutrition information and Weight Watchers Points - including the SmartPoints.

Apple Glazed Chicken Drumstick Recipe
The glaze on this chicken recipe adds a sweet taste to this dinner or lunch idea. Serve with some apple slices and carrot sticks to complete this meal.
Recipe Type:
Main Dish, Chicken
Degree of Difficulty:
Easy
Ingredients
8 chicken drumsticks, skinless
1/4 cup brown sugar
1 cup unsweetened applesauce
1 tbsp BBQ sauce
1/2 tsp ground ginger
1/2 tsp salt
1/4 tsp freshly ground black pepper
Directions
Preheat broiler.
In a medium bowl, stir together brown sugar, applesauce, BBQ sauce, ground ginger, salt and pepper.
Add the drumsticks and toss to completely coat.
Line a broiler pan with aluminum foil and set the drumsticks in the pan.
Broil for 13 to 15 minutes, turning the drumsticks occasionally and brushing on remaining glaze as you turn.
Cooking Times
Prep Time: 10 minutes Cooking Time: 15 minutes
Nutrition Facts
Nutrition facts shown below are per serving for this chicken drumstick recipe. The number of serving is noted in the header section below. The serving size is the first item noted on the nutrition facts table.
Nutrition Per Serving

Number of Servings: 4 Servings
Serving Size
2 Drumsticks
Calories
232
Total Fat
4.3g
Sat Fat
1.1g

Cholesterol

95.5mg

Sodium

438.0mg

Total Carbohydrates

21.9g
Fiber
0g
Sugar
20.1g

Protein

25.7g
MyWW Points
Green: 6 pts
Blue: 6 pts
Purple: 6 pts
Other Weight Watchers Points
Points
Plus: 6 pts
Original
Points: 5 pts
The unsweetened applesauce nutrition was not used to calculate the Weight Watchers points.
Tips
If you want a little more sweet to the glaze add about 1/4 honey or molasses.
I found this recipe on SparkRecipes that is a applesauce glazed pork chops that sounds sweet and good. I think I'll try it.

More Recipes
This recipe is only 1 SmartPoint on the FreeStyle program. However if you add rice, you need to adjust accordingly.
The parmesan gives this baked chicken recipe lots of crunch and flavor. Add a nice salad for a great meal.
The Alfredo sauce is made with low fat cottage cheese and plain non-fat yogurt making this lower in fats and WW points.

Warm up with this soup recipe. Use it as an appetizer or pair it with a salad for a light meal.
By using ground turkey breast for this recipe, you can reduce your SmartPoints and some of the fats.
Start your day off with this breakfast idea. The creaminess of this delicious casserole is packed flavor.

Additional Articles
Weight Watchers FreeStyle Zero Point Foods
Check out the complete list of over 200 foods that are now zero WW points on the FreeStyle plan. Add some to your meals and recipes guilt free.
SmartPoints Calculation
Find out the math behind the numbers with this article. Learn what nutritional values are used and how they are weighted so you can make healthier food selections
Healthy Fish Recipes
Not in the mood for chicken tonight? Try these fish recipes for your dinner meal.