Blackberry Breakfast Bars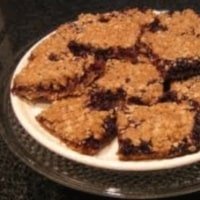 Try these blackberry breakfast bars for you next morning meal.
Made with juicy blackberries, healthy rolled oats and other delicious flavors, these will make anyone a morning person.
These do require some time to bake, so get up early, pop them in the oven and do your workout while these tasty breakfast treats are cooking.

Below are the list of ingredients, directions, recipe nutrition information and Weight Watchers points including the new MyWW plan Green, Blue and purple points..
Blackberry Breakfas Bars
These bars are not only an exceptional way to start the day, but they're also great for the fast break - a quick energy snack between all those daily activities.
Recipe Type:
Breakfast, Fruits, Snack, Vegetarian
Degree of Difficulty:
Moderate
Ingredients
2 cups Fresh or frozen blackberries
2 Tbs sugar
2 Tbs water
1 Tbs lemon juice
1/2 tsp ground cinnamon
1/2 cup all purpose flour
1/2 cup all purpose wheat flour
1 cup quick cooking rolled oats
2/3 cup packed brown sugar
1/4 tsp ground cinnamon
1/8 tsp baking soda
1/2 cup margarine or butter melted
Directions
For filling, using medium saucepan, combine blackberries, sugar, water, lemon juice and 1/2 teaspoon cinnamon.
Bring to a boil and reduce heat.
Simmer, uncovered, for about 8 minutes or until slightly thickened, stirring frequently.
Remove from heat.
For crust, in a large mixing bowl, stir together flour, oats, brown sugar, 1/4 teaspoon cinnamon and baking soda.
Stir in melted butter or margarine until thoroughly combined.
Set aside 1 cup of the oat mixture for topping.
Press remaining oat mixture into an ungreased 9x9x2 inch pan.
Bake at 350 degree oven for 20 minutes.
Carefully spread filling on top of baked crust.
Sprinkle remaining oat mixture lightly pressing into filling.
Bake at 350 degrees for 20 to 25 minutes until topping is set.
Cool in pan on a wire rack.
Cut into 18 bars.
Cooking Times
Prep Time: 15 minutes Cooking Time: 45 minutes
Nutrition Facts for Blackberry Breakfast Bars
Nutrition facts shown below are per serving. The number of serving is noted in the header section below. The serving size is the first item noted on the nutrition facts table.
Nutrition Per Serving

Number of Servings: 18
Serving Size
1 bar
Calories
148
Total Fat
5.6g
Sat Fat
3.3g

Cholesterol

13.6mg

Sodium

57.5mg

Total Carbohydrates

23.7g
Fiber
1.5g
Sugar
14.4g

Protein

1.6g
MyWW Points
Green: 6 pts
Blue: 6 pts
Purple: 6 pts
Other Weight Watchers Points
Points
Plus: 4 pts
Original
Points: 3 pts
Note: All Weight Watchers points do not include the blackberries and lemon juice.
Tips
You can substitute the blackberries with your favorite berry flavor or make it a mixed berry bar by using 2 or more different types of berries.
More Recipes
This breakfast bagel recipe puts a tasty and juicy twist to your morning bagel.
Try a taste of Mexico with these breakfast burritos that are filled with morning goodness and topped with spiciness
This breakfast casserole has a healthy twist by using turkey sausage and low fat cheeses.
This fruity recipe is a fun and sweet way to start out your day.
Warm up with this not too spicy chili recipe.
The Cajun flavoring in this fish recipe will wake up your tastebuds.

Additional Articles
Lose Belly Fat
Find out the secrets of shedding that fat around your belly. You may be surprised to find out that it's not doing 100 crunches.
Healthy Appetizer Recipes
Check out these recipes for some tasty and healthy appetizers. Use them to start your dinner, take to a party or eat them as a snack or side dish.

Weight Watchers Points Tracker
Track the points for the foods you eat with this free spreadsheet. It will track your daily and weekly allowance and you can even add in activity points.