Creamy Chicken Rice and Broccoli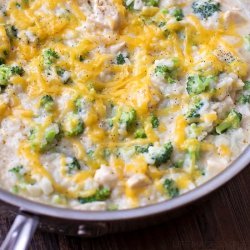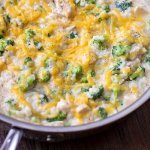 This creamy chicken rice and broccoli recipe is cooked in a skillet which saves you time and dishes. So there's no need to heat up the over (or your house) to prepare this meal.
This is what I call a semi-homemade recipe as it uses a can of chicken soup. If you are up to it, and prefer it, just make your own creamy chicken mixture to use instead.
Chicken breast recipes are great. Chicken breast (skinless of course) as an ingredient is even more great now that Weight Watchers has put this on the zero points FreeStyle list of foods.

Creamy Chicken Rice Skillet Recipe
If you are not counting points but other nutritional information, not to worry. Below are not only the list of ingredients, directions and WW points, but lots of nutrition details also.
Recipe Type:
Main Dish, Chicken
Degree of Difficulty:
Moderate
Ingredients
1 Tbs vegetable oil
1 lb chicken breast, skinless cut into cubes
1 can 10.75-oz. can cream of chicken soup
1/3 cup chicken broth
1 cup Skim milk
1 cup broccoli florets
1 cup (uncooked) brown rice
1/2 cup Low fat shredded cheddar cheese
Directions
In a large nonstick skillet, heat oil over medium high heat.
Add chicken and cook covered about 4 minutes each side or until completely cooked.
Remove chicken from the skillet.
Add soup, chicken broth and skim milk to skillet.
Stir to mix and bring to a boil.
Stir in rice, cover and lower heat. Let simmer for about 15 minutes.
Add chicken and recover and simmer for another 5 minutes.
Turn off skillet, add cheese and cover.
Steam broccoli (or used frozen and cook as directed).
Top with broccoli and serve.
Cooking Times
Prep Time: 10 minutes Cooking Time: 20 minutes
Nutrition Facts
Nutrition facts below are per serving. The number of servings in this creamy chicken rice meal is noted in the header section below. The serving size is the first item noted on the nutrition facts table.
Nutrition Per Serving

Number of Servings: 4
Serving Size
1 serving
Calories
287
Total Fat
11.1g
Sat Fat
2.7g

Cholesterol

48.1mg

Sodium

940.0mg

Total Carbohydrates

23.7g
Fiber
2.8g
Sugar
4.6g

Protein

23.3g
MyWW Points
Green: 7 pts
Blue: 6 pts
Purple: 5 pts
Other Weight Watchers Points
Points
Plus: 6 pts
Original
Points: 5 pts
The nutrition for the chicken breast and brocolli are not included in the MyWW Blue points and Purple points. In addition, purple points do not include the brown rice. Broccoli is not included for all other WW points.
Tips
You can use instant rice and cook in the microwave. Just add it to the skillet along with the chicken for the last few minutes of simmering.
Here's another chicken and rice skillet recipe that we've tried from Kraft Recipes...it's good.
More Recipes
If you are looking for ways to mix it up with your chicken recipes, then give this one a look...I guarantee you'll love it.
This meal has just one WW FreeStyle SmartPoint so you have plenty of room to add some sides and starters.
This baked dish has a lovely crunch from the chicken and parmesan. Pair it with a nice soup or salad to complete the meal.

Make your next salad with this creamy dressing recipe. It uses non-fat plain yogurt giving it low WW points.
It's cajun cooking tonight with this fish dinner recipe. Catfish never tasted so good!
Get stuffed with this potato recipe. It's so filling it could be the main course or use it for a hearty appetizer.

Additional Articles
Marconutrient Calculator
Use this free online tool to find out what your nutritional needs are for your diet.
Reduce fats through cooking methods
Reduce your daily fat intake by changing up how you cook. Instead of frying try baking...this and more tips on this article.
Cutting Calories to Lose Weight
When you are trying to lose weight you want to consume fewer calories than you burn. Check out these tipes.