Tuna Stuffed Potato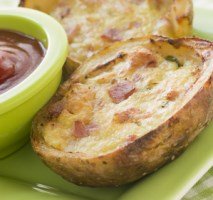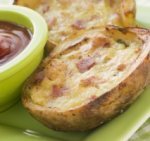 This tuna stuffed potato makes a great appetizer to your main course. It is so filling, that you can even make it the main dish.
Stuffed with white chunk tuna, low fat cheeses and of course the potatoes, this is a healthier option to fried potato skins. Using tuna as your main filler is not only healthier, but has lots of health benefits as well.
It's a twice baked potato gone healthy and WW Freestyle friendly.

Below are the list of ingredients, directions, recipe nutrition information and Weight Watchers points.
Tuna Stuffed Potato Recipe
This appetizer recipe does take some time but is well worth the wait. Below you will find the list of ingredients, directions, recipe nutrition information and Weight Watchers points.
Recipe Type:
Appetizer, Fish, Main Dish, Side Dish, Snack
Degree of Difficulty:
Moderate
Ingredients
1 Baking potato
1 6 oz can Tuna, chunk white
2 tsp margarine, reduced fat
1/4 cup onion finely chopped
2 tsp flour, divided
1/2 cup Yogurt, plain low fat
2 oz cheddar cheese (reduced fat), shredded
2 Tbsp pimiento chopped
1/2 tsp salt
dash of pepper and paprika
Directions
Preheat over to 350 degrees.
Using a non-stick baking sheet, place potato halves cut-side down.
Bake until tender but not soft (about 20 - 25 minutes).
Remove from oven and let cool.
Scoop out insides of each potato half, leaving 1/4 inch thick shell.
Place potato scoopings in food processor or blender.
Add tuna and pulse mix potato and tuna until finely ground (do not puree). Set aside.
In a skillet, sauté onions in margarine. Add 1/2 the flour and stir quickly to combine. Continue cooking for about 1 minute.
In small bowl, stir yogurt until smooth. Add remaining flour and stir.
Put yogurt mixture in skillet and stir in 1 ounce cheese, pimiento, salt, pepper, paprika and tuna mixture.
Spoon half of tuna mixture into each potato shell. Spinkle each potato half with remaining cheese.
Bake at 350ºF until cheese is melted and potato is heated (about 10 to 15 minutes).
Cooking Times
Prep Time: 15 minutes Cooking Time: 45 minutes
Nutrition Facts for Tuna Stuffed Potato
Nutrition facts shown below are per serving. The number of serving is noted in the header section below. The serving size is the first item noted on the nutrition facts table.
Nutrition Per Serving

Number of Servings: 2
Serving Size
1 ea
Calories
299
Total Fat
7g
Sat Fat
2.8g

Cholesterol

45.4mg

Sodium

1160mg

Total Carbohydrates

25.2g
Fiber
2.5g
Sugar
1.7g

Protein

32.7g
MyWW Points
Green: 7 pts
Blue: 4 pts
Purple: 2 pts
Other Weight Watchers Points
Points
Plus: 7 pts
Original
Points: 6 pts
Weight Watchers Points
FreeStyle
SmartPoints: 4 pts
SmartPoints
Non-FreeStyle: 7 pts
Points
Plus: 7 pts
Original
Points: 6 pts
The tuna and plain non-fat yogurt was not used to calculate the MyWW Blue and Purple SmartPoints. The purple points also do not include the potato.
Tips
You can speed up the process of this recipe by micro-waving the potato halves for about 10 minutes. Then place in the oven for about 5 minutes to crisp up the skins.
Pair off this tuna stuffed potato recipe with this tuna salad recipe.
Featured Recipes
More Recipes
The sweet and sour tastes in this meal wakens up the taste buds. It has a ginger glaze that gives it a unique flavor.
You will love the creamy pesto sauce in this pasta dish. Toss in the shrimp and it's a whole new taste.
Spice it up tonight and go Cajun cooking with this catfish recipe. Add some mixed veggies for a zero point side dish.
With only 1 SmartPoint, you can divulge into this tasty frozen delight. Skip the cool whip for a guilt free and zero point dessert.
If you are looking for something other than the typical Quiche Lorraine, then give this one a try.
You will be sweet on these wings as an appetizer, party food or even make it the star of the night as the main dish.

Additional Articles
Macronutrient Calculator
Find out how many grams of fat, protein and carbohydrates you should be getting each day based on your calorie intake needs.

Exercise Tips
Adding exercise to any diet plan can help you lose weight faster. Use these tips to help you get started today.
Lose Belly Fat
Before you spend hours of doing abdominal exercises, check out this article to find out what it really takes to shed that excess fat in your stomach.