Turkey, Cheese & Egg Roll Up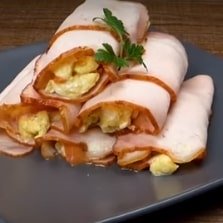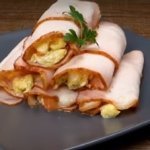 This egg roll up recipe is an adaptation of a typical ham, egg and cheese roll up. With the changes I've made, it's MyWW friendly with just 1 SmartPoint for the Blue and Purple plans.
Instead of ham, turkey deli luncheon meat is used as this is now a zero point food on the freestyle plan. Of course the fat is reduced even further by using low fat cheese.
The beauty of this breakfast recipe is you can add (or subtract) veggies to your taste without changing the WW Points Plus or SmartPoints.
Without further ado, here is my twist on this breakfast classic.

Turkey, Cheese and Egg Roll Up
This is my adaptation of a recipe I found on delish.com. Instead of ham, I am using turkey breast luncheon meat (zero points on the FreeStyle program. I also added some parsley for extra flavor and am using skim milk to mix the eggs (tastes creamier this way). I am using low fat cheese (which doesn't melt as well) but saves on some Weight Watchers points.
Recipe Type:
Breakfast, Brunch, Turkey
Degree of Difficulty:
Moderate
Ingredients
20 slices turkey breast luncheon meat slices
10 eggs
1/4 cup skim milk
1.5 cups cheddar Cheese (reduced fat), shredded
1 cup Spinach, cooked & chopped
1 cup Tomatoes, diced
1/4 cup Parsley -- chopped
Salt & Pepper to taste
Cooking spray
Directions
Heat Broiler on medium
In a large bowl, mix eggs, milk salt and pepper.
Coat bottom of skillet with cooking spray. Heat on medium.
Add egg mixture and scramble stirring occasionally.
Add shredded cheese and cook until melted.
Stir in baby spinach, tomatoes and basil until combined.
On a cutting board, place two slices (slightly apart but overlapping) of the turkey breast luncheon meat.
Place a large spoonful of egg mixture on top of turkey slices.
Roll up and place in baking dish (seam side down).
Repeat with remaining turkey slices and egg mixture.
Broil until crispy, approximately 5 minutes.
Cooking Times
Prep Time: 10 minutes Cooking Time: 10 minutes
Nutrition Facts for Egg Roll Up
Nutrition facts shown below are per serving. The number of serving is noted in the header section below. The serving size is the first item noted on the nutrition facts table.
Nutrition Per Serving

Number of Servings:5
Serving Size
2 Roll Ups
Calories
184
Total Fat
3.8g
Sat Fat
1.6g

Cholesterol

91.5mg

Sodium

1145.4mg

Total Carbohydrates

4.0g
Fiber
1.4g
Sugar
5.7g

Protein

33.5g
MyWW Points
Green: 3 pts
Blue: 1 pts
Purple: 1 pts
Other Weight Watchers Points
Points
Plus: 4 pts
Original
Points: 4 pts
The turkey breast slices, eggs and vegetables were not included for the calculation of MyWW Blue and Purple SmartPoints. The veggies are not included in the other points calculation.
Tips
The beauty of this egg roll up recipe is you can easily mix it up for a different taste each time you make it. For instance, instead of cheddar cheese you can use mozzarella or even Swiss cheese. Instead of spinach, saute up some bell peppers to add the the roll up.
Here's another recipe using turkey slices. These asparagus roll ups have only 1 FreeStyle SmartPoints.
Here's the recipe from delish.com that inspired this recipe.
Here's another recipe using turkey slices. These asparagus roll ups have only 1 FreeStyle SmartPoints.
Here's the recipe from delish.com that inspired this recipe.

More Recipes
Made with non-fat yogurt (a zero point food) this breakfast has fewer SmartPoints than other parfaits.
Stuff yourself at your next brunch with this stuffed French Toast recipe Filled with cream cheese and sweet sugar free raspberry preserves.
If you loves eggs and bell peppers, this is the recipe for you... and it's another WW FreeStyle friendly recipe.
This appetizer recipe has lots of flavor from the various fruits and creamy cheese.
The cajun seasonings really bring out lots of flavor in this catfish recipe.
Who doesn't want S'more! This one adds some tart and taste with the dried cherries giving it a fun flavor.

Additional Articles

How to Read Food Labels
Trying to eat healthy can sometimes be tricky. Are you getting the right nutrients? Am I getting the daily recommendations? These questions and more can be answered when you know how to properly read food labels.
Proper Portion Sizes
Portion control is a key component in any healthy diet. But what's the right amount for you? Learn more about portion sizes.
Counting Carbs or Making Carbs Count
Don't just count your carboydrates. Make sure the carbs you eat are the healthier options.