Chicken Mashed Potato Bake Recipe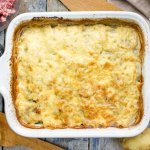 Try this chicken mashed potato bake for a new dinner idea. This meal has everything in one dish with the chicken, veggies and potatoes. It's quick and easy as it is what I like to call semi homemade. In just 30 minutes, you can serve this hot and tasty meal to your family.
So if you are short on time, then give this a go.
It's a WW FreeStyle friendly recipe as the main ingredient is skinless chicken breast - only 5 SmartPoints for this meal.
Below are the list of ingredients, directions, recipe nutrition information and Weight Watchers points.

Chicken Mashed Potato Bake Recipe
This chicken entree is a perfect comfort food for a cold night. No need for sides as it's all in one dish...perhaps a tasty dessert is in order though.
Recipe Type:
Chicken, Main Dish
Degree of Difficulty:
Easy
Ingredients
3 oz (1-oz.) packages chicken gravy mix
3 cups cubed, cooked chicken breast, skinless
3 cups frozen mixed vegetables
4 cups frozen mashed potatoes
Directions
Preheat oven to 350 degrees
Prepare gravy mix according package directions in skillet.
Add cubed chicken and frozen vegetables to gravy.
Bring to a boil.
Cover and reduce heat. Simmer for 10 minutes
Place gravy mixture into 4-quart backing dish.
Prepare frozen potatoes according to package.
Spoon mashed potatoes on top of gravy mix.
Place into oven and bake until potatoes are slightly brown, approximately 15 minutes.
Cooking Times
Prep Time: 5 minutes Cooking Time: 25 minutes
Nutrition Facts
Nutrition facts shown below are per serving for this chicken mashed potato bake. The number of serving is noted in the header section below. The serving size is the first item noted on the nutrition facts table.
Nutrition Per Serving

Number of Servings: 6
Serving Size
n/a
Calories
376
Total Fat
5.4g
Sat Fat
1.5g

Cholesterol

54.5mg

Sodium

972.1mg

Total Carbohydrates

57.9g
Fiber
10.9g
Sugar
3g

Protein

27.2g
MyWW Points
Green: 6 pts
Blue: 5 pts
Purple: 5 pts
Other Weight Watchers Points
Points
Plus: 6 pts
Original
Points: 5 pts
The chicken breast and veggies were not used for the MyWW Blue and Purple points. The veggies were not used for the other points.
Tips
Instead of using prepared potatoes, you can make your own for a more homemade taste. I personally like lumpy mashed potatoes so I make my own.
In addition to this chicken mashed potato bake, try this chicken and dumpling recipe
Found this chicken bake that uses cubed potatoes. My husband made this, and of course add his own Chef Douglas twist on it, and it was really good.
More Recipes
Love the sweet and bold flavors of these wings. Have them on game day, a snack or even make it the star of the night.
This chicken recipe has only 1 SmartPoint so you can add a tasty dessert, put it over rice or add a salad to this meal.
To sweeten this chicken, the recipe calls for an unsweetened applesauce glaze that saves on WW points and sugars.
This frozen strawberry banana recipe is another low calorie, low point dessert that you can use to help you stay cool
This is not only a fun appetizer to eat, it's a blast to make. Just thread on juicy fruits and creamy cheeses.
This stir fry uses the uniquely flavord swordfish as the main ingredient. The stir fry is placed on top of pasta for a hearty meal.

Additional Articles
Calorie Intake Chart
Use this free downloadable spreadsheet to track your weight loss progress. Record calories from the foods you eat and the calories you burn during exercise.
Weight Loss Calculator
Find out how many calories you need to consume in order to lose weight. This online tool will even estimate how long it will take you to reach your goals.

Free Fitness Videos
Check out the free fitness videos on this site. You will find videos for abs, upper body, lower body, stretches and more.