Quick Chicken and Dumplings Recipe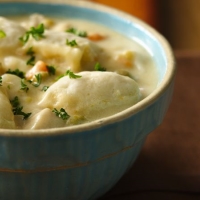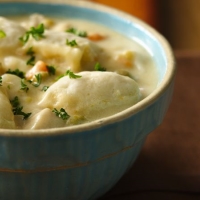 Try this quick chicken and dumplings recipe for dinner tonight. This is an easy to make meal that will warm you up on even the coldest nights.
Clean up is easier as well because this meal is all prepared in one skillet. So even the clean up crew will be loving this warm dinner.
Because skinless chicken breast is used as the main ingredient, it's a Weight Watchers FreeStyle friendly recipe with only 5 SmartPoints.
Of course if you want to use other parts of the chicken, just adjust the nutrition and points accordingly.

Chicken and Dumplings Recipe
You can never go wrong with a comfort food dinner and since this is so quick, you can even have it during the weekdays.
Recipe Type:
Main Dish, Chicken, Skillet
Degree of Difficulty:
Easy
Ingredients
2/3 cup 2% milk
2 cups buttermilk baking mix
2 Tbs chopped fresh parsley
3 (1-oz.) packages chicken gravy mix
3 cups cubed, cooked chicken breast, skinless
3 cups frozen mixed vegetables
Directions
Add milk to baking mix and parsley.
Mix only until baking mix is moistened. Set aside.
Prepare gravy mix according to package directions in skillet with cover.
Add chicken and frozen vegetables and return to boil.
Portion 6 large spoonfuls of dumpling dough onto hot mixture.
Reduce heat, cover and simmer 10 to 12 minutes or until dumplings are cooked.
Serve in a shallow soup bowl.
Cooking Times
Prep Time: 5 minutes Cooking Time: 20 minutes
Nutrition Facts
The nutrition facts shown below for this chicken and dumplings recipe are per serving. The number of serving is noted in the header section below. The serving size is the first item noted on the nutrition facts table.
Nutrition Per Serving

Number of Servings: 6
Serving Size
1 bowl
Calories
420
Total Fat
5.3g
Sat Fat
1.5g

Cholesterol

62.8mg

Sodium

732.7mg

Total Carbohydrates

61.3g
Fiber
11.2g
Sugar
2.7g

Protein

34.3g
MyWW Points
Green: 6 pts
Blue: 5 pts
Purple: 5 pts
Other Weight Watchers Points
Points
Plus: 7 pts
Original
Points: 5 pts
The chicken breast and veggies are not included in the calculation of the MyWW Blue or Purple points for this chicken and dumplings recipe. The veggies are not included in all other points values.
Tips
To reduce the fat and calories a bit for this chicken recipe, use skim milk instead of 2%.
If you enjoyed this chicken mear be sure to check out our Autumn chicken pot pie.
Here's another Dumplings made in the crockpot.

More Recipes
This is another easy to clean up chicken recipe that's made in a skillet...and it's oh so yummy!
This is a quick and easy semi-homemade recipe that tastes great but is a lot less work.
The juiciness from the summertime fruits in this salad are so sweet and juicy you can skip the salad dressing.
This fish dinner is glazed with ginger giving it a unique flavor with combinations of sweet and sour tastes.
Finish off your super with the taste of pumpkin in this quick and easy pudding recipe.
If you love banana bread (I know I do) and French toast, then you have to give this recipe a try.

Additional Articles
Ideal Body Weight Calculator
Check out this free online calculator to find out what your ideal body weight is. This one uses the Miller formula plus adjusts for frame size.
Weight Watchers Points Tracker
Download this free spreadsheet to track your points for the foods you eat. You can record activity points as well. The daily and weekly points are automatically adjusted as you use them.
Weight Watchers FreeStyle Program
If you are thinking about free styling your diet, then check out this article. Find out what's new and what stayed the same.