Avocado Deviled Eggs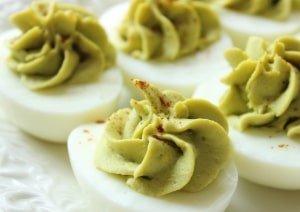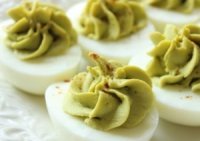 These avocado deviled eggs are the perfect appetizer for your holiday meals or as a fun snack whenever you want.
This recipe idea takes on a fun taste to a traditional appetizer or side dish. Not only are these tasty, but you get all the benefits of avocados.
Avocados are heart healthy, contain more potassium than bananas and can lower your cholesterol.
Below are the list of ingredients, directions, recipe nutrition information and Weight Watchers points.

Avocado Deviled Eggs
If you love avocados and deviled eggs, then this recipe is a must for your next party. The creamy flavor of this appetizer will have you going back for more.
Recipe Type:
Appetizer, Side Dish, Snack, Holiday
Degree of Difficulty:
Easy
Ingredients
12 each hard-boiled eggs
1 each avocados, peeled & pitted (medium)
1/3 cup mayonnaise
2 tsp lemon juice
2 pinches of salt
2 pinches of pepper
paprika to garnish (optional)
Directions
Place eggs in large sauce pan and cover with cool water about 1" above eggs.
Bring water to a boil over medium heat.
Once water is boiling, remove pan from heat. Cover and let sit for 12 - 15 minutes.
Run eggs under cool water. This helps to easily peel the eggs.
Peel eggs and cut in half lengthwise.
Peel and pit avocado. Cut into slices.
Add avocado to yolks. Mash with a fork.
Add the mayo, lemon juice, salt and pepper. Stir well.
Spoon the yolk mixture into a sandwich bag and squeeze to the bottom.
Cut a small hole at the corner of the bag and pipe the mixture into the egg whites. You can also simply spoon mixture into egg halves.
Garnish with paprika.
Cooking Times
Prep Time: 5 minutes Cooking Time: 5 minutes
Nutrition Facts
Nutrition facts shown below are per serving. The number of serving is noted in the header section below. The serving size is the first item noted on the nutrition facts table.
Nutrition Per Serving

Number of Servings: 12
Serving Size
2 each
Calories
138
Total Fat
10.4g
Sat Fat
2.5g

Cholesterol

213.8mg

Sodium

142.3mg

Total Carbohydrates

3.6g
Fiber
1.0g
Sugar
1.1g

Protein

7.5g
Weight Watchers Points
FreeStyle
SmartPoints: 2 pts
SmartPoints
Non-FreeStyle: 4 pts
Points
Plus: 4 pts
Original
Points: 3 pts
The eggs are not included in the calculation for the Freestyle SmartPoints.
Tips
To reduce the calories, fat and saturated fats, try using non-fat or low fat mayo.
In addition to these avocado deviled eggs try these mini peppers appetizer recipe for your next holiday get together. And here's another twist on this classic recipe from Weight Watchers themselves. This one is only 3 smart points.

More Recipes
This appetizer recipe is a great way to get your veggies in with the creamy flavor of cheese and turkey.
Use this salsa to top your pork or chicken meals or use it as a dip. It's great for parties.
Using a chicken spread from your left overs make the perfect snack or party treat.
Make these up ahead time for a quick breakfast or snack during the week.
It's Cajun cooking tonight with this tasty fish recipe idea.
Potatoes never tasted so good. Stuffed with Tuna, yogurt and cheese...this one is sure to please.

Additional Articles
When is a Salad no Longer Healthy
Before you pile on the bacon bits, salad dressing and cheeses, read this article. The salad you are eating may not be as healthy as you think.
Curbing Your Appetite
Use these tips to curb your appetite. Gaining control of your hunger can help you lose weight and reach your goals.
Parmesan Tilapia Recipe
Try this fish recipe for dinner tonight. This is a great main dish to go with these mini sweet peppers.