Granola Bars Recipe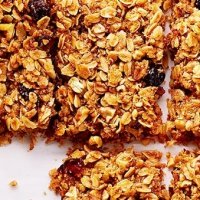 This granola bars recipe makes for a tasty and healthy breakfast. Morning is not the only time to enjoy this. Try it as a snack or dessert.
With the tasty flavors of dried fruit, sweet honey and crunchy granola, this is a breakfast bar the whole family will love. This does take some cooking time so plan ahead if you are eating this for breakfast. You can make this on the weekend and then enjoy them all week long.
Below are the list of ingredients, directions, recipe nutrition information and Weight Watchers points including the new MyWW plan values.

Granola Bars Recipe
Granola is not just for adding to your breakfast yogurt. Try making these Honey Granola Squares for a tasty way to start your day.
With low fat ingredients, fruits and the sweet taste of honey, your taste buds will love waking up to these. Wrap up the leftovers and have one for a mid-day snack.
Recipe Type:
Breakfast, Dessert, Snack
Degree of Difficulty:
Moderately Difficult
Ingredients
3 cups low-fat granola
2 ounces dried cranberries
2 ounces dried apricots
2 ounces dried pears
1/2 cup honey
1/4 cup vegetable oil
3/4 tsp vanilla extract
3 egg whites, lightly beaten
Directions
Heat over to 325 degrees F.
In a large bowl, mix together the granola and dried fruits.
In a small saucepan, heat the honey, oil and vanilla over medium heat stirring until honey is dissolved.
Pour honey mixture over granola and mix together until thoroughly coated.
Pour egg whites over granola mixture and mix well
Pack mixture firmly into an 8-inch square non-stick backing pan.
Bake at 325-degrees for 40 minutes or until deep golden brown.
Place pan on a cooling rack. Cool completely.
Cut into approximately 2-1/2 inch squares.
Cooking Times
Prep Time: 10 minutes Cooking Time: 40 minutes
Nutrition Facts - Granola Bars Recipe
Nutrition facts shown below are per serving. The number of serving is noted in the header section below. The serving size is the first item noted on the nutrition facts table.
Nutrition Per Serving

Number of Servings:12
Serving Size
1 bar
Calories
205
Total Fat
6.0g
Sat Fat
0.6g

Cholesterol

0mg

Sodium

68.5mg

Total Carbohydrates

37.1g
Fiber
2.0g
Sugar
20.3g

Protein

3.0g
MyWW Points
Green: 8 pts
Blue: 8 pts
Purple: 8 pts
Other Weight Watchers Points
Points
Plus: 5 pts
Original
Points: 4 pts
The dried fruit is included in the calculation for all Weight Watchers points (as they are dried and therefore not zero value). The egg whites were not include in the calculation for the SmartPoints for the MyWW Blue and Purple plans.
Tips
You can use different dried fruits to give this breakfast recipe a new flavor. You can also sprinkle a little cinnamon or nutmeg into the mix prior to baking for some additional flavor.
For more breakfast recipes like this try these Blackberry Breakfast bars.
Try this granola bars recipe that uses fruits and nuts.
More Recipes
This recipe has been modified to make it lower in Weight Watchers Points. This takes some time so plan ahead.
This banana split used fruit instead of ice cream so makes for a juicy breakfast idea.
With all the flavors on this waffle sandwich there's no need to add maple syrup.
Looking for a new dinner idea? Then check out this fish recipe.
This is a quick and easy dessert that is a perfect and delicious way to end a meal.
There is always room in your meal plans to have this yummy comfort food.

Additional Articles
Fall Recipe Ideas
Use up your garden harvest with these recipe ideas perfect for the fall weather.
Weight Watchers Points Tracker
Track the points in the foods you eat with this free downloadable spreadsheet. It also tracks daily and weekly allowance and you can add in your activity points.
Calories Definition
Before you track your calories, learn what it is and how it's made up from the various macro nutrients.