Garlic Stuffed Ribeye Steak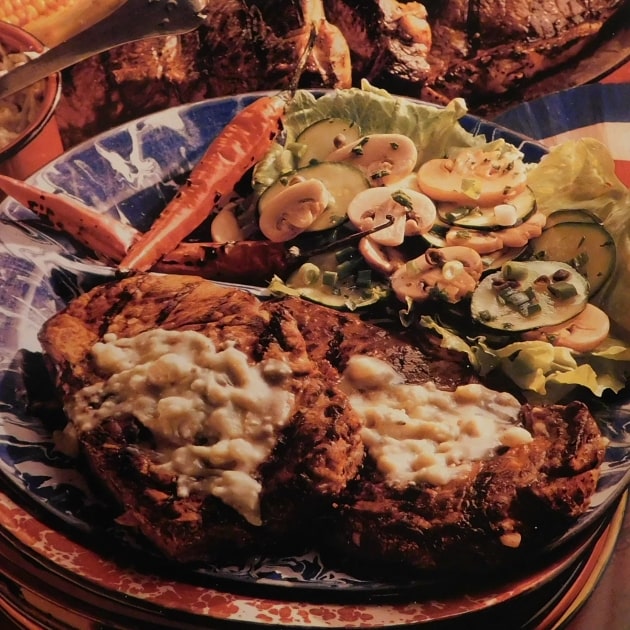 Fire up the grill for this garlic stuffed ribeye recipe. Topped with the sharp taste of blue cheese and stuffed with the full flavor of garlic, this hearty meal is sure to please all beef lovers.
While you got the grill all warmed up, add some carrots or your favorite veggies for some additional grilled deliciousness. Compliment this meal with a nice crisp tossed salad with a low fat blue cheese dressing.
This is not a light dinner, so be sure to save up some of your Weight Watchers Points for this meal.
Below are the list of ingredients, directions, recipe nutrition information and Weight Watchers points.

Garlic Stuffed Ribeye
This steak lover's recipe has the bold taste of blue cheese and garlic, a touch of spice with the cayenne pepper combined with the tenderness of a ribeye.
Recipe Type:
Beef, Main Dish, Grilled
Degree of Difficulty:
Moderate
Ingredients
8 each Ribeye steak, boneless, approximately 4 oz each
6 each garlic clove, peeled and quartered
1/4 cup olive oil
1 tsp salt
1 tsp pepper
1 tsp cayenne pepper
1 cup blue cheese
1/4 cup butter, unsalted
Directions - Cheese & Butter Blend
Place butter and blue cheese in a small mixing bowl.
Allow blue cheese and butter to come to room temperature and soften.
Add 1/2 teaspoon each of salt, pepper and cayenne pepper to blue cheese and butter and mix together to blend.
Directions - Steak
Heat grill to medium/hot.
With a sharp pointed knife, make a horizontal slit into one side of each steak.
Stuff slivers of garlic into the slits.
Brush steaks with olive oil.
Season with 1/2 teaspoon each of the salt, pepper and cayenne pepper.
Place steaks on grill about 4 to 5 inches from heat.
Grill 5 to 7 minutes per side.
Remove steaks from the grill and top with the cheese butter.
Return steaks to grill and cook for a few minutes.
Remove steaks and serve.
Cooking Times
Prep Time: 15 minutes Cooking Time: 20 minutes
Nutrition Facts for Garlic Stuffed Ribeye
Nutrition facts shown below are per serving. The number of serving is noted in the header section below. The serving size is the first item noted on the nutrition facts table.
Nutrition Per Serving

Number of Servings: 8
Serving Size
1 steak
Calories
357
Total Fat
32.6g
Sat Fat
15.2g

Cholesterol

65.9mg

Sodium

521.8mg

Total Carbohydrates

1.4g
Fiber
<1g
Sugar
<1g

Protein

19.3g
Weight Watchers Points
FreeStyle
SmartPoints: 13 pts
SmartPoints
Non FreeStyle: 13 pts
Points
Plus: 10 pts
Original
Points: 10 pts
All ingredients were used with calculating Weight Watchers Points for the garlic stuffed ribeye recipe.
Tips
For a cheese that is less sharp in flavor, try using goat cheese instead.
Here's a recipe for a Low Fat Blue Cheese Dressing you can use for a salad dressing to compliment this steak dinner.

More Recipes
Bite into this bold BBQ tasting sandwich for something different.
This juicy delicious grilled steak has lots of flavor for steak lovers.
Fire up the grill and stuff yourself with this flavorful stuffed beef tenderloin.
With only one Weight Watchers point, this Paella recipe is a tasty Spanish dish you will love.
Serve these chicken nuggets with a healthy side and your favorite low carb dipping sauce.
You can use fresh or frozen fruit for this dessert so you can make it any time of the year.

Additional Articles
Chicken Recipes
With chicken breast now a zero point food item on the FreeStyle plan, many of these recipes are low in SmartPoints so you won't go over your allowance.
Food Groups
Learn more about the various food groups and how much you should be having from each one in order to make a healthy plate.
Exercise Myths
Don't be fooled by these myths. Learn what's fact or fiction when it comes to exercising.