Pesto Stuffed Beef Tenderloin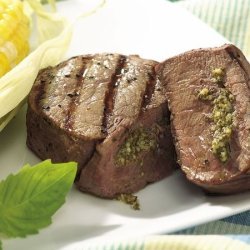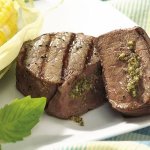 Try this pesto stuffed beef tenderloin for your next cookout. Perfect for grilling or you can broil it as well.
This is not a low calorie, low Weight Watchers Points meal, so be sure to save up some extra points and enjoy this steak for a hearty meal.
With pesto on the inside and butter brushed on top, this grilled dinner has tons of flavor to please even the pickiest of eaters.
Below are the list of ingredients, directions, recipe nutrition information and Weight Watchers points.

Pesto Stuffed Beef Tenderloin
This beef tenderloin recipe is stuffed with the taste of bold basil flavor from the pesto. Cook it to your desired taste.
Recipe Type:
Beef, Main Dish, Grill
Degree of Difficulty:
Moderate
Ingredients
2 (1-inch-thick) beef tenderloin steaks, 4 oz each
2 Tbs pesto
1/4 cup butter
1/4 tsp garlic powder or garlic salt
1/4 tsp salt
1/4 tsp pepper
Directions
Heat grill on medium heat.
With a sharp knife, make a 1 inch slit in the side of each steak.
Make a pocket in the steak by moving the knife around.
Spoon half of the pesto into each steak spreading it around.
Melt butter in microwave on low power. Add salt, pepper and garlic powder. Blend to mix well.
Brush each side of the steaks with 1/2 the melted butter.
Place steaks on grill approximately 4 to 6 inches from heat.
Cook for 3 to 5 minutes (depending on desired doneness).
Turn steaks and brush with remaining butter mixture.
Cook for an addition 3 to 5 minutes.
Remove steaks from heat and cover. Allow to rest 2 to 3 minutes.
Cooking Times
Prep Time: 20 minutes Cooking Time: 10 minutes
Nutrition Facts
Nutrition facts shown below for the pesto stuffed beef tenderloin are per serving. The number of serving is noted in the header section below. The serving size is the first item noted on the nutrition facts table.
Nutrition Per Serving

Number of Servings: 2
Serving Size
1 steak
Calories
362
Total Fat
27.9g
Sat Fat
10.0g

Cholesterol

100.7mg

Sodium

450.8mg

Total Carbohydrates

1.5g
Fiber
<1g
Sugar
<1g

Protein

25.0g
Weight Watchers Points
FreeStyle
SmartPoints: 11 pts
SmartPoints
Non FreeStyle: 11 pts
Points
Plus: 10 pts
Original
Points: 10 pts
All ingredients for the pesto stuffed beef tenderloin were included with calculating the Weight Watchers Points.
Tips
For the desired doneness of your steak, use the finger/thumb method of your hand. Check out this article How to Tell when your steak is done.

More Recipes
Bite into this bold BBQ tasting sandwich for something different.
This ribeye is stuffed with garlic and topped with the bold flavor of blue cheese.
Fire up the grill and stuff yourself with this flavorful stuffed beef tenderloin.

This healthy appetizer recipe is a great way to get in your veggies for the day.
The mild flavors of this recipe has only 1 Weight Watchers FreeStyle SmartPoint.
Indulge in this frozen treat for only 1 Weight Watchers Point. This is sure to delight your taste buds.

Additional Articles
Power Packed Foods
Pack your day with power and add some of these foods to your daily diet.
Interval Training for Beginners
Add some interval training to your exercise routine. Use these example workouts to get started.
Reduce Fat with Cooking Methods
Cooking at home gives you the control over the way the food is prepared and minimizing the fat content.