Healthy Halloween Treats
As a parent you are hoping for healthy Halloween treats for your kids. As they go around the block and collect their goodies they are hoping for lots of candy.
But as our society becomes more health conscious they may find themselves with less candy and more healthier alternatives.
Although getting lots of Halloween candy is the goal for these little trick-or-treaters, your goal as a parent may be different.
Candy is not only high in calories (and tempting for us adults as well) they offer little or no nutritional value.
If you're looking for something different to hand out to trick-or-treaters this year, here are some healthy Halloween treats as an alternative to candy.
Five Healthy Alternative Halloween Treats
Healthy Halloween Treats #1
Nabisco Snack Packs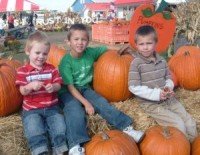 These 100 calorie snack packs are individually wrapped and kids will love them.
From cookies, crackers, pretzels and more, these snack packs will be a Halloween treat all kids will love.
At just 100 calories even the parents can sneak a pack for themselves.

Healthy Halloween Snacks #2
Nuts and Trail Mixes
Individually wrapped packages of nuts and trail mix bars or packages will be a great alternative to the high sugar Halloween candy. Not only are these healthier and lower in sugar, they offer nutritional benefits to all the ghosts and goblins ringing your doorbell.
Healthy Halloween Treats #3
Microwave Popcorn
Popcorn is a treat every Halloween witch and monster will love. They can pop up these packages to watch their favorite scary Halloween movie. But be sure to skip those heavy in butter as this will add to the calories and make them less healthy.
Halloween Snack Idea #4
Raisins, Craisins and More
Buy boxes of fruit to pass out. Raisins or Craisins are a favorite for many kids. You can even get dried apricots, prunes and more. These juicy flavorful Halloween treats are not only healthier but have lots of vitamins and minerals kids need.


Healthier Halloween Alternative #5
Non-Food Items
Halloween doesn't always have to be about something to eat. Kids love getting playthings as well.
Buy some plastic spiders, Halloween stickers, mini spiral note books, crayons or more.
You can often find these items at a discount store packaged as individual handouts. Look at party stores for party favors.
Get some coupons to pass out for this Halloween. Although this alternative can get expensive especially if you have lots of little trick-or-treaters.
Coupons to places like McDonald's, Burger King or Wendy's is a nice alternative to candy.
Hopefully when the kids use these coupons they are selecting the healthy menu items, but at least it's not candy.
These are just a few ideas to have healthy Halloween treats to pass out to the kids. Here are some
healthy Halloween treats
your kids can make at home.
Okay, maybe all these are not extremely healthy but it does beat a bunch of candy. Don't forget to check out all the fun kids Halloween crafts and coloring pages while visiting this fun kids learning site.
Additional Articles
Pumpkin Seed Benefits
Don't toss those pumpkin seeds after you are done carving your Jack - o - Lantern. There are many health benefits from eating pumpkin seeds.
Health Benefits of Pumpkin
Not only do the seeds have many health benefits, so does the pumpkin. See how eating pumpkin can help keep you healthy.
Tips for Eating Healthy During School
Use these tips to ensure your kids eat healthy during the whole school year.