Fiesta Chicken Skillet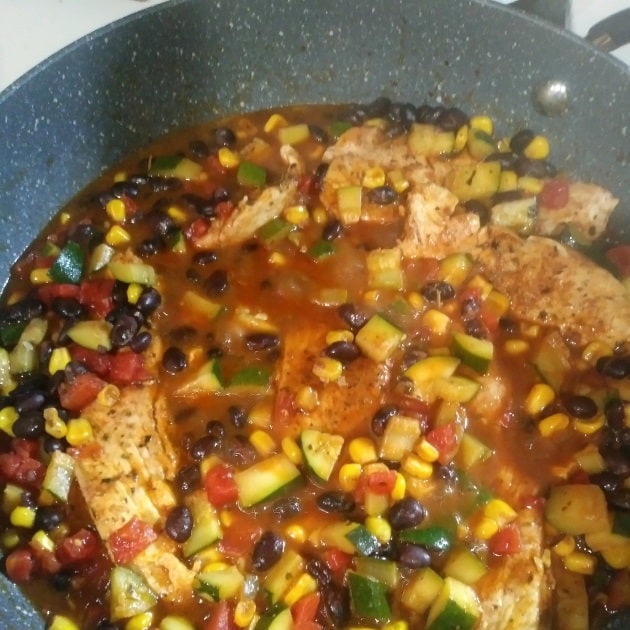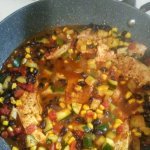 This chicken skillet recipe is a festive meal with lots of flavors and healthy ingredients. All of it is cooked in just one pan, so clean up is a breeze. The kids might even volunteer to do the dishes.
With chicken breast and vegetables as the core for this recipe, you will be eating healthier for this meal.
With only 1 SmartPoints on the Blue and Purple plan, this is the perfect recipe to try when you are low on your daily allowance.
This makes 8 servings so you can have leftovers or cut the recipe in half to make only 4 servings. It's sure to please the whole family.

Below are the list of ingredients, directions, recipe nutrition information and Weight Watchers points. The WW points include all color-coded MyWW plans (Green, Blue and Purple) as well as Points Plus and the original WW plan values.
Fiesta Chicken Skillet
This is a simple Mexican recipe with lots of vegetables and bold flavors from the spices. You can use pinto beans if you prefer instead of the black beans. Try mixing up the spices by adding more cayenne pepper (if you want more heat) or skip it if you don't want any heat. You can really spice it up by adding in some green chilies, diced jalapenos or habanero.
Recipe Type:
Entree, Chicken, Skillet
Degree of Difficulty:
Easy
Ingredients
1 pound Chicken Breast, cut into thin strips
1 1/2 cups Corn fresh or frozen (thawed)
1 1/2 cups Fresh Zucchini diced
15 ounces Black Beans canned, drained
1 can Diced Tomatoes
1 cup Tomato Sauce
1/2 cup Feta Cheese, crumbled
1 tablespoon Cumin
1 tablespoon Oregano dried
1 tablespoon Chili Powder Seasoning
1 pinch Cayenne Pepper
1 1/2 teaspoons Kosher Salt
1 tablespoon Extra Virgin Lite Olive Oil
1 tablespoon Garlic Powder or minced garlic
Directions
Cut chicken breasts into thin strips.
Combine cumin, oregano, chili powder and cayenne pepper in a small bowl and stir to mix together.
Season chicken with 1 tsp of spice mix and 1/2 tsp salt. Keep remaining spice mixture.
In a large non-stick skillet, heat 1 tsp oil on medium-high heat.
Cook chicken until cooked through and browned about 4 - 5 minutes. Be sure to flip chicken half way through cooking.
Remove chicken from pan and place on a plate.
Add garlic and remaining olive oil and spice mix. Stir to blend flavors.
Add corn and zucchini to pan. Cook for about 4 minutes until tender. Be sure to stir often.
Add remaining ingredients and place chicken (and any juices) back into the pan.
Cover and let simmer for approximately 5 minutes for the flavors to blend.
Remove from heat. Place on plates and sprinkle with the crumbled feta cheese and serve.
Cooking Times
Prep Time: 25 minutes Cooking Time: 25 minutes
Nutrition Facts - Fiesta Chicken Skillet
Nutrition facts shown below are per serving. The number of serving is noted in the header section below. The serving size is the first item noted on the nutrition facts table.
Nutrition Per Serving

Number of Servings: 8
Serving Size
1 cup
Calories
215
Total Fat
6g
Sat Fat
2g

Cholesterol

42mg

Sodium

1047mg

Total Carbohydrates

20g
Fiber
5g
Sugar
5g

Protein

20g
MyWW Points
Green: 6 pts
Blue: 1 pts
Purple: 1 pts
Other Weight Watchers Points
Points
Plus: 5 pts
Original
Points: 4 pts
For all WW points the zuccini and tomatoes are not included in the calculation. For the Blue and Purple plans, all ingredients in this fiesta chicken skillet recipe, except the olive oil, and feta cheese are used to calculate the MyWW SmartPoints values.
Tips
Make sure the pan is large enough to cook all the chicken. If not, you will need to cook the chicken in batches.
Here's another Mexican chicken skillet recipe from readyseteat.com.
More Recipes
Make this casserole recipe for dinner tonight. Serve it with a tossed salad and some garlic bread to complete this meal.
The flavor and creaminess that the goat cheese gives this meal is a wonderful surprise
This salad has lots of juicy flavors from the fruits that you won't want (or need) to add dressing.

With the zest of lemon and the light fish flavor, this is a great healthy meal.
Try this appetizer for your next cook out or as a side dish for your dinner meal.
Skip the carbs but not the flavor with this sandwich using cucumbers in place of the bread.

Additional Articles
MyWW Zero Points Purple
If you are following the purple plan, then you have over 300 food items that have zero points. Check out the full list.
Portion Sizes
If you are counting calories, carbs or WW points, learning to manage your portion sizes is important in order to reach your weight loss goals.
Body Weight Exercises
No need for lots of gym equipment to get toned and fit. Use your own body weight to provide resistance when strength training.