MyWW Zero Point Foods - Purple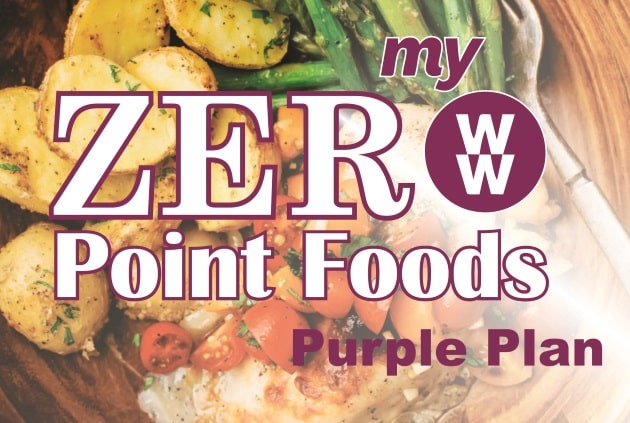 The MyWW Zero Point foods for the Purple plan has the longest list and some nice additions that will help you stay on track and reach your weight loss goals.
With over 300 foods that you don't have to weigh, measure or track, it's by far the most flexible of Weight Watchers new personalized plans.
This longer list of foods comes with a more modest daily points allowance that you can use to select additional foods to round out your day.

If you are new to Weight Watchers then you probably took the personal assessment that guided you to the Purple plan. If so, this is the right page to see the list of foods you can add to your meal or snacks guilt free.
The MyWW Purple plan has foods in many categories including pasta & grains, dairy and even potatoes. Of course you have the fruits and veggies plus poultry, fish and more.
Purple MyWW Zero Point Foods List - Beans & Legumes
Below are the listed of foods in this category that are zero points. These are listed in alphabetic order.
Adzuki beans
Alfalfa sprouts
Bean sprouts
Black beans
Black-eyed peas
Cannellini beans
Chickpeas
Edamame
Fava beans
Great Northern beans
Hominy
Kidney beans
Lentils
Lima beans
Lupini beans
Navy beans
Pinto beans
Refried beans, canned, fat-free
Soy beans
Chicken & Turkey
On the Purple plan you have the same options as Blue in the poultry area. You want to have the breast portions of the chicken and turkey and make sure they are skinless or remove the skins prior to eating.
Ground chicken breast
Ground turkey, 98% fat-free
Ground turkey breast
Skinless chicken breast
Skinless turkey breast
Dairy & Dairy Alternatives
This is a category that adds new MyWW zero point foods that are not on the other plans. With the added item of non-fat dairy such as cottage cheese, you will have more options when planning your meals or creating your recipes.
Cottage cheese, plain, nonfat
Greek yogurt, plain, nonfat
Plain yogurt, nonfat
Quark, plain, up to 1% fat
Soy yogurt, plain
MyWW Zero Point Foods Purple - Eggs
Just like on the Blue plan, purple has more breakfast and recipe options with eggs being zero points.
Egg substitute
Egg whites

Fish/Shellfish
Fish and shellfish add lots of MyWW zero point foods for the purple plan. They are not only zero points values, these are healthy protein options for anyone trying to keep a healthy lifestyle.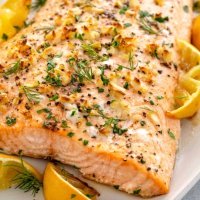 Abalone
Alaskan king crab
Anchovies, in water
Arctic char
Bluefish
Branzino
Butterfish
Canned tuna, in water
Carp
Catfish
Caviar
Clams
Cod
Crabmeat, lump
Crayfish
Cuttlefish
Dungeness crab
Eel
Fish roe
Flounder
Grouper
Haddock
Halibut
Herring
Lobster
Mahi mahi
Monkfish
Mussels
Octopus
Orange roughy
Oysters
Perch
Pike
Pollock
Pompano
Salmon
Sardines, canned in water or sauce
Sashimi
Scallops
Sea bass
Sea cucumber
Sea urchin
Shrimp
Smelt
Smoked haddock
Smoked salmon
Smoked sturgeon
Smoked trout
Smoked whitefish
Snails
Snapper
Sole
Squid
Steelhead trout
Striped bass
Sturgeon
Swordfish
Tilapia
Trout
Tuna
Turbot
Wahoo
Whitefish
MyWW Zero Point Foods Purple - Fruits
As with all the MyWW programs, the Purple plan also has lots of fruit options that have zero points. Use these in recipes or as a healthy snack.
Apples
Applesauce,unsweetened
Apricots, fresh
Bananas
Blackberries
Blueberries
Cantaloupe
Cherries
Clementines
Cranberries, fresh
Dragon fruit
Figs, fresh
Frozen mixed berries, unsweetened
Fruit cocktail, unsweetened
Fruit salad, unsweetened
Grapefruit
Grapes
Guava
Honeydew
Kiwi
Kumquats
Lemons
Limes
Mangoes
Meyer lemons
Nectarines
Oranges
Papayas
Peaches
Pears
Persimmons
Pineapples
Plums
Pomegranates
Pomelo
Raspberries
Star fruit
Strawberries
Tangerines
Watermelon
Potatoes & Sweet Potatoes
For those on the purple plan, you will be loving this category. These MyWW zero point foods only apply to this plan. So if you are a potato lover, maybe this is the group for you.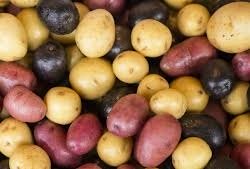 Baby potatoes
Baked potatoes
Baked sweet potatoes
Canned sweet potato, unsweetened
Cassava
Fingerling potatoes
Frozen potatoes, prepared without fat
Idaho potatoes
Japanese sweet potato
Mashed potatoes, plain
Mashed sweet potatoes, plain
New potatoes
Oven-roasted potato wedges, without oil
Oven-roasted sweet potato fries, without oil
Purple potatoes
Red potatoes
Roasted potatoes, without oil
Roasted sweet potatoes, without oil
Russet potatoes
Sweet potatoes
Taro
White potatoes
Yams
Yellow potatoes
Yucca
Yukon gold potatoes
Tofu & Tempeh
Here is another healthy category where you can get some extra proteins for zero points.
Firm tofu
Silken tofu
Smoked tofu
Vegetables (Starchy)
These MyWW zero point foods give you more variety without having to worry about measuring, weighing or tracking.
Canned Corn
Corn
Green peas
Parsnips
Peas
Split peas
Succotash
Vegetables (Non Starchy)
Vegetables are a great way to eat healthy and help fill you up without the guilt or causing you to go over your daily and weekly allowances.
Acorn squash
Artichoke hearts, no oil
Artichokes
Arugula
Asparagus
Baby corn
Bamboo shoots
Basil
Beet greens
Beets
Bok choy
Broccoli
Broccoli rabe
Broccoli slaw
Brussels sprouts
Butter/Bibb lettuce
Butternut squash
Cabbage
Canned pimientos
Carrots
Cauliflower
Cauliflower rice
Celery
Chives
Cilantro
Coleslaw mix
Collard greens
Cucumber
Eggplant
Endive
Escarole
Fennel
Frozen stir-fry vegetables, no sauce
Garlic
Ginger
Green leaf lettuce
Hearts of palm
Iceberg lettuce
Jicama
Kale
Kohlrabi
Leeks
Mint
Mixed greens
Mushrooms
Mustard greens
Napa cabbage
Nori (seaweed)
Oak leaf lettuce
Okra
Onions
Oregano
Parsley
Pea shoots
Peppers
Pickles, unsweetened
Pico de gallo
Pumpkin
Pumpkin puree
Radishes
Red leaf lettuce
Romaine lettuce
Rosemary
Rutabaga
Salsa, fat-free
Sauerkraut
Scallions
Shallots
Spaghetti squash
Spinach
String beans
Summer squash
Swiss chard
Tarragon
Thyme
Tomatillos
Tomato puree, canned
Tomato sauce, canned
Tomatoes
Turnips
Water chestnuts
Wax beans
Zucchini
Whole-Wheat Pasta & Grains
Who would of thought that pasta and grains would ever be a zero point food, but here they are on the purple plan. Just make sure your choices are whole-wheat when applicable.
Air-popped popcorn, no oil or sugar
Air-popped popcorn, no oil or sugar, with salt and/or spices
Amaranth
Ancient grain mix, no seeds
Barley
Black bean pasta
Brown basmati rice
Brown rice
Brown rice cereal, 100%
Brown rice noodles
Brown rice pasta
Brown rice–quinoa blend
Buckwheat
Buckwheat soba noodles
Bulgur
Chickpea pasta
Corn pasta
Edamame pasta
Farro
Freekeh
Instant brown rice
Instant oatmeal, plain
Kamut
Kasha
Lentil pasta
Millet
Oatmeal, plain
Oats
Pea pasta
Popcorn kernels for at-home popping
Quick-cooking barley
Quick-cooking brown rice
Quick-cooking regular oats
Quick-cooking steel-cut oats
Quinoa
Quinoa pasta
Red quinoa
Rolled oats
Rye berries
Shirataki noodles
Sorghum
Soybean pasta
Spelt
Spelt berries
Steel-cut oats
Teff
Thai brown rice
Tri-color quinoa
Wheat berries
Whole-grain pasta
Whole-grain sorghum
Whole-wheat couscous
Whole-wheat pasta
Wild rice
Wild rice–brown rice blend
Not Always "Zero"
Keep in mind that there are times when these MyWW zero point foods are not zero. Some of these exceptions are not new, so you may already be aware of what the exceptions are.
Fruits & Veggies
When selecting your fruits and veggies, try to go for fresh when they are in season. If need be, you can get canned fruits and vegetables. However, if they are canned with added sugars or oils then they are no longer a zero point item. Additionally, if the veggies or fruits are dried, they are not considered a freebie and you must track the points for these items. The reason is that in a dried form you can easily over eat them.
Smoothies are another time when fruits and veggies are not a MyWW zero point food. This is because in a drink form, you can easily consume a higher quantity of the foods. This applies to yogurts as well. If used in a smoothie, it counts towards the recipe total so be sure to include the nutritional values when calculating the SmartPoints values.
Poultry, Fish & Shellfish
Similar to the rule on fruits and veggies, if these proteins are dried (like for jerky), then they are no longer zero SmartPoints but must be tracked. Also, when cooking the poultry, make sure they are the breast portion and are skinless. If it is a chicken leg, then there are points. There are also points if the skin is left on. When buying fish and it is canned, make sure there are not added items like sugar or oils. If these are added, then they are no longer a MyWW zero point foods item.
Other Foods
The purple plan has by far the most "freebie" foods, but be careful you read and understand what counts and what doesn't. When talking about pasta or grains for instance (a new category for the MyWW Purple plan), you must make sure they are whole-wheat and not pasta made with refined carbs. Whole wheat is packed with nutrients such as complex carbs, protein, fiber, iron, magnesium, and zinc. Refined carbs used for white pasta strips away many of these healthy nutrients in the refining process.
On this plan, potatoes is also a new zero point category on MyWW purple plan. However, like with other rules, if they are "instant potatoes" then there will be SmartPoints values so be sure to track and count those values. If you make your own mashed potatoes, there will also be points involved for the added milk and or butter to make them. Since this is a new category, if you are unsure, please refer to your MyWW app.
The idea of the MyWW plan is to instill healthy eating habits. This includes eating only when hungry and only eat enough to satisfy that hunger...don't binge eat on the freebie foods to the point of being stuffed.
Advantages of Purple
One advantage of this plan is flexibility. With the largest list of MyWW zero point foods, you can easily plan meals, recipes and snacks with less tracking. So if you have a busy lifestyle with limited time on your hand, this plan might work best with your lifestyle. Variety is the spice of life, so they say, and this plan gives you the most variety of zero point items. Just remember that the plan comes with the fewest daily allowance points with a minimum of only 16 points.
The purple still has healthier items on the list, even though the pasta, rice and potatoes can be high in carbs which might be a concern for some people like thoese with type 2 diabetes. Keep in mind that these high carb foods were selected because of the their nutritional values. They are complex carbs and not the simple carbs from refined foods. Complex carbohydrates are better for you because they take longer for your body to digest. Just be mindful of the amount of foods you take in when eating. Eat to get full and not to the point of being stuffed.
With this plan, you definitely want to track your non zero point foods as you have a small daily allowance and can easily go over this if you don't track.
More MyWW Plans
If you find that this plan is not working for you, then you do have the option to switch. WW recommends you give your assigned plan (from your asssessment) at least 2 weeks before switching. If you want to explore your options, you can explore the MyWW zero points list for the other plans by using the links below.
Additional Articles
Smart Points Calculation
Learn more about how the SmartPoints are calculated and what nutritional values are used.
Shrimp & Chicken Paella Recipe
With zero MyWW purple points, this is one recipe you will want to try for dinner tonight.
Six Tips to Eating Healthy
Eating right is not just for weight loss. Having a well balanced eating habit is great for your health.