Broccoli and Beef Stir-Fry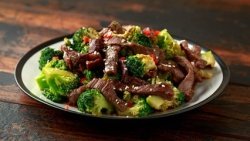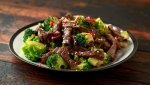 Try this broccoli and beef stir-fry for dinner tonight. If you are craving some Chinese food, but don't want to order out, then this is the recipe for you.
Add some rice to this meal to satisfy even the hungriest folks in your house. If you don't want to add the extra carbs, then just add your favorite low carb side to complete this dinner.

Below are the list of ingredients, directions, recipe nutrition information and Weight Watchers points.
Broccoli and Beef Stir-Fry
For all you broccoli and beef lovers, check out this recipe. It's sure to make the whole family happy and asking for more.
Recipe Type:
Beef, Main Dish
Degree of Difficulty:
Moderate
Ingredients
3 Tbsp Cornstarch
1/2 cup Water, plus 2 tbsp
1/2 Tsp Garlic Powder
1 pound Beef Round Steaks
2 Tbsp Vegetable Oil
4 Cups Broccoli Florets
1 Onion
1/3 Cup Soy Sauce
2 Tbsp Brown Sugar
1 Tsp Ginger
1 - 2 Tbsp Sesame Seeds
Optional: 1 - 2 Tbsp Dried Red Peppers
Directions
Combine 2 tablespoons cornstarch and garlic powder in a bowl. Add 2 tablespoons of water and stir until smooth.
Add the beef and toss to season.
Using a large skillet (or wok) heat 1 tablespoon of oil over medium-high heat.
Add beef and stir-fry until desired doneness.
Remove beef and set aside. Cover to keep warm.
Add onions and remaining oil to the pan. Cook until softened.
Add the broccoli and cook for about 3 minutes. You want the broccoli to be tender but still crisp.
Add the beef to the pan.
Combine soy sauce, brown sugar, ginger and remaining 1 tablespoon cornstarch and 1/2 cup water in a bowl. Mix until smooth.
Add mixture to the pan.
Cook and stir for 2 minutes.
Divide mixture onto 4 plates.
Sprinkle with sesame seeds and serve.
Optional: Sprinle with a dash of dried red peppers for additional flavors.
Cooking Times
Prep Time: 10 minutes Cooking Time: 15 minutes
Nutrition Facts for Broccoli and Beef Stir-Fry
Nutrition facts shown below are per serving. The number of serving is noted in the header section below. The serving size is the first item noted on the nutrition facts table.
Nutrition Per Serving

Number of Servings: 4
Serving Size
1 serving
Calories
506
Total Fat
25g
Sat Fat
8g

Cholesterol

107mg

Sodium

831mg

Total Carbohydrates

23g
Fiber
8g
Sugar
6g

Protein

44g
MyWW Points
Green: 13 pts
Blue: 13 pts
Purple: 13 pts
Other Weight Watchers Points
Points
Plus: 12 pts
Original
Points: 11 pts
The nutrition information for the broccoli was not included in the calculation of any of the WW points values.
Tips
For the Weight Watchers members on the Blue or Purple MyWW plan, replace the beef for chicken breast to lower the points.
Featured Recipes
More Recipes
Filled with turkey bacon and corn bread stuffing and seasoned with a butter, garlic and herb brush this will wake up your taste buds.
Sink your teeth into this Boneless BBQ Rib sandwich for lunch or dinner. It's a filling and tasty meal for a hearty appetite.
With pesto on the inside and butter brushed on top, this grilled dinner has tons of flavor to please even the pickiest of eaters.
With only 10 grams of carbs and 18 grams of protein, this breakfast idea will warm you up and fuel your body for a great day.
The stuffed potato boats are pack with ground turkey and plenty of spicy flavors making this a great snack or side dish.
With only 5 MyWW Blue and purple points, this is a great dinner idea when you don't have many points to spare.

Additional Articles

Fish and Seafood Recipes
From seafood to fresh water fish, you are sure to find something new you want to try for your next family dinner.
Home Exercises
Take your workouts indoors with some alternative methods for keeping up your weekly routine.
BMI Calculator
What's your Body Mass Index? Not sure, then use this free online calculator to find out.