Featured Recipes



Healthy Appetizer Recipes
Healthy appetizer recipes are some of the most fun to make and they can go with just about any event.
For parties, holiday events or just to snack on, try some of these tasty appetizers.
Whether you are in the mood for Italian, Mexican food or something all American, you are sure to find something here to satisfy your cravings.

Each recipe will show the ingredients required, step by step directions, nutrition information and the Weight Watchers points values.
The points include the original values, points plus and now the Smart Points numbers. So if you are a member and tracking points, try some of these recipe ideas to stay within your daily and weekly allowance.
If you are not a member just use the nutrition information to track what you need to help you lose weight.
Healthy Appetizer Recipes
Scroll down through the page to find the healthy appetizer recipes you want to make.

Asparagus Roll Ups
This appetizer recipe is a great way to get your veggies in with the creamy flavor of cheese and turkey. So you get your protein, veggies and the dairy group all in one snack idea.
Cherry Salsa
This recipe can be used to top your pork or chicken meal or use it as a dip for your tortilla chips as the appetizer for your meal. This is a perfect addition to any Mexican meal. So spice up your meal or appetizer with this zesty salsa.

Chicken Spread Mini Sammies
These appetizers may be small but they are filled with flavor. Using a chicken spread from your left overs, they make the perfect snack or party treat. You can mix this up by using egg salad, sandwich meats or many different ideas for the sammies.
Fruitfully Cheesy Kabob
Here is a quick, easy and fun to make healthy appetizer recipe. Even the kids can help put these together by threading the fruits and cheese blocks onto the skewers. Substitute the cheese for your favorite veggies for a zero points snack.

Ground Turkey Nachos
If you want a little taste of Mexico then this is the perfect snack for you.
Made with ground turkey as an alternative to beef, you have fewer calories and fat, making this a healthier snack idea.

Italian Stuffed Mushrooms
These appetizers will go great with your next Italian meal. These mushroom caps are stuffed full of yummy flavors and will be the hit of tonight's meal. These can even be the main event instead of just a side or appetizer.

Mini Mashed Cauliflower Cheese Dogs
This appetizer recipe takes the traditional hot dog and traditional mashed potatoes to a new healthier level. Mashed cauliflower is used instead of potatoes. Use low fat cheese as well to really make this a healthy appetizer.
Stuffed Sweet Mini Peppers
This is one of my favorite recipes. This one can be used as a quick snack, appetizer or side dish. You can even turn this into the main course by adding some meats into the recipe. The sweetness of the mini peppers are the perfect compliment to any ingredient you stuff them with.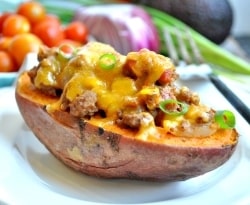 Tex-Mex Potato Boats
This snack recipe takes the traditional potato skins to a spicier level. With lots of Mexican flavor stuffed into these potato boats your taste buds will be spiced up tonight. So if Mexican is what you are craving, then this appetizer is sure to please your taste buds.

Avocado Deviled Eggs
This recipe turns a traditional favorite into something creamy and delicious. With the health benefits of avocado, and the yummy taste, these are sure to be the favorite healthy appetizer recipe at your next get together.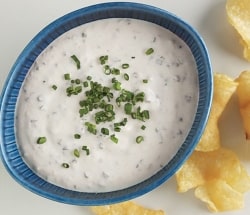 Creamy Chive Dip
This dip recipe goes great with chips, bread and even vegetables. With low fat cottage cheese and non fat sour cream, the calories, fats and points are low. So enjoy this appetizer with any meal or as a snack with your veggies.

Tortilla Pinwheels
This traditional snack recipe makes the perfect dish for parties and holidays. Use whole wheat shells and low fat cheeses to make it a healthier version.
Use this
custom recipe search to find even more healthy appetizer recipes.
 
Monthly ezine
Free tips and recipes monthly. What do you have to lose...except some weight.....Sign up now.
Additional Articles
Reading Food Labels
Understanding how to read food labels can help you make the healthiest selections. Check out this breakdown on food labels.
Understanding Portion Sizes
Make sure you are eating the proper portion sizes to help you lose weight. This article helps you know what a true portion size looks like.
Curbing Your Appetite
Get control over your hunger with these tips on curbing your appetite.