Creamy Chive Dip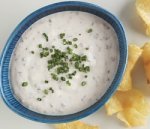 Check out this creamy chive dip for a tasty appetizer idea.
Not only is this yummy, it's super simple to make. With just a handful of ingredients to mix together, you can whip this up in just a few minutes.
Another wonderful thing about this snack recipe is that there are very few calories and only 1 Weight Watchers Points per serving.
So go ahead and enjoy the party and this appetizer. It's perfect for veggies as well as chips.
Below are the list of ingredients, directions, recipe nutrition information and Weight Watchers points including the new MyWW values for all plans.

Creamy Chive Dip
Made with low fat cottage cheese and non fat sour cream, you get all the taste without all the calories and fat.
Use this to dip your veggies in for a low points snack.
Recipe Type:
Appetizer, Holiday, Dip, Side Dish
Degree of Difficulty:
Very Easy
Ingredients
8 oz low-fat cottage cheese
1/2 cup nonfat sour cream
1/4 cup cream cheese, fat free
4 tsp garlic powder
4 tsp onion powder
3 Tbs minced fresh chives
Directions
Mix all ingredients together by hand until smooth.
Refrigerate until ready to serve.
Cooking Times
Prep Time: 5 minutes Cooking Time: n/a minutes
Nutrition Facts
Nutrition facts shown below for this appetizer recipe are per serving. The number of serving is noted in the header section below. The serving size is the first item noted on the nutrition facts table.
Nutrition Per Serving

Number of Servings: 12
Serving Size
1.25 oz approx
Calories
34
Total Fat
1.4g
Sat Fat
.88g

Cholesterol

4.69mg

Sodium

82.09mg

Total Carbohydrates

2.36g
Fiber
.23g
Sugar
.62g

Protein

2.92g
MyWW Points
Green: 1 pts
Blue: 1 pts
Purple: 1 pts
Other Weight Watchers Points
Points
Plus: 1 pts
Original
Points: 1 pts
Tips
Try using different seasonings to change the flavor of this dip.
Here's another quick appetizer recipe using nothing but fruits and cheeses. These fruitfully cheesy kabobs make a great snack, appetizer or side dish.
More Recipes
This appetizer recipe takes the traditional hot dog and traditional mashed potatoes to a new healthier level.
This is one of my favorite recipes. If can be used as a quick snack, appetizer or side dish.
Using a chicken spread from your left overs make the perfect snack or party treat.

These Sloppy Joes use ground turkey making the Weight Watchers Points less.
Start your day with this hot breakfast sandwich made with turkey sausage.
This delicious recipe can be used for breakfast, brunch or even dinner.

Additional Articles
Cutting Calories for Weight Loss
Check out this article on effective ways to reduce calories for your weight loss goals.
Counting Carbs or Making Carbs Count
Don't just count carbs, instead make your carbs count. Check out this article to learn more about the good and the bad of carbohydrates.
Understanding Portion Sizes
Learning to control your portion sizes can help you reach your weight loss goals. Check out this article to learn more about proper portions.