Stuffed Hotdog Recipe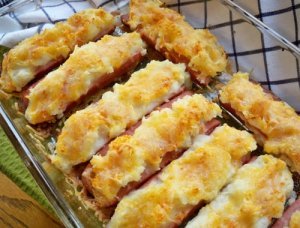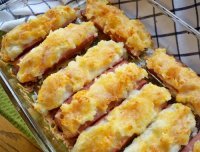 This stuffed hotdog recipe is something my mom would make us kids but with some healthy modifications. The original recipe called for mashed potatoes, regular hot dogs and regular cheese.
To make it healthier with less fat, carbohydrates and calories, we use mashed cauliflower instead of potatoes. We have also modified it to use low fat cheese, skim milk and fat free sour cream. Even if you are not a big fan of cauliflower, the mashed version is a lot like potatoes so the kids will love it.
Below are the list of ingredients, directions, recipe nutrition information and Weight Watchers points.

Cauliflower Stuffed Hotdog Recipe
Hot dogs are a favorite for many people and these cheesy mashed cauliflower dogs make a great appetizer, snack or even the main course.
These are best eaten when still warm but taste just fine cold as well. So make up a few for your next party or dinner. This is one of my favorite appetizer recipes to make.
Recipe Type:
Appetizer, Diabetic, Snack
Degree of Difficulty:
Moderate
Ingredients
8 each Turkey hot dog
8 ounces low fat cheddar cheese
2 each Cauliflower Heads
4 Tbs Sour Cream, fat free
2 tbs Butter, unsalted
1/4 cup Skim Milk
Directions for Stuffed Hotdog Recipe
Preheat oven to 375 degrees.
Cut hot dogs lengthwise in half without cutting all the way through.
Place hot dogs on a baking sheet.
Chop cauliflower into small pieces.
In a medium sauce pan, bring 2 cups of water to a simmer.
Add the cauliflower and cook for about 15 minutes or until it is very tender.
Drain completely and pat dry if needed.
Add milk, sour cream and butter to the cooked cauliflower.
Using a hand mixer, blend together until smooth. If you like your mashed potatoes chunky, then don't blend as long so you get chunky mashed cauliflower.
While the mashed cauliflower is still hot, add half the cheddar cheese and blend together.
Place the cheesy mashed cauliflower into the halved hot dogs.
Sprinkle the remaining cheese evenly over the hot dogs.
Place into the oven and bake at 375 degrees for about 10 minutes or until cheese is melted and bubbling slightly.
Place on tray and serve while still hot.
Cooking Times
Prep Time: 10 minutes Cooking Time: 15 minutes
Nutrition Facts
Nutrition facts shown below for this appetizer recipe are per serving. The number of serving is noted in the header section below. The serving size is the first item noted on the nutrition facts table.
Nutrition Per Serving

Number of Servings: 24
Serving Size
1 each
Calories
109.5
Total Fat
6.52g
Sat Fat
2.56g

Cholesterol

15.81mg

Sodium

246.92mg

Total Carbohydrates

7.5g
Fiber
2.46g
Sugar
3.06g

Protein

6.57g
Weight Watchers Points
FreeStyle
SmartPoints: 3 pts
SmartPoints
non Freestyle: 3 pts
Points
Plus: 2 pts
Original
Points: 2 pts
The nutrition for the cauliflower was not used when calculating SmartPoints or Points Plus values.
Tips
Cottage cheese or apple sauce make a great side dish for this stuffed hotdog recipe. If you want to turn stuffed hotdog recipe into an appetizer, just cut them into smaller pieces and place on a serving tray. They make a healthy and fun appetizer bite for any occasion.
Check out this fruit cheese kabob recipe. Another favorite with kids.
Here are some tips on getting your mashed cauliflower creamier.
More Recipes
Tortilla Pinwheel sandwiches are a great appetizer recipe for parties, kids snacks and more.
Why not try something different for your deviled eggs? The added avocado taste is sure to delight everyone.
This dip is made with low fat ingredients so that you can indulge guilt free...well almost guilt free.
These breakfast bars are perfect for a quick on the go meal or even as a snack during the day.
Why not try something different for your deviled eggs? The added avocado taste is sure to delight everyone.
This salad is layered with healthy vegetables, chunky chicken and topped with low fat cheese.

Additional Articles
Online Calorie Calculator
Search for your favorite foods and get the nutrition information with this free online calculator.
Diabetic Diet Guidelines
If you are a diabetic, then check out these guidelines to build your diabetic diet plan.
Lose Belly Fat
Find out what it really takes to lose belly fat. You will be surprised to find out that it's not doing hundreds of abdominal exercises.