Healthy Appetizer Recipe - Tortilla Pinwheels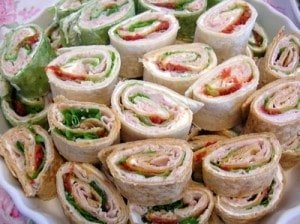 This appetizer recipe has been a classic for many years. The tortilla pinwheels make a quick and easy appetizer or snack idea for any get together.
By using whole wheat tortilla shells and fat free and low fat cheeses, this classic has gotten healthier over the years. You can add additional ingredients for this appetizer idea like lean deli meats and lettuce leafs to get your vegetables in
Below are the list of ingredients, directions, recipe nutrition information and Weight Watchers points.

Tortilla Pinwheels Appetizer Recipe
This is such a fun appetizer recipe to make. It's quick and easy and everyone will eat them up at your party or holiday event. The great thing about Tortilla Pinwheels is you can add different ingredients each time to change up this recipe a bit.
Recipe Type:
Appetizer, Diabetic, Low Fat, Snack, Vegetarian
Degree of Difficulty:
Easy
Ingredients
1 Tbs fat-free cream cheese
2 Tbs shredded reduced-fat Cheddar cheese
2 Tbs mild salsa
1 Tbs chopped green onion tops
1/8 tsp chili powder
1 Whole Wheat Tortilla
Directions
Stir together the cream cheese and cheddar cheese in a small bowl using a fork.
Add the salsa, green onions and chili powder and stir until ingredients are well blended.
Spread the mixture evenly on the whole wheat tortilla shells.
Roll up tightly and cut off the two ends.
Cut the tortilla into 4 even pieces and serve.
Cooking Times
Prep Time: 15 minutes Cooking Time: n/a minutes
Nutrition Facts for Tortilla Pinwheel
Nutrition facts shown below are per serving. The number of serving is noted in the header section below. The serving size is the first item noted on the nutrition facts table.
Nutrition Per Serving

Number of Servings: 2
Serving Size
2.2oz
Calories
92.86
Total Fat
1.94g
Sat Fat
0.41g

Cholesterol

3.18mg

Sodium

381.98mg

Total Carbohydrates

12.53g
Fiber
1.89g
Sugar
1.89g

Protein

5.77g
Weight Watchers Points
FreeStyle
SmartPoints: 2 pts
SmartPoints
Non-FreeStyle: 2 pts
Points
Plus: 2 pts
Original
Points: 2 pts
Tips
You can use a variety of tortilla wraps to get in additional flavors. One of my favorites is the sun dried tomato tortilla. You can add some slices of chicken or turkey breast lunch meat without having to add to the Weight Watchers SmartPoints as these food items are now zero points on the FreeStyle program.
Try this Creamy Chive Dip to dip your tortilla pinwheels in. Your taste buds will love the addition of the creamy flavors in this. And it's diabetic friendly.
More Recipes
This appetizer recipe takes the traditional hot dog and traditional mashed potatoes to a new healthier level.
This is one of my favorite recipes. If can be used as a quick snack, appetizer or side dish.
Using a chicken spread from your left overs make the perfect snack or party treat.

These Sloppy Joes use ground turkey making the Weight Watchers Points less.
Start your day with this hot breakfast sandwich made with turkey sausage.
This delicious recipe can be used for breakfast, brunch or even dinner.

Additional Articles
Understanding Portion Sizes
Check out this article to learn more about proper portion sizes. Eating healthy foods in the right portions can help you lose weight and minimize risks of certain diseases.
Diabetes Food Pyramid
If you are a diabetic, then eating the right amount of the right foods can help you control glucose levels. Check out this food pyramid to learn more about what to eat as a diabetic.
Burn Calories with Fun Activities
Burning calories doesn't always have to be with exercising. You can have fun while you burn away the fat and calories.