Cherry Party Mix Recipe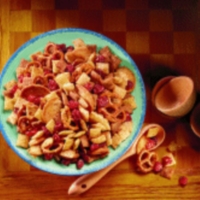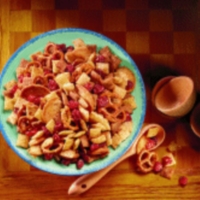 This cherry party mix recipe takes some traditional ingredients and adds in some tasty tart cherries for new and unique flavor. With the crunch from Melba toast and cereals and the tart sweet tastes of the fruit, your friends will want this appetizer for their next party.
Add in the saltiness of the pretzels and the different flavors of the seasonings, this is sure to be a big hit. You can mix it up by using your favorite crunchy items or add some additional dried fruits.
This is a party mix that can take on lots of different styles and flavors. Add some raisins, your favorite nuts and even some seasoned snack crackers to add variety to your party mix.

Cherry Party Mix Recipe
This was a family tradition at many of our holiday gatherings. I'm not sure where or who started this recipe, but we all love to make it.
Below are the list of ingredients, directions, recipe nutrition information and Weight Watchers points. You will find points for the original WW method, Points Plus and the new SmartPoint values.
If you are not a Weight Watchers member, you will find many nutritional values as well so you can track what you need for your diet.
Recipe Type:
Appetizer, Snack
Degree of Difficulty:
Easy
Ingredients
4 cups Bite-size corn and rice square cereal (such as Corn or Rice Chex)
2 cups Bite-size wheat square cereal (such as Wheat Chex)
2 cups Whole grain Melba toast, broken into pieces
2 cups Whole wheat pretzel twists (or pretzel sticks broken into pieces)
3 Tbs Butter, melted
1 Tbs Worcestershire sauce
2 tsp Chili powder
1/4 tsp Garlic powder
1/4 tsp Onion powder
1/8 tsp Ground red pepper
1-1/2 cups Dried tart cherries
Directions
Preheat oven to 300 degrees.
Place corn and rice cereal, wheat cereal, melba toast and pretzels in a large bow. Stir to mix.
Melt butter. In a bowl, mix melted butter, Worcestershire sauce, powders (chili, garlic and onion) and ground red pepper.
Drizzle over cereal mix. Toss to coat.
Spread cereal mixture in a 15x10x1 inch baking pan. Bake for about 25 minutes, stirring every 8 minutes.
Remove from oven and pour onto aluminum foil to cool completely.
Place in a large party bowl and add dried cherries. Toss to mix and serve.
Cooking Times
Prep Time: 10 minutes Cooking Time: 25 minutes
Nutrition Facts for Cherry Party Mix
Nutrition facts shown below are per serving. The number of serving is noted in the header section below. The serving size is the first item noted on the nutrition facts table.
Nutrition Per Serving

Number of Servings: 20
Serving Size
1/2 cup
Calories
185
Total Fat
2.7g
Sat Fat
1.2g

Cholesterol

4.6mg

Sodium

295.5mg

Total Carbohydrates

38.0g
Fiber
3.2g
Sugar
1.6g

Protein

4.3g
Weight Watchers Points
FreeStyle
SmartPoints: 6 pts
SmartPoints
Non-FreeStyle: 6 pts
Points
Plus: 5 pts
Original
Points: 3 pts
All ingredients for this party mix recipe are included in the points calculation as the cherries are dried and therefore not zero points.
Tips
Add some peanuts or additional dried fruits to change up this cherry party mix recipe.
These turkey pineapple kabobs are another great party food.
Here's another idea for a cherry party mix. This is a trail mix but would be a perfect snack at your gatherings.
More Recipes
These wings combine some sweet honey taste and some spicy seasonings that you will love.
If you love bell peppers then you will love this recipe that uses the mini sweet peppers.
In addition to this party mix recipe try adding some nachos as no party is complete without them.
This fish recipe is perfect for a low calorie, low points dinner idea.
Finish off your meal with this S'mores recipe. It's kid friendly as it's cooked in a microwave.
This soup recipe is a classic, and classics never go out of style.

Additional Articles
Northwest Chili Recipe
Warm up your body and taste buds with the zesty taste of this chili.
Cajun Catfish Recipe
Try this meal for your dinner tonight. With the cajun spices you are sure to enjoy every bite.
Cutting Calories
Here are some tips on cutting calories in order to lose weight.