Online Deit Programs
Diet Watch Weight Loss Review
Online Diet Programs Reviewed
Diet Watch has been a leader in online dieting for over ten years.
They have online tools for tracking calories, fat, carbs, exercise and weight.
They are one of the first to offer a complete online weight loss diet program and have had over 1 million visitors to their site since it launched in 1999.
Read the complete weight loss review below to see what they offer.
Foods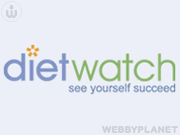 Diet Watch offers 4 different meal plans to choose from with their online diet program.
You can select a low carb, heart healthy or vegetarian. If you prefer, you can go with a no restricted meal plan.
Reduced Carb
The reduced carbohydrate plan is not a severe carb restriction like the Atkins diet. This meal plan reduces carb intake to 40% of total calories. So if you are looking to reduce carbs this is a great meal plan.
Heart Healthy / Mediterranean
This meal plan is geared towards reducing saturated and trans fats and focuses on incorporating the good fats such as monounsaturated and polyunsaturated fats. They add a Mediterranean flare to this meal plan.
No Restrictions
The no restrictions meal plan is a healthy well balanced meal plan and is most suited for people who do not have specific dietary restrictions.
Vegetarian
This vegetarian diet does include dairy products and eggs, so not for the Vegans. This meal plan is designed for those who do not consume meat, chicken or fish. The menu includes a variety of soy foods and meat substitutes.
You can also select not to have a Dietwatch meal plan, but use their tracking tools to track your special diet. These options include; reduced carb diet, reduced calorie diet or create your own diet.

Lastly, with their online diet program you select the calorie intake level for your meal plan.
Once you have selected from the 4 meal plans and your calorie intake, you are presented with your daily meal plan.
You can choose to replace any food item presented in you plan.
Exercise
Their online diet program also gives you an exercise plan which you can personalize.
You can select your preference of various aerobic exercises (examples are walking, jogging, swimming, cycling, etc.).
The strength training has beginner and intermediate levels, however, all strength training exercises here are with weights.
So if you don't have access to a weight bench, try using
resistance bands
or
dumbbell weights
.
They also have a "flexibility plan" with various stretching exercises. There are some illustrations, but mostly just text that explains how to do each exercise – no videos.
Support
Dietwatch offers online support with their online weight loss program. The online support includes blogs, discussion boards, chat rooms, messages, "my friends".
The "myfriends" is where you can invite other members to be your friend. Lastly, they have a success story section to give you additional motivation and support.
Emotional Eating


Emotional eating is addressed with their "Mastering Food" program. This is a 12 week course that addresses your emotional eating habit. This 12 week interactive guided session does cost extra.
Cost is $34.99 for the first 4 weeks. Once the 4 week session is completed, you will have the option of purchasing additional lessons.
Tools
The online tools include logging meals, exercises, weight, measurements, blood pressure, cholesterol and glucose.
There is a journal where you can log any notes or thoughts as well. My favorite tool is their shopping list.
Once you have updated your meal plan for the week, you can select shopping list and print out what groceries you need. As mentioned above, you also get a personalized exercise program.
Price and Freebies
Price is $2.99 per week. If you purchase a yearly membership, the price per week works out to be only $1.49 per week, or $77.50 for the year. This is a very reasonably priced online diet plan.
You can take a free Diet profile which will give you your calorie intake and some nutritional information. There is a free "Top 7 tips" PDF file, some success stories you can read and a daily tip. Beyond this, I did not find much else for free.
Summary
Diet Watch has all the components of a successful weight loss program; healthy meals, exercises, support and tools.
For the price and what they offer, this is my second choice for the best weight loss plan and the number one choice for the top online diet programs.
Find out more on DietWatch
here
.
Weight Watchers Online Diet Programs
Denise Austin's Fit Forever
The Biggest Loser Diet
Additional Articles
Understanding Emotional Eating
If you grab for that candy bar when sad, or munch down on chips when you are stressed, you might be an emotional eater. Find out more with this article.
Exercise Calorie Calculator
Find out how many calories you burn when you do your workouts. Adding exercise to any diet plan can help you reach your goals.
Counting Carbs or Making Carbs Count
Carbs is sometimes thought of as a bad word. But selecting the right carbs is a healthy way to get the nutrients you need.