Online Diet Programs
Diet.com Weight Loss Review
Of all the online diet programs, Diet.com is one of the few that take your personality into account when building your meal plan and exercise routines.
Diet.com was founded by Dr. Robert Kushner, author of "Dr. Kushner's Personality Type Diet".
You can find this book on Amazon.com.
The online diet weight loss program version was inspired from this book.
This site offers lots of information and tools with the free membership and the premium membership includes even more.
Foods
With diet.com, you can complete a free personality eating profile.
This is a 70 question survey to find out your particular eating and exercising habits, emotional eating concerns and lifestyle.
My results were; Eating personality is a "swing eater", exercise personality is "set routine repeater and coping personality was "people pleaser".
These results are very accurate for my lifestyle and personality.
The results of the personality eating profile are then used to build your personal meal plans.
You can join as a free online diet program member and receive the results of the personality profile, but to receive the meal plans does require a premium membership.
Your meal plan and calorie intake will be based on your weight, age and profile results.
Exercise
The fitness plan has exercise strategies that will again be based on your profile results. You will receive a fitness plan (or use the alternative fitness plan) each week.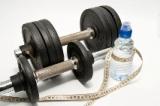 Their online diet program includes fitness "cards" where you can view and print off step by step instructions on various exercises.
They also have animated workout demos and an exercise log which you can print off to see your exercise progress.
There are also various fitness tips you can read. The fitness tips are included in the free membership and you can also log your exercises with the free membership. But to receive the workout plans, you must become a premium member.
Support
Support includes blogs, message boards, groups and diet buddies where you can find people with your similar personalities or goals.
They also have weight loss challenge groups that you can join. All of these support features are part of the free membership.
Online Diet Program Tools
Diet.com offers many tools, some that are included with the free membership.
Tools included as a free member are; Weight tracking, meal tracking, exercise tracking and all the support features mentioned above.
Note that with the meal tracking, you must input everything manually as you do not have access to their meal plan and database unless you are a premium member.
With the premium online diet program membership, you get the above tools as well as your weekly meal plans, weekly fitness plans and access to their database to make tracking your weight, meals and exercising more efficient.
Additionally, you will have access to online support from their experts.
Price and Freebies
Diet.com has various prices based on the number of months you sign up for. The 12 month plan is the best price for the money with the price per week at $2.29 plus an initiation fee of $19.95, for a total of $139.35 for the year.
All of their diet programs include the 19.95 initiation fee. The 6 month plan is $2.54 per week, totally $85.65 (including initiation fee). 3 months is 3.49 per week plus initiation fee for a total of $64.80 and there is also a monthly plan at $4.99 per week plus the $19.95 for a total of $39.90.
Freebies on this site with no membership include recipes with search capabilities, many weight loss and fitness tips, access to some fitness videos, and the ability to read blog entries. With the free membership, you have access to the tools mentioned above in the "tools section".
Summary
Diet.com is a good program and takes into consideration your personality on eating and exercising. Their website offers lots of information and in fact you can get lost with all the data available.
If you are a type of person that really needs a step by step on your meal plan and exercising, I would highly recommend you get the premium membership. The yearly plan works out to be the best price for your money.
This site is a must visit just to check out their freebies as well as the memberships. Check out their site for more details -
diet.com

Dietwatch.com Online Diet Programs

Fit Forever Review

Weight Watchers Review
Additional Articles
Quick Weight Loss Tips
Jump start your diet with these tips to lose weight quicker without resorting to fad diets.
Weight Loss Over 40
If you are at that age where the pounds just seem to come off slower, then check out these tips to get your ageing metabolism moving.
Workout from Home
Add exercise to your online diet plan without ever having to drive to the gym. Exercising from home lets you pick the time that works out best for you.