Online Diet Programs
Denise Austin Fit Forver Weight Loss Review
Of all the online diet programs reviewed, this is one that really focuses on exercise.
And with Denise Austin at the helm, this is no surprise.
Denise Austin, creator of the Fit Forever weight loss program, is a veteran at exercise fitness.
I have enjoyed her exercise DVD's for several years now.
The Fit Forever program is an online program that incorporates her exercise fitness and provides specific meal plans.
Read the complete weight loss review below to see what they offer.
Foods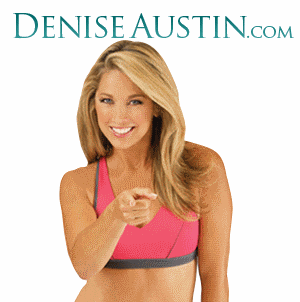 The meal plan is based on the calorie plan you select. Options are 1,400, 1,600 or 1,800 meal plan.
This appears to be for both females and males. Based on the calorie plan you select, you will be presented with a meal plan each week.
The meal plan incorporates all the major food groups, so is a well balanced and healthy meal plan.
Here's a sample daily meal plan.
Breakfast
Strawberry Banana smoothie (217 calories)
2 slices Whole Wheat Toast (210 calories)
Lunch
Lentil Soup (125 calories)
Cheese and tomato sandwich (97 calories)
1/2 tomato (16 calories)
1 tbsp Almonds (53 calories)
Fat free milk (86 calories)
Snack
1 serving of fruit of milk/yogurt
Calories will depend on snack selected
Dinner
Roasted Chicken (161 calories)
2 side dishes - squash and green beans (195 calories)
The meal plan total calories take into account things like margarine, etc. so everything's included. You are also allowed two weekly treats at approximately 200 calories.
You can modify your meal plan by selecting meal plan for any of the meals (breakfast, lunch, etc.).
You will be presented with alternative meals for you to select. You can view these meal replacements before you make the change.
The best feature of the meal plan with this online diet program is the shopping list. Once you have reviewed and modified the weekly meal plan, you can select "shopping list". You can select which days you want to shop for (the whole week or specific days), and the see the list.
The next step is what I really liked. You can select to remove items from your shopping list. You would use this feature if you already have a particular item at home. Once you've made your updates, just print and head to the grocery store.
Exercise
Fit Forever has a high emphasis on exercise, which is no surprise coming from Denise Austin.
When you first sign up, you will complete a short questionnaire. One of the questions it asks is what area of the body you want to focus on. This will determine your exercise plan that is presented to you as a member.
The weekly exercise plan however does cover all areas of the body, which is the right way to build and strengthen the muscles.
The primary aerobic exercises seem to be geared towards walking, but you can do whatever works for you, just do it for the full duration she recommends for the fitness level you selected.
With the online diet programs, she also has Fitness Rejuvenators for you to view which will help you alter your routine and keep it fun. My all time favorite on the Fitness section on Fit Forever is the "Lifestages: 40's and 50's".
Of course this would be a favorite of mine since I'm now in my 40's. If you are also in this age range, then you know how it can play havoc on your metabolism. So any extra tips we can get is great.
Support
The Fit Forever online diet program offers support online via the discussion boards where you can meet other members online. There is also a success story section where you can read other's successes and submit your own story.
There's a section to "ask Denise" where you can read some commonly asked and answered questions or submit your own question.
Tools
The online diet programs "toolbox" includes a journal which you can update online and share with others or keep private.
There is a weight tracker to track your weight loss progress, a printable log to log your foods, exercise and thoughts and a couple of useful guides for eating out.
When tracking your exercises, you mark each day as complete. The only thing I don't seem to find on her tools is tracking how many calories you burned during exercise or a chart that shows your exercise progress.
Price and Freebies
At the time of writing this review, the Fit Forever online diet program was running a special for $19.95 (plus shipping and handling) to join for 4 weeks.
You also receive a starter kit that includes 4 body shaping workouts on DVD, a stability ball and pump plus a money back guarantee.
One thing to note however, your membership will be automatically renewed unless you contact them to cancel. If you cancel before the 4 weeks you will have to return the starter kit.
Membership works out to be about $3.00 per week which is billed at 13 weeks at a time. You can cancel at anytime and receive a refund of unused weeks.
To get access to everything mentioned above, you will need to become a member of her online diet program. There are a handful of freebies on the site.
The freebies include some sample exercise routines with illustration and text explanation, sample meal plans and some tips. Of course you can browse her store by selecting the shopping link, but this would not be considered a freebie.
Summary
Overall, this is a good weight loss plan that incorporates a healthy meal plan, exercising, tools and support.
I would like to see a bit more tools like calculating your Basal Metabolic Rate or Body Mass Index. I would also like to see a search capability on the site to drill down to what I'm looking for.
Pricing is reasonable compared to the others, but I think they could also offer discounts (like Dietwatch.com) if joining for a longer period.
I do think that Denise Austin does offer some of the best workout videos out in the market today, so it's at least worth a look to shop her store.
To find out more about Fit Forever, click
here
to visit her website.
See all
online diet programs here
.
Weight Watchers
Diet Watch
The Biggest Loser Diet
Additional Articles
Interval Training
Mix up your workout routines by adding some interval training exercises.
Weight Loss Support Groups
Build your own support group through forums, online programs, friends and family. Learn more on the importance of support groups.
Calories from Fat, Protein and Carbohydrates
Calories are made up of the 3 macronutrients. Learn how the fat content, proteins and carbs in your foods effect the total calories.