Cheese Tortellini Soup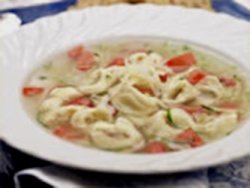 Cheese tortellini soup will warm you up on those cold winter days. Simmered with bits of zucchini, red bell pepper and chunks of tomato, this zesty and filling dish is dressed with grated Parmesan. Serve with fresh bread or a light salad to complete your meal.
This recipe uses pre-packaged tortellinis but if you prefer and have the time, you can always make your own.
Below are the list of ingredients, directions, nutrition information and WW points.

Cheese Tortelli Soup
If you want to reduce the calories a bit on this soup, just skip the Parmesan cheese on top of the soup.
Recipe Type:
Soups, Pasta
Degree of Difficulty:
Easy
Ingredients
1 tbs olive oil
1 medium zucchini, chopped
1 small onion chopped
1 med Red bell pepper cut into 1/4-inch cubes
8 cups chicken broth
2 cups Three Cheese Tortellini
1 medium tomato, chopped
1/4 cup basil, chopped
1/2 cup grated Parmesan cheese
Directions
In a large pot, heat the olive oil on medium.
Add the onions, red bell pepper and zucchini to the pot.
Cook until vegetables are tender but not mushy. About 4 minutes.
Add the chicken broth, tomatoes, pasta and basil to the pot.
Cook for about 7 to 8 minutes on medium heat or until Tortellinis are cooked through.
Sprinkle with cheese and serve.
Cooking Times
Prep Time: 10 minutes Cooking Time: 12 minutes
Nutrition Facts for Cheese Tortellini Soup
Nutrition facts shown below are per serving for the cheese tortellini soup. The number of serving is noted in the header section below. The serving size is the first item noted on the nutrition facts table.
Nutrition Per Serving

Number of Servings: 6
Serving Size
1 bowl
Calories
250
Total Fat
9.7g
Sat Fat
3.8g

Cholesterol

24.3mg

Sodium

477.1mg

Total Carbohydrates

27.1g
Fiber
1.9g
Sugar
3.3g

Protein

15.9g
Weight Watchers Points
FreeStyle
SmartPoints: 7 pts
SmartPoints
Non-FreeStyle: 7 pts
Points
Plus: 6 pts
Original
Points: 5 pts
The vegetables were not used when calculating any of the Weight Watchers Points.
Tips
If you don't want to take the time to sauté the vegetables first, just place everything in the pot at one time (skip the olive oil) and cook for a bit longer or until pasta is done and vegetables are tender.
Pair this soup with this Almond Citrus Salad to make a tasty meal.
Here are step by step directions on how to make your own tortellini from the kitchen.com.

More Recipes
Use up your Thanksgiving leftovers and make this turkey dumpling soup. Slow cook it all day and it will be ready for dinner.
The lentils and chickpeas in this chili are the secret ingredients and makes it something special.
Warm up tonight with this creamy delicious cauliflower soup. Add a tossed salad for a healthy light lunch.
This appetizer idea is stuffed full of tasty goodness. With only 1 Freestyle SmartPoint, you will want more than one.
Make it a Caribbean night with this juicy salad idea. Add a nice warm soup to complete the meal.
Stir things up for dinner tonight with this recipe. With only 1 SmartPoint, you can have seconds.

Additional Articles
Points Plus Allowance Calculator
If you have decided to stick to the WW Points Plus plan, then use this free online tool to find out your daily allowance.
Weight Loss Motivation
Want to lose weight but just need a little nudge to get started? Then check out these tips to get you motivated to lose today.
Eating Before Exercise
Should you or should you not eat before exercise? Read this article to find out what and what not to eat before exercising.