Caribbean Chicken Salad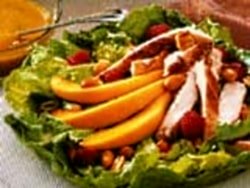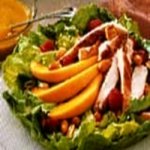 This Caribbean chicken salad makes for a nice light lunch or dinner. With baked Caribbean chicken breasts (skinless of course) and a flavorful peanut chutney dressing, this is one lunch you won't want to skip.
The nutritional information and Weight Watchers Points are given separately for the salad and the dressing. So if you want to skip the dressing or use your favorites you will still be able to track what you need for your diet.

Caribbean Chicken Salad
The crunch of peanuts, sweet tang of chutney, and tropical papaya in this healthy salad will have you dreaming of gentle island breezes in no time. Pair this with your favorite soup for even more flavor.
Below are the list of ingredients, directions, recipe nutrition information and Weight Watchers points.
Recipe Type:
Salad, Main Dish, Chicken
Degree of Difficulty:
Moderate
Ingredients - Caribbean Baked Chicken
4 each (4 oz) chicken breast halves, skinless
1/2 cup pineapple canned in own juice, crushed
1 tbs brown sugar
2 tbs Caribbean jerk seasoning
1 tsp curry powder
Directions - Baked Chicken
Preheat oven to 350 degrees
In a small mixing bowl combine Caribbean Jerk seasoning, curry powder and brown sugar.
Rub mixture over chicken breast halves.
Place chicken breasts in baking dish. Cover with crushed pineapple.
Place in oven and bake for 45 minutes or until chicken is cooked through.
Remove chicken and let it cool down and rest.
Discard pineapples.
Ingredients - Caribbean Chicken Salad
1 head romaine lettuce, torn in pieces
1/2 cup sliced green onions
1 papaya, halved, seeded, peeled and sliced
1 cup raspberries
1/2 cup peanuts
Directions - Salad
Toss lettuce with green onions and divide among serving plates.
Cut chicken into strips. Place on top of the lettuce.
Place papaya slices and raspberries on top of salad.
Sprinkle with peanuts and serve with chutney dressing.
Ingredients - Peanut Chutney Dressing
1/2 cup peanuts
1/2 cup mayonnaise, non-fat
1/4 cup chutney
2 Tbs sugar substitute, Truvia
2 Tbs raspberry vinegar
1 tsp curry powder
Directions - Peanut Chutney Dressing
In a blender or food processor combine peanuts, mayonnaise, chutney, sugar, vinegar and curry powder.
Blend until Smooth.
Refrigerate until ready to use.
Cooking Times
Prep Time: 25 minutes Cooking Time: 45 minutes
Nutrition Facts
Nutrition facts shown below are per serving. The number of serving is noted in the header section below. The serving size is the first item noted on the nutrition facts table.
Nutrition Per Serving - Salad

Number of Servings: 4
Serving Size
1 salad
Calories
337
Total Fat
13.4g
Sat Fat
2.3g

Cholesterol

79.4mg

Sodium

107.6mg

Total Carbohydrates

26.0g
Fiber
8.1g
Sugar
14.9g

Protein

31.5g
Nutrition Per Serving - Dressing

Number of Servings: 4
Serving Size
1/4 cup
Calories
173
Total Fat
9.1g
Sat Fat
1.3g

Cholesterol

0mg

Sodium

463mg

Total Carbohydrates

26.2g
Fiber
3.1g
Sugar
0g

Protein

4.4g
MyWW Points
Green: 6 pts
Blue: 4 pts
Purple: 4 pts
Other Weight Watchers Points
Points
Plus: 7 pts
Original
Points: 6 pts
The chicken breast, veggies and fruits are not included in the MyWW blue and purple points. All other point calculations do not include the fruit or vegetables.
MyWW Points
Green: 5 pts
Blue: 5 pts
Purple: 5 pts
Other Weight Watchers Points
Points
Plus: 5 pts
Original
Points: 4 pts
All ingredients are included in the calculation of WW points for the dressing.
For a lower point dressing that goes well with this Caribbean chicken salad, check out this red wine vinaigrette from Weight Watchers.
More Recipes
This light and healthy tossed salad is paired with a zesty lemon French Dressing (with only 1 WW point).
Layered with lots of veggies, chicken chunks, non-fat mayo and low fat cheeses...with only 2 Freestyle SmartPoints.
Here's another salad that uses the juicy taste of fruits. This is best when fresh fruits are in season.

This is a great hot and sweet breakfast idea that is easy to make and delicious to eat.
This chicken drumstick recipe uses sweet molasses and apple butter to give it lots of fun flavors.
With seafood now a zero point item on the Freestyle plan, this is a Weight Watchers friendly recipe.

Additional Articles
Freestyle Points Tracker
Download this spreadsheet to track your FreeStyle SmartPoints. The built in formulas will automatically roll over (up to 4) unused daily points for the week.
Exercise Motivation
Get motivated to move with these tips and start earning some FitPoints today.
Fat Burning Foods
Add some of these foods to your recipes and feel the fat burn. These fat burning foods can help you lose weight and shed excess body fat.