Featured Recipes



Healthy Appetizer Recipe
This appetizer recipe is perfect for when you are in the mood for Mexican flavors. Using ground turkey instead of beef, this traditional snack takes on a healthier look.
Bold flavors from the salsa, green chiles and onions will really wake up your taste buds.
This one is higher in fats, calories and points than many of the other appetizer recipes so be sure to save your points and calories to indulge in this snack for your next party.

Ground Turkey and Salsa Nachos
This appetizer recipe serving size is large enough to make it a meal. With crunchy low fat tortilla topped with ground turkey and cheese makes a snack or appetizer for when the gang unexpectedly drops over.
You can use mild or hot salsa depending on your taste. If you really want to spice this up, try adding some jalapeño peppers....but have some water handy as this will really fire up the taste.
If you want to save on some calories and carbohydrates, skip the tortilla chips and sprinkle a few tortilla strips (for crunch) on top of the meat mixture. Or skip the chips all together and really reduce the carbs in this snack recipe.
Recipe Type:
Appetizer, Main Dish, Meats, Side Dish
Degree of Difficulty:
Moderately difficult
Ingredients
1 lb Lean Ground Turkey
1 cup Ortega® Salsa Prima Homestyle Mild
1 (4-oz.) Can Ortega® Diced Green Chiles
1/3 cup Green Onions, sliced
4 cups Low Fat Tortilla Chips
1 cup Reduced fat Mexican Blend Cheese, shredded
Directions
Combine ground turkey, salsa, chiles and green onions in medium skillet; cook for 5 minutes over medium heat until hot.
Cook until meat is browned and flavors are blended together.
Place corn chips on dinner plates. Scoop style chips work the best but just look for the whole wheat kind.
Fill chips (or top chips) with meat mixture and cheese.
Optional: To melt the cheese, place in the microwave for about 15 - 30 seconds.
Cooking Times
Prep Time:
10 minutes
Cooking Time:
5 minutes
Total Time:
15 minutes
Nutrition Facts
Nutrition facts shown below are per serving. The number of serving is noted in the header section below.
The serving size is the first item noted on the nutrition facts table.
Nutrition Per Serving

Number of Servings: 8
Serving Size
7.8 oz
Calories
567
Total Fat
17g
Sat Fat
5.7g

Cholesterol

77mg

Sodium

879mg

Total Carbohydrates

72g
Fiber
5.4g
Sugar
1.8g

Protein

32.4g
Weight Watchers Points
Smart Points: 16pts
Points Plus: 15pts
Original Points: 12pts

Tips
Top these nachos with lots of tomatoes, lettuce and onions to give it even more flavor.
Recipe provided by Ortega
Try this appetizer recipe for a Cherry Salsa to use with your nachos.
The blend of spices and the sweet and tartness of the cherries really give this lots of fun flavors.
More Recipes
For even more Mexican flavors try this appetizer recipe. These are not your ordinary potato skins as they are stuffed with lots of flavor. These are filling enough to be the main dish.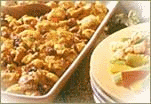 Italian Pumpkin Strata Casserole
Make your day a taste around the world and try this Italian flavored casserole for breakfast or brunch. Serve it with some fresh fruits to complete the meal.
This is not your ordinary burger. By using ground turkey you are reducing fats and calories for this burger stuffed with delicious flavors. Add some of your favorites to the inside of this dish.
Here's a simple yet tasty appetizer you can quickly throw together.The kids can even help prepare this by alternating cheeses and fruits on the skewers. Throw some veggies into the mix for even more healthy goodness.

Monthly ezine
Free tips and recipes monthly. What do you have to lose...except some weight.....Sign up now.
Additional Articles
Metabolism Boosting Foods
Add some of these foods to your next recipe or meal. These have natural vitamins and minerals that rev up your metabolism to burn more calories.
Weight Loss Workouts
Use these example workouts to help you lose weight today. These examples will get your heart pumping and build up your lean muscle mass for maximum weight loss.
Weight Loss Calculator
Find out how many calories you need to consume to lose 1 - 2 pounds per week. This calculator will even estimate how long it will take to reach your goals.