Food Groups - Grains
Food Groups Continued...


This last page in the article covers the grains group as well as oils.
Oils are not part of the MyPlate group of foods but is worth mentioning.
Grains are the items made from wheat, rice, oats, cornmeal, barley and other grains.
These include breads, cereals and pastas just to name a few.
There are two groups within the grains area. These are Whole Grains and Refined Grains.
The whole grains are basically the unprocess grains while refined grains are processed.
For the MyPlate groups, the grains should make up slightly more than 1/4 of your plate. You should aim for the whole grains versus processed grains when building your meals.
The other area discussed on this page is the oils. While you can get most of the recommended amounts of oils from foods you eat, you will also find oils in certain items.
Oils are also often used in the cooking process.
Grains
Grains are foods that are made from wheat, rice, oats, cornmeal, barley and other grains.
Items like breads, pasta, cereals, tortillas and grits would be in the grain food group.
There are 2 different subgroups for the grains. The first is Whole Grains and the other is Refined Grains.
The whole grains subgroup would include items made from whole grains such as whole wheat flour, cracked wheat, oatmeal, whole cornmeal and brown rice. These are unprocessed grains.
The refined grains subgroup include items made from refined (or processed) grains. These would include items made from white flour, de-germed cornmeal and white rice.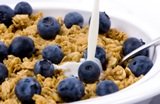 You want to try and get most of your grains from the Whole Grain subgroup.
Because items that are closer to nature (less processing) give you more nutrition for the calories you are consuming.
Below are the recommended serving sizes for the grains food groups.
Oils
Oils are not part of the food groups but worth mentioning when talking about recommended servings and nutrition.
Oils are fats that are liquid at room temperature such as vegetable oils used for cooking.
Some common oils include;
Canola Oil
Corn Oil
Olive Oil
Soybean Oil
Sunflower Oil.
Many food items provide you with the needed nutrition from oils like nuts, olives, some fishes and avocados. Other food items such as mayonnaise, certain salad dressings and soft margarine are primarily oils.
While you may get most of the recommended amount from the foods you eat, you can also ensure you get the proper amount of oils by switching to oils instead of solid fats like butter or stick margarine.
Here are the recommended servings for oils.
Here's more on the recommended portion sizes based on the
food pyramid food groups
.
Additional Articles
Blackberry Breakfast Bar Recipe
This is a tasty way to get your grains and fruits in for your morning meal. With wheat flour and rolled oats, this breakfast bar will fill you up and keep you feeling full longer.
Metabolism Boosting Foods
Whole grain cereals not only give you the grains for your meal, but can boost your metabolism. Find out what other foods help rev up your metabolism and burn more calories.
Tips for Eating Healthy
Use these tips to build your plate into a healthy meal. Eating healthy can ensure you get all the vitamin and minerals your body needs.