Cinnamon For Weight Loss
Guest Article - How to Lose Extra Weight with Cinnamon
Cinnamon is one of the most popular spices used in dishes and many other food preparations. However, do you know that cinnamon is also very powerful against weight gain?
Cinnamon is believed to have the capability to stabilize the blood sugar levels of the body.
A normal blood sugar level means less hunger pangs for you and me. Cinnamon for weight loss is a very popular concept today.
Given that fact, it becomes clearer why cinnamon is also recommended for people with type 2 diabetes. All you have to do to enjoy the spice's health benefits is to add it to your daily meals.
About 500mg of cinnamon is required for breakfast, 1000mg for lunch, and another 500mg for dinner. Altogether, that should make up a teaspoon of cinnamon taken during the entire day.
A sprinkle and a dash of cinnamon to your daily meals will make them the most natural, easiest-to-find, and highly effective weight-loss supplement today.
How To Take It
It is fairly easy to add cinnamon to your daily meals. But would your menu be as palatable?
Here are some suggested ways on how to add cinnamon to your daily eating habits: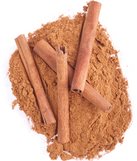 Combine It With Honey
Cinnamon and honey are two food items that go very well together. So try not to buy cinnamon powder with sugar anymore.
Your best option is always cinnamon in its purest form. Use honey as a sweetener instead so you can enjoy additional health benefits.
Boil It In Water
If you would rather take cinnamon in liquid form, you can always boil a teaspoonful of it in a cup of water. Add honey. Drink it hot or cold throughout the day.
Try Cinnamon Tea
Cinnamon also makes a cup of tasty and healthy tea. Look for cinnamon tea bags from your favorite herbal store. That will be the easiest way for you to enjoy the weight loss benefit of this miracle spice.
Sprinkle It
Add a sprinkle of cinnamon to common meals like cereals, oatmeals, and toasts. Make your breakfast more interesting with this spice. It will make all those staple breakfast goodies not only healthy but fat-free as well.
Add To Fruit Juices
Fruit juices are also the best medium for cinnamon. Any fruit in season can be squeezed into a glass of fresh fruit juice.
Add cinnamon to it and it becomes an even healthier drink to enjoy.
Generally speaking, cinnamon can help metabolize sugar in the body, thus inhibiting the unnecessary storage of excess body fats.
And with less body fats, a lighter and sexier body becomes easily attainable.
Cinnamon can also improve your body's metabolism to make sure that you have adequate energy to perform tasks throughout the day. Follow all these cinnamon for weight loss tips and you'll see noticeable results in your body in just a few weeks.
Check more about cinnamon and what are the other benefits of this spice by visiting
Cinnamon For Weight Loss
website.
Additional Articles
Feel Good Super Foods
These foods are not only good for the body, but good for the soul. Add them to your next meal or recipe.
Fat Burning Foods
Did you know that cinnamon can also help your body burn fat? Check out what other foods and spices turn up your fat burning furnace.
Macronutrient Calculator
How many grams of fat, protein and carbs should you be eating each day? Use this free online calculator to find out.