Weight Watchers Points - Tim Hortons (US)
Get these Weight Watchers Points and Tim Hortons nutriton information here on this page. The values on this page are for the US restaurants.
If you are looking for the Canada menu and values, then go to this
Tim Hortons(CA) page
.
The WW points include both the original and the new points plus system. These values are rounded to the nearest point.
You can find the pts + values in the first column highlighted in purple. The second column shows the values for the original points system.
If you are not a Weight Watchers member, you can still use the nutrition information on this page to help stay within your diet plan.
Tim Hortons nutritonal information includes calories, total fat, saturated fat, fiber, protein, carbohydrates and sodium. Regardless of what your dietary needs are, you are sure to find it on this page.
Use the interactive features to view the Weight Watchers Points or restaurant nutrition.

Click here for help on using the interactive features of the table below.
Note: Javascript must be enabled to use the interactive features.
Weight Watchers Points & Nutrition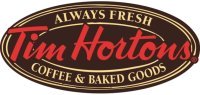 Note to FireFox users: If you are unable to click on the dropdown, click first on the words Menu Group. Then the select dropdown should work.

This is a known problem with FireFox in which I have not been able to get around.
| Menu Group | Menu Item | Serv | SPts | Pts + | Org Pts | Cal | Tfat | Sfat | Fib | Pro | Carb | Sug |
| --- | --- | --- | --- | --- | --- | --- | --- | --- | --- | --- | --- | --- |
Click on any menu item to see additional nutrition information

| Menu Group | Menu Item | Serv | SPts | Pts + | Org Pts | Cal | Tfat | Sfat | Fib | Pro | Carb | Sug |
| --- | --- | --- | --- | --- | --- | --- | --- | --- | --- | --- | --- | --- |
Nutrition Key:

SPts = Smart Points
Pts + =Points Plus
Org Pts = Original WW Points
Cal = Calories(kCal)
TFat = Total Fat(g
SFat = Saturated Fat(g)
Fib = Dietary Fiber(g)
Pro = Protein(g)
Carb = Carbohydrates(g)
Sug = Sugar(g)
The Tim Hortons (US) restaurant nutrition information used to calculate WW points and points plus were obtained on 01/2017 at the following link;
Back to Weight Watchers points restaurant list
Additional Articles
Counting Carbs...Or Making Carbs Count
With all the hype about reducing carbs, it gets a bit confusing on what you should or should not eat.
Check out this article to help you select the right foods in order to make your carbs count.
Senior Balance Exercises
Keep your body steady and prevent slips and falls by doing some balance exercises.
These are perfect for seniors or those with physical limitations.
Points Tracker Spreadsheet
Download this free spreadsheet to track your points and allowances.