Menopause Symptoms
Menopause Symptoms Continued...
Mood Swings
This particular symptom is the one most men hope we women avoid. But unfortunately this is one of the more common symptoms with over 50% of women reporting mood swings.
Mood swings are when a person experiences an extreme or abrupt change in their mood.
It could be anything from irritability to anxiety.
Mood swings during menopause can cause women to break out into tears, become depressed or melancholy.
They may experience increased stress and anxiety and even lose lack of interest or become less patient.
Generally these mood swings occur between the ages of 45 and 55 during the stages of menopause.
The changing estrogen levels in a woman's body is the biggest contributor to this menopausal symptom.
According to medical research, estrogen plays a role in the production of serotonin.
Serotonin is also known as the mood regulating neurotransmitter.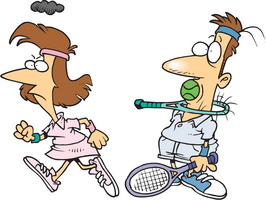 Estrogen effects the sensitivity of the serotonin receptor.
This increases the serotonin receptor levels and increases serotonin production.
Although the estrogen level is the primary cause for mood swings, they may also be caused by other symptoms.
Symptoms such as fatigue, stress, hot flashes, night sweats and physical changes to a woman's body can contribute to the different mood swings.
Other Menopause Symptoms
In addition to the common menopausal symptoms listed above, women will also experience many different changes. Some of these changes include;
Irritability
Fatigue
Hair Loss
Unwanted Facial Hair
Trouble Sleeping
Memory Loss and Lack of Concentration
Light Headed, Dizzy, and Loss of Balance
Irritability, fatigue and trouble sleeping could also be due to lack of sleep caused by other symptoms such as night sweats.
As with most of the symptoms of menopause, hair loss and unwanted facial hair is primarily due to loss of estrogen.
In fact, the reduced levels of estrogen are a contributing factor to all of the above items a woman may experience.
Other changes you may experience include weight gain, incontinence, bloating, allergies, brittle nails, change in body odor, irregular heart beat, depression, anxiety and a sense of panic.
Click here to read more about
changes during menopause
.
Additional Articles
Weight Loss Over 40
As we age it seems to get harder and harder to lose those extra pounds. Try these tips for ways to lose weight over the age of 40.
Senior Fitness Tips
You are never too old to start getting active and fit. Read this article to help you start your senior fitness program.
Weight Gain After Menopause
Gaining weight after going through menopause is not that uncommon. Unfair as it is, there are certain changes a woman goes through that makes keeping the weight off harder. Read this article to see why this happens and what you can do to prevent the weight gain.