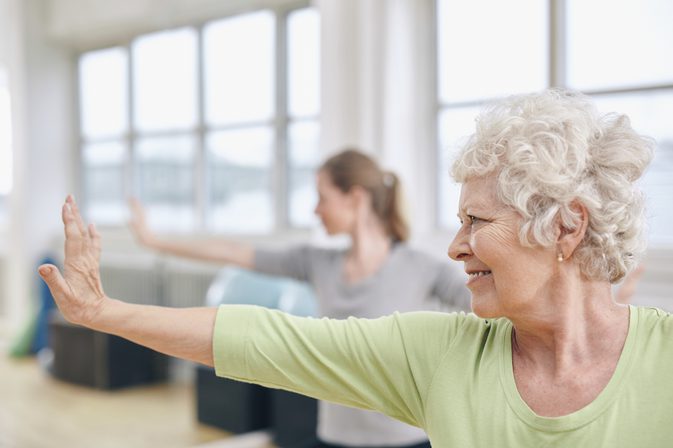 These arm circles exercise and the circles for the wrist and ankles are referred to in this video as the three circles.
With simple yet effective circle motions, you will be stretching these muscles.
These senior stretching exercises use a simple circle motion to help stretch your muscles.
The first is the arm circle stretch. This move stretches your arms, shoulders and upper back.
The wrist and ankle circle stretches focus on these smaller but important joints and muscles.

I especially love the wrist stretch since I spend most of my time typing on a computer.
Stretching the wrists, ankles, hands and feet are often forgotten yet can be so helpful to relieve joint pain and stress in these areas.
Exercise #4 - Wrist, Ankle and Arm Circles Exercise
The directions below are basic instructions as the move is very basic. You will want to use a kitchen chair of folding chair for these wrist, ankle and arms circles exercise.
You can also do them standing up if you feel comfortable. Keep a chair handy to hold onto if you need additional support especially if you are trying the ankle circle standing up.
Arm Circles Exercise
This one stretches the arms, shoulders and upper back.
Sitting in a chair with back nice and straight, lift your arms out to the side.

Face your palms facing forward and the thumbs up.

Start with small circles forward. Gradually make the circle bigger and bigger until your arms are going above your head.

Now reverse the direction of the circle and go backwards. Again start small and get bigger and bigger circles.
Wrist Circles
Remain sitting in the chair.
Lift your arms with elbows bent so your hands are out in front of you.
Start with small forward circles and move into bigger circles keeping your arms still and only moving at the wrist.
reverse direction and repeat the circles.
Ankle Circles
Sit in the chair with back straight.
Lift one leg straight out in front of you. You don't have to lift too high, just high enough that the ankle is off the floor.
Now circle the ankle to the left keeping the leg still.
Reverse the circle direction and do several more circles on this ankle.
Switch legs and then repeat the above steps for this ankle.
Watch the video below to ensure you are doing the this move correctly.
Not all mobile devices will display the video correctly. If you are not seeing the full video (or it's not displaying at all), click here to view the wrist, ankle, arm circles exercise on youtube.
***2featured-xxx.shtml***
 
Additional Articles
Benefits of Cooling Down After Exercise
After an aerobic or strength training workout, you want to do a quick 5 - 10 minute cool down and then stretch. Check out this article to find out why cooling down is important to your muscles.
Burn Calories with Fun Activities
Getting in your daily activity doesn't always have to be about exercise. Read this article to see how you can have fun burning calories.
Senior Chair Aerobics
Get your aerobics in while sitting down with this senior chair aerobic video.