Home

›

Blog

› Thanksgiving Meal Ideas
Thanksgiving Meal Ideas
Thanksgiving Meal Ideas Continued...
No Turkey?
This next set of Thanksgiving ideas is all about skipping the traditional turkey and trying something new.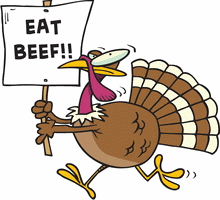 Turkey has been a tradition for many households for many years for Thanksgiving dinner.
At one time Benjamin Franklin suggested that the turkey be the national bird instead of the bald eagle.
Honestly, Tom the Turkey doesn't always want to be the center of attention - especially at dinner.
Tom the Turkey is happy to see many people substituting other dishes as the main dish.
Here are some alternatives to Turkey to use for your Thanksgiving meal ideas.
Thanksgiving Meal Ideas - Fish
One alternative to turkey is fish. Fish like salmon are high in omega-3 fatty acids. Fish like salmon and tuna are good for lowering "bad" cholesterol in your body.
A main dish of salmon with wild rice and green beans not only tastes great but is a well balanced and healthy meal for you to celebrate the holiday.
To jazz up that salmon, add a pecan or parmesan crust.
T
Thanksgiving Meal Ideas - Chicken
What about chicken? A roasted chicken is smaller than a turkey for a more intimate gathering.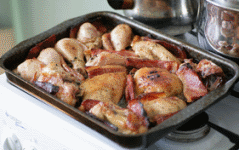 A small whole chicken can be barbequed or fried, or both, depending on your taste buds.
There is less cooking time as well which is always a plus if you ask the cook.
You can even prepare the chicken earlier in the day and then warm it up for the full fledged dinner.
Thanksgiving Meal Ideas - White Meat Only
For some, Thanksgiving just would not be the same without turkey. For one reason or another they don't need or want a big 20 pound turkey.
Instead, select a roasted turkey breast or turkey cutlets. They bake up quickly and leave less of a mess to clean up after dinner.
Thanksgiving Meal Ideas - Vegetarian
There doesn't have to be meat on the table at all as vegetarians will tell you. Set the table with a variety of casserole dishes.
Rice and broccoli casserole, macaroni and cheese, green bean casserole, and other vegetable dishes can fill you up and keep you from missing the turkey.
Some vegetarians create a tofu turkey as their centerpiece as well to help set the "mood" for the occasion.
The menu for Thanksgiving is not set in stone so go over your meal planning ideas and try something new this Thanksgiving.
Remember, Thanksgiving is all about giving thanks with friends and family regardless of what you set on the table.
Reduce Stress for the Cook
For all of you who generally prepare the meals, this set of Thanksgiving meal ideas are for you. They are all about ways to reduce the stress of preparing the holiday.
Here are some ideas to help you feel less stress and give you more time to get it in on the fun.
Clean up Early
Clean your home before Thanksgiving Day.
We all want the place to look great for our guests but the same day as the meal is not the best time to do it.
If everyone chips in and takes a different section of the house, it'll get straightened out in no time.
Delegate, Delegate, Delegate!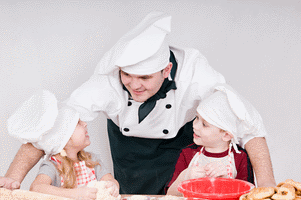 Delegate duties. There is no written rule that says mom has to cook it all.
The kitchen is everyone's place on Thanksgiving Day.
Even the kids can do their share by peeling potatoes or slicing up fruit and vegetables for a salad.
For younger ones, stirring and adding ingredients prior to cooking is a fun task they are sure to delight in.
Just be careful that they aren't tossing in army men or dolly shoes while you're basting the turkey.
Get Set Before Turkey's Done
Set the table. We always leave that until last but there really is no reason to. If dinner will be buffet style, arrange the buffet servers, utensils, sterno jars, and the dinnerware a day or two ahead of time.
Make your List
Make a list and check it twice. Don't end up with more turkey than you need. Write the names of everyone who is coming so that there is enough turkey for a full serving for each person. This cuts down on leftovers which seem to take over the refrigerator for at least a week.
Disposables
Use disposable pans. When roasting the turkey, ham, chicken, and/or other meats, do so in disposable roasting pans.
The last thing anyone wants to do is wash dishes after eating a big meal.
These pans come in various sizes including ones perfect for side dishes and even breads.
When it's all over, throw them in the trash can instead of spending the evening washing every pot, pan and casserole dish in the house.
Plan Ahead for Leftovers
Buy containers for leftovers. No one ever has enough to store food in so they use the pans that they cooked in. Choose smaller rather than larger containers so there is no space inside the container that is not occupied by food.
The cheaper ones are disposable as well so once the food is gone, get rid of the container without worrying about anything being wasted.
With these tips your Thanksgiving day will be enjoyable for everyone. In fact, you may find yourself with a bit of extra time to enjoy some family activities.
For more
Thanksgiving meal ideas, try searching for some new recipes with this recipe search tool
.
Monthly ezine
Free tips and recipes monthly. What do you have to lose...except some weight.....Sign up now.
Additional Articles
Soup Recipes
Try these soups to compliment your turkey dinner. Save some of the left overs and make the soups the next day. It's a great way to get in your turkey scraps over a hot bowl of soup.
Eating Healthy at Christmas
With this holiday right around the corner, find out ways you can eat healthier and still enjoy some holiday treats.
Healthy Turkey Recipes
Find more ways to enjoy turkey everyday of the year with these recipes. From breakfast to dinner, snacks and appetizers, you are sure to find something that pleases your taste buds.