Home

› Nutrition Mobile App
Nutrition Mobile App
Weight Loss App
Exercise 4 Weight Loss has launched a new nutrition mobile app for the iPhone, iPad and iPod as well as an android version in the Google Play market.
NutriScore 2 Go is your restaurant nutrition guide while on the go with Weight Watchers Points (Score and Score +) for those of you who are members.
With this weight loss app, you can quickly look up nutrition for over 325 different restaurants with more still to come.
WW members can quickly find the points values for the menu items they order. If you still follow the old method, use the Score values highlighted in blue.
For those using the new Points Plus method, use the Score + values shown in red in this nutrition mobile app.
Use the NutriScore calculators to determine the points values in the foods you eat or calculate your daily allowance.
Plus save your favorite restaurants for quick and easy access for your next visit.
All the restaurants found on this website are in the mobile app. So it's like taking your restaurant guide on the go.
This weight loss mobile app, NutriScore 2 Go, can be found in your iTunes store or the Google Play store. Simply use the links below to get your app today.
NutriScore 2 Go Nutrition Mobile App
NutriScore Android App
If you have already purchased the app but want some help using it, check out our help page
here
.
Finally Here

The NutriScore 2 Go app has just been released in the Google Play store. Use the link above to get your restaurant nutrition and points guide today for your smart phone.
Nutriscore 2 Go Restaurants
NutriPts2Go is Exercise 4 Weight Loss Restaurant Points for on the go. That's right, we have gone mobile. This iPhone app (soon to follow is the android app) takes the restaurants on this site mobile. You can easily look up a restaurant from your iPhone, iPod or your iPad.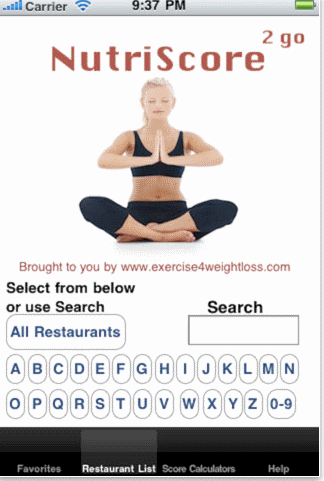 Looking up restaurants is as easy as A - B - C. Just click on the letter of the alphabet for the restaurant you are searching for.
You can also use the search box or simply click on "All Restaurants" to see them all.
This is the applications default home page, so restaurants are always available quickly and easily.
Nurtriscore 2 Go Calculators
The NutriScore calculators help you while eating out at home.
With the NutriScore plus calculator, you just need to plug in the nutritional values required (fat, carbs, protein and fiber).
Click calculate and you have a score value for the foods you eat at home, in the office or anywhere.
The NutriScore calculator uses calories, fat and fiber to give the foods a value.
The last calculator, NutriScore Allowance, will calculate your daily allowance.
This way you always know just how many score (points) values you have for each day.
Favorites
Adding your favorite restaurants is quick and easy with this nutrition mobile app. While in the restaurant view, just click on the red heart in the upper right corner.
Confirm that you want to add to favorites and your done. Then next time you want to check out the NutriScore values for your favorites, just click on the favorites tab, find your restaurant and then view the menu items.
Release Updates
Since this website adds new restaurants each month, the application will have frequent updates. These updates are free and will always be free for this application.

As we hear back from users or find areas to improve and fix, these will also be included in new releases. Again these releases will be free.

Help feedback
Once you purchase your app we will be here for questions, support and feedback. You can find help tips on this nutrition mobile app here on this website.

Additionally, the app allows you to email us your feedback. So don't worry, you will not be left on your own to figure things out.

We are striving to make this one of the best weight loss apps in the market.

Check out the online help page for this weight loss mobile app.

Thanks and hope you find the app useful.
Monthly ezine
Free tips and recipes monthly. What do you have to lose...except some weight.....Sign up now.
Additional Articles
Restaurant Points List
Find your favorite restaurant and get the Weight Watchers points for your favorite meals. This alphabetic list makes it easy to find what you are looking for.
Weight Loss Support Groups
Losing weight can be hard at times. So don't go it alone. Read this article to learn more about support groups and find the type that is right for you.
Healthy Recipes
Stay in to eat today and make something new with these recipe ideas. Whether it be breakfast, lunch, dinner, snack or desserts, you are sure to find something yummy.